A tanker truck carrying thousands of gallons of biodiesel fuel overturned on Interstate 95 in Maryland Tuesday morning, prompting a massive response and shutting down the interstate at Powder Mill Road for several hours.
The northbound lanes reopened by early afternoon. Two southbound lanes reopened shortly before the afternoon rush began. All southbound lanes were open by 7:30 p.m.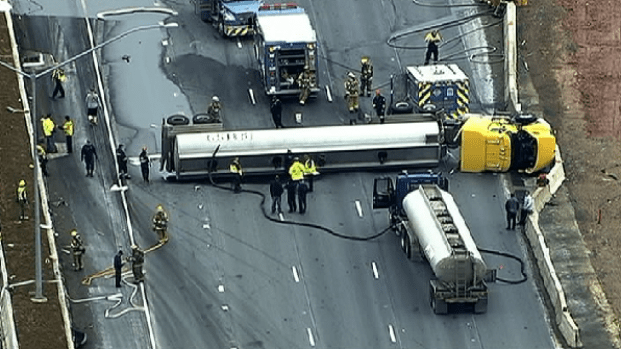 PHOTOS: Tanker Truck Overturns, Closes I-95S
The truck crashed in the southbound lanes of I-95, south of the Intercounty Connector, shortly before 10:15 a.m. Tuesday, overturning and spilling about 700 gallons of biodiesel fuel onto the roadway.
The preliminary investigation found a Ford Focus struck a Chevrolet Malibu in the rear while changing lanes, according to Maryland State Police. The tanker overturned after striking the rear of the Ford and sideswiped a Nissan Altima, coming to rest across all southbound lanes.
Prince George's County Fire & Rescue crews were called to the scene.
"...[A] thousand-gallon section of that truck was leaking, with a golf ball-size hole," Paul Gomez of Prince George's County Fire & Rescue said at midday Tuesday. "Our hazmat crews were able to patch that hole to slow the leak down, and they're working to contain the runoff."
MD 95 S - Crews cleaning up. On 95 S? Try to get off on 198. N? Try 212. Rts 1 or 29 are your ALT. @nbcwashingtonpic.twitter.com/gvWrOZEjK9

— First4Traffic (@First4Traffic) March 10, 2015
Pat Collins now on scene - of OT tanker on 95 S at ICC. More in a few minutes on @nbcwashington@news4todaypic.twitter.com/5oXNyXI1tS

— First4Traffic (@First4Traffic) March 10, 2015
The main lanes of I-95 were closed in both directions in the wake of the crash and spill.
The tanker held about 7,500 gallons of biofuel before spilling 700. About 6,400 of the remaining fuel was transferred to a second tanker, while 400 gallons were transferred into drums.
Biodiesel fuel is not nearly as volatile as gasoline, Gomez said.
The tanker has been turned right side up.
The woman driving the Malibu was taken to a hospital with minor injuries. The other three drivers refused medical treatment at the scene.
The 23-year-old man driving the Ford Focus was charged with following too closely, unsafe lane change, failure to control speed to avoid a collision and reckless driving contributing to the collision.
Full cleanup could take days, Gomez said.