First, you see a woman slowly licking an ice cream cone. Then, a man runs his hand up and down a golf club, a woman peels a banana, someone pumps gas and hands touch a dripping grapefruit. Then, you hear a sultry voice.
"Thinking about sex? Then think about PrEP," a woman says.
Then, the voice tells you about "a safe daily pill you can take to help prevent HIV."
As D.C. grapples with the highest HIV rate in the country, city health officials hope a provocative ad campaign will increase awareness of a drug that reduces the risk of infection by over 90 percent.
PrEP, shorthand for pre-exposure prophylaxis, is at the center of the D.C. Department of Health's work to prevent the spread of HIV. The prescription drug reduces the risk of getting HIV from sex by more than 90 percent and from injection drug use by more than 70 percent, the Centers for Disease Control and Prevention says.
But many D.C. residents still aren't familiar with it, said Michael Kharfen, senior deputy director of the health department's HIV/AIDS, Hepatitis, STD, and TB Administration (HAHSTA). Thus the need for a striking ad campaign.
The "Think About PrEP" ad that began airing on TV and online last month was designed to be candid, sex-positive and eye-catching, Kharfen said.
"With all the noise that is out there, we need to push the boundary a little bit," he said.
The health department and Octane Public Relations worked on the ad over the course of seven months and showed it to focus groups several times. Audiences laughed, but they listened to the message, too, Kharfen said.
THIS AD 😭😭 https://t.co/1dw97LrVFF

— 🌻 Nazeleh 🌻 (@NegraFeminist) December 26, 2017
Love it!! Enticing and funny (at least I'm cracking up). Bottom line: you need to know about #prep#HIV#AIDS#HIVprevention#healthhttps://t.co/z7rh4hLTBh

— Candace in Real Life (@urbanbushwoman9) January 4, 2018
This commercial is in incredibly poor taste and you should be ashamed of yourselves for calling this a public health endeavor.

— Laura O'Neill (@ONeillLaura) December 6, 2017
Hard to imagine us being able to get away with this awesome video ad in Texas. Go, D.C.! https://t.co/6Smi6ckUZN

— Claudia (@CJoeB) December 16, 2017
Brooo I'm Dead https://t.co/LXPH9MJSbw

— Asante Slater (@asanteslater) December 27, 2017
This commercial wild 😂😂 https://t.co/s2ksHrrEoM

— ReéLing㊗️ (@trulyy_gold) December 20, 2017
The "Think About PrEP" ad is running on FOX 5 DC, The CW and WJLA, Kharfen said.
"We had a little bit of negotiation with our media outlets about airing time," he said. "Some of them wanted us to do it later in the evening."
It's also running on Facebook, Pandora and YouTube. The ad will be broadcast through March, disappear for a period and then appear again later in the year.
Public information campaigns about PrEP seem to be working, Kharfen and Megan Coleman, director of community research at Whitman-Walker Health, said.
After the Food and Drug Administration approved PrEP in 2012, only about 100 people in D.C. were estimated to have used the drug two years later, in 2014. The health department now estimates that about 1,500 D.C. residents are on PrEP, Kharfen said.
Whitman-Walker, which specializes in LGBT and HIV care, saw 30 to 40 patients per month get PrEP in 2016, Coleman said. In 2017, that figure jumped to about 45 people per month.
An ad the clinic released this fall with information about PrEP was viewed 2.9 million times, Coleman said.
And the health department recently surveyed a representative sample of 800 D.C. residents about PrEP. About 30 percent of people said they learned about the drug from the city's public information campaign, which targets messages to a general audience, gay men, straight African-American women and transgender women.
The largest proportion of HIV cases diagnosed in D.C. between 2012 and 2016 were among black men who have sex with men, and black men who have sex with men and also are injection drug users, health department data says. That group made up 26 percent of cases.
Straight, black women made up the second-largest group of people with newly diagnosed cases, at 15 percent.
PrEP use is highest among gay, white men, Kharfen said. Now, health officials are working to inform other groups about the the drug and reduce stigmas about it, including that people who take PrEP are promiscuous.
Instead, officials want residents to embrace the idea that they can take control of their exposure to HIV, instead of depending, for example, on male partners to use condoms. An ad for PrEP on the side of D.C. buses shows five black women and says "Dominate your sex life."
"We're working to normalize the PrEP discussion," Coleman said.
'You Are Powerful': DC Girls Inspired by Oprah's Speech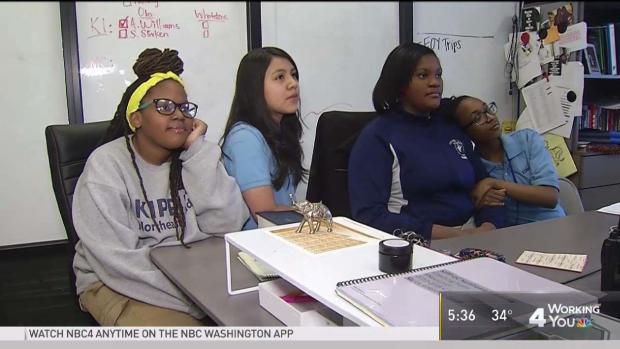 Nearly 13,000 D.C. residents, or 1.9 percent of the population, lived with HIV at the end of 2016, the department's data says. People with HIV make up a larger percentage of the population in D.C. than in any state in the country, according to 2016 data from the CDC.
On the plus side, the number of newly diagnosed cases dropped 52 percent in 2016 compared to 2011, and 73 percent compared to 2007.

Coleman said she hoped the racy PrEP ad airing in the city would lead more people to consider getting on the drug.
"It gets the conversation started," she said.