Police accused an 18-year-old of riding an off-road vehicle through D.C. -- and filming a police officer who pursued him on a bicycle until the officer fell onto the road.
Nasir Wallace turned himself into police Friday morning. He was charged with resisting arrest and operating an ATV in public space, police announced Friday on Twitter.
Video of the chase obtained by News4 shows an officer on a bicycle chasing an ATV rider, who was filming the encounter near the intersection of Rhode Island Ave NW and 14th Street NW.
As the ATV approaches an intersection, the officer appeared to try and step off his bike. The officer tripped and fell to the ground as a police car following him quickly comes to a stop.
The ATV riders laughed as they rolled away, the video shows.
"It's no laughing matter now," police said in a Tweet using the hashtag #WeWillFindYou.
It's no laughing matter now. This morning Nasir Wallace, 18, the illegal ATV rider who took video of our officer falling off his bike was arrested and charged with resisting arrest and operating an ATV/dirt bike on public space. #WeWillFindYoupic.twitter.com/OFa2opzkG0

— DC Police Department (@DCPoliceDept) December 1, 2017
D.C. police have been cracking down on people riding off-road vehicles in the District, which is illegal.
Dozens of ATV and dirt bike riders sent pedestrians scrambling out of the way at National Harbor and in D.C. in June, News4 reported.
ATVs Overwhelm Busy D.C.-Area Streets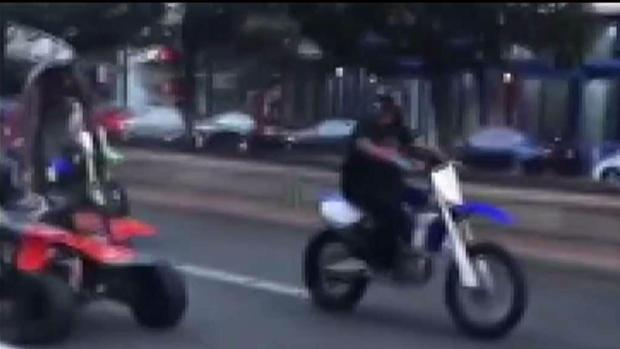 Police later released a "picture book" showing the faces of dozens of suspected ATV riders.
Surveillance Photos: Police Seeking Even More ATV Riders
In July, police seized 62 off-road vehicles that were being illegally operated in D.C. and crushed them.
"We hope those who illegally and recklessly operate these vehicles will see this as a symbolic gesture that this type of behavior won't be tolerated in the District of Columbia," police Chief Peter Newsham said in July. "The community is fed up with this behavior. As long as they continue endangering the lives of everyone on our streets, MPD will continue confiscating and destroying these vehicles."
Demolition Day for ATVs DC Police Confiscated