Massive crowds packed into D.C. Metro stations Saturday night as thousands of participants in the Women's March on Washington headed toward the White House and dispersed from the National Mall.
Metro urged people to consider waiting before riding to allow the crowds to ease. Fairfax County police also advised riders to follow police direction.
Metrorail has seen more riders on Saturday than it did for former President Barack Obama's second inauguration in 2013, reports News4's Mark Segraves.
Be mindful of large crowds at the local Metro stops today as some make their way back from the #WomensMarch. Pls follow police direction. pic.twitter.com/iAxEU26Bqc

— Fairfax Co. Police (@fairfaxpolice) January 21, 2017
Chair of @wmata says more people have taken Metro for #WomensMarch than for Obama 2013 pic.twitter.com/hkaXeJsjsc

— Mark Segraves (@SegravesNBC4) January 21, 2017
Gridlock in downtown DC as #WomensMarch much larger than anticipated. Protestors in streets across DC pic.twitter.com/kBCipArivC

— Mark Segraves (@SegravesNBC4) January 21, 2017
Very long waits to get on @wmata after #WomensMarchpic.twitter.com/oLTk7H9ohb

— Mark Segraves (@SegravesNBC4) January 21, 2017
#metro center crowd after #WomensMarch Everyone trying to get home now. pic.twitter.com/aLqpNDGLId

— Darcy Spencer (@darcyspencer) January 21, 2017
#metro platform packed at Metro Center station. Crowds leaving #WomensMarch@nbcwashingtonpic.twitter.com/5uUfdd2IXs

— Darcy Spencer (@darcyspencer) January 21, 2017
Stations were packed and more than a dozen parking facilities were full before noon Saturday as hundreds of thousands of participants headed to downtown D.C. for the Women's March on Washington.
Trains briefly bypassed the L'Enfant Plaza station due to crowding. They began serving the station again shortly before 1:10 p.m. Officials recommended riders use other stations to get to the march, such as Gallery Place or Metro Center.
Photos of the Shady Grove Metro station currently. Hearing it's an hour wait to get on the train. O____o #WomensMarchpic.twitter.com/YOaaQ41v1s

— Philip Lewis (@Phil_Lewis_) January 21, 2017
Posts on social media Saturday showed long lines of people waiting for access to Metro stations. Multiple people shared images and videos of the scene outside the Shady Grove, where Philip Lewis of the Huffington Post reported earlier Saturday that he was hearing riders were waiting an hour to board trains.
March organizers said they've increased turnout estimates to 500,000 participants, said D.C. Deputy Mayor for Public Safety and Justice Kevin Donahue. "Be patient & kind!" he posted on Twitter.
Metro 'Overwhelmed' by Women's March Attendees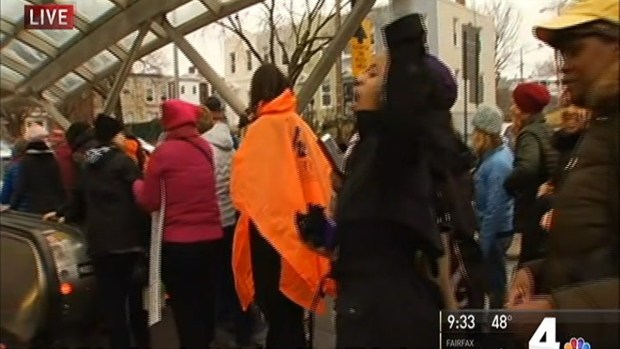 It's been a busy day for Metro. Officials said 275,000 rides had been taken as of 11 a.m. "For comparison, that's more than 8 [times] a normal Sat[urday] & even busier than most weekdays," Metro posted on Twitter.
As of the same time on Friday, Inauguration Day, 193,000 trips had been taken.
Metro station personnel were making adjustments to try to accommodate the large crowds. At the Ballston and Stadium-Armory stations, would-be Metro riders were stopped before the escalators because too many people were already on the platform Saturday morning, reported News4's Adam Tuss, who said it "cannot be overstated how heavy the crowds are."
TUSS GREENBELT METRO FOR DIGITAL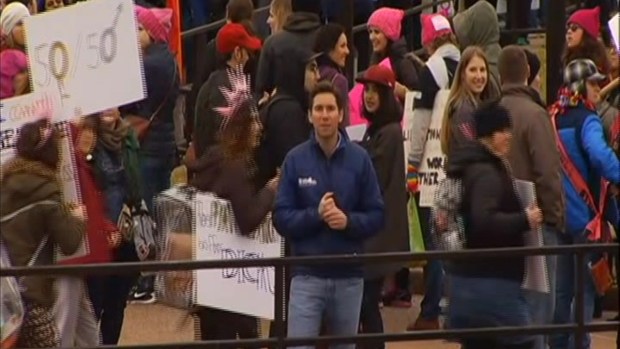 Melissa Zieve of Baltimore said she had to let the first two trains at Tenleytown pass by because they were too full. She was able to board a third train and rode to Union Station.
"I've never been on a subway in any city packed quite like that," Zieve said, but added that everyone was respectful and no one was pushing.
Massive day underway for D.C. #wmata@nbcwashingtonpic.twitter.com/k3xRl6rxge

— Adam Tuss (@AdamTuss) January 21, 2017
Parking facilities all stations in Fairfax County and several others are full, according to Metro officials and Fairfax County Police. Those are:
Orange, Silver, or Orange/Silver Lines:
East Falls Church
West Falls Church
Dunn Loring
Vienna
McLean
Tysons Corner
Greensboro
Spring Hill
Wiehle-Reston East
New Carrollton, lot 2 (lots 1 & 3 have limited capacity)
Green Line:
Red Line:
Forest Glen
Fort Totten
Glenmont
Rhode Island Avenue
Rockville
Shady Grove, west/south (north has limited capacity)
Oh my...the line just to get into Greenbelt right now #wmata@nbcwashington#WomensMarchpic.twitter.com/m6odhsNDvB

— Adam Tuss (@AdamTuss) January 21, 2017
As of 10 a.m., Metro was recommending the following stations with available parking: Branch Avenue, Grosvenor, Prince George's Plaza, Southern Avenue, Suitland, Twinbrook and White Flint.
Outside the filled Greenbelt and New Carrollton lots, drivers have been illegally parking on the shoulders of the ramps leading to the Metro stations, according to the Maryland State Highway Administration.
Metro had initially planned to keep the Federal Triangle station closed throughout Saturday, but reversed their decision and reopened the station about 9:20 a.m.
Riders may also consider exiting at the Federal Center SW or Capitol South stations.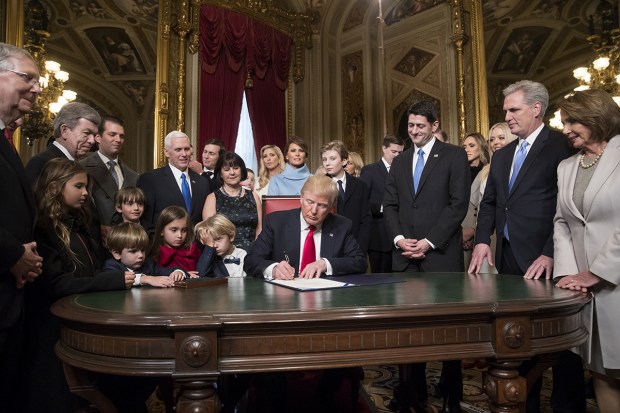 Inauguration Weekend in Photos
Margaret Warpeha from Minnesota flew in Friday night and described her Metro experience as wonderful Saturday morning. She boarded at Silver Spring about 9 a.m. and said it wasn't too crowded.
Warpeha said she wanted to come to D.C. because she was "quite upset" about the election and didn't want to remain silent.
Outside Union Station, Lisa Legrand of Minneapolis said she flew into Philadelphia, drove to the Tenleytown station and rode the Metro downtown.
"It was really crowded" but had a very positive energy, Legrand said.
After event, Metro will be very crowded. Pls consider waiting/enjoying Downtown DC to allow crowds to ease. Pls retweet #wmata#womensmarch

— Metro (@wmata) January 21, 2017
#wmata parking lots w/ parking (10am) - Prince George's Plaza, Branch Av, Twinbrook, White Flint, Grosvenor, Suitland, Southern Av #wmata

— Metrorail Info (@Metrorailinfo) January 21, 2017
Ref: Women's March in DC, all local metro station parking lots in FFX Co are at capacity. Pls don't park in private lots as you may be towed

— Fairfax Co. Police (@fairfaxpolice) January 21, 2017
L'Enfant Plaza experiencing large crowds, consider Federal Triangle (now open), Federal Center SW as alternates #wmata

— Metrorail Info (@Metrorailinfo) January 21, 2017
Orange/Silver Line: Expect delays to New Carrollton & Largo Town Center due to a disabled train at Virginia Square.

— Metrorail Info (@Metrorailinfo) January 21, 2017
More #wmata parking alternatives include Prince George's Plaza, Branch Av & Anacostia, all off I-95 & their extensions. #wmata

— Metrorail Info (@Metrorailinfo) January 21, 2017
Orange/Sliver Line: Expect delays to New Carrollton & Largo Town Center due to a disabled train at Virginia Square.

— Metrorail Info (@Metrorailinfo) January 21, 2017
As of 8:30a, Greenbelt & New Carrollton parking at capacity. Consider College Park, Landover or Largo for alternates. #wmata

— Metrorail Info (@Metrorailinfo) January 21, 2017
Vienna and East Falls Church parking lot is nearing capacity. Consider Dunn Loring as an alternate. #wmata

— Metrorail Info (@Metrorailinfo) January 21, 2017
Crowds at end-of-line stations growing. Please allow extra time to buy fares, or consider otherstations further down the rail line. #wmata

— Metrorail Info (@Metrorailinfo) January 21, 2017
Greenbelt & New Carrollton parking at or near capacity. Consider College Park, Landover or Largo for alternates. #wmata

— Metrorail Info (@Metrorailinfo) January 21, 2017
Crowds cheering at Union Station Metro. My train had to bypass Judiciary Sq. bc the platform was too crowded. @nbcwashington#WomensMarchpic.twitter.com/G6oLeccnOR

— Megan Yoder (@meg_yoder) January 21, 2017
Springfield metro station packed before 8am. #WomensMarch#NBC4DCpic.twitter.com/6Pq46UdVET

— Aaron Gilchrist (@nbcaaron) January 21, 2017
Crowds flooding in from AU and beyond at the Tenleytown metro. My train is packed like sardines. @nbcwashington#NBC4DCpic.twitter.com/ffYxhU6GT6

— Megan Yoder (@meg_yoder) January 21, 2017
Crowds also being held at Ballston because of crowding on platform #wmata@nbcwashingtonpic.twitter.com/BAmGJZBKdq

— Adam Tuss (@AdamTuss) January 21, 2017
Reston Station plaza is FULL of people waiting to get into station to go to DC! @nbcwashington@AdamTuss#WomensMarchpic.twitter.com/AJpqnB2C69

— Mary Dominiak (@Bardicvoice) January 21, 2017
At stadium-armory crowds being stopped before escalators because too many people on platform #wmata@nbcwashington

— Adam Tuss (@AdamTuss) January 21, 2017
Per @womensmarch organizers, they're increasing today's turnout estimates to 500,000 participants. Be patient & kind! #WomensMarch

— Deputy Mayor Donahue (@SafeDC) January 21, 2017
Today is going to be busier than yesterday on Metro - no question #wmata@nbcwashington

— Adam Tuss (@AdamTuss) January 21, 2017
Throngs WALKING inbound across I-395 14th Street Bridge toward #WomensMarch. You don't see this everyday. pic.twitter.com/BXwVxjEIKC

— Dave Dildine (@DildineWTOP) January 21, 2017