What to Know
Bananas in nooses were found Monday in three locations on American University's campus.

The racist displays were found the same day the first black woman to become student government president started in the role.

Hundreds of students began marching on campus Tuesday afternoon, urging administrators to take on-campus racism seriously.
Campus police have distributed two videos of the person suspected in a racially motivated hate crime on American University's campus.
The blurry video clips show someone walking on the empty campus. Campus police believe at least three bananas hung in nooses were placed on campus Monday between 3:45 a.m. and 4:10 a.m.
The person was wearing dark clothes and may have worn a mask or a hat, campus police said. The suspect walked from the quad to the Southside shuttle stop. They may have entered a light-colored sedan near Rockwood Parkway.
Anyone who recognizes the person is asked to call campus police at 202-885-2527 or submit an anonymous tip online.
Hundreds of students marched on the Washington, D.C. university's campus on Tuesday, a day after bananas hanging from nooses were found in multiple locations on campus.
Fists in the air, students walked out of a town hall the administration held on the school's campus. Students marched across campus chanting "Black lives matter" and "Hey, hey, ho, ho! That racist s--- has got to go."
Pressure is increasing on school administrators to respond to repeated racist acts.
Students marched to the registrar's office, asked for withdrawal forms and waved them in the air as a sign of protest.
"If our existence isn't valued on this campus, than we don't need to be here," student Ma'at Sargeant said.
Bananas marked with the letters "AKA," the abbreviation for Alpha Kappa Alpha, the historically black sorority, were found in three locations of the university's campus starting Monday morning.
The racist displays were found on the same day student government president Taylor Dumpson, an AKA member, started the new position. She is the first black woman in the role.
American University Investigates Messages of Hate
In an email to students sent Tuesday morning, University President Dr. Neil Kerwin called the creation of the displays a hate crime.
"American University remains committed to principles of diversity, inclusion, common courtesy and human dignity, and acts of bigotry only strengthen our resolve. Anyone who does not feel similarly does not belong here," the email said.
The 12 p.m. campus town hall had a standing-room-only crowd. Members of Kerwin's President's Council on Diversity and Inclusion (PCDI) were set to attend, according to an email he sent to students. Campus police and D.C. police were on hand.
Dumpson, the new student government president, stood at the townhall and said she would have left the school if she had known she would face a racist threat.
"If you told me this three years ago, as a freshmen at this university, that I would become student government president and I would see bananas put on my campus, my university, that I pay to go to, that I put my hard-earned time into, that people would drag my organization into it as a slight to me because people didn't have the courage to put my name on it -- if you had told me that then, I guarantee you that I would not have stayed at American University," she said.
Dumpson said administrators and student leaders need to "do more than just have conversations, but move in a direction towards more tangible solutions to prevent incidents like these from occurring in the future."
AKA's international president, Dorothy Buckhanan Wilson, said sorority sisters are dismayed by the racist acts.
"We are stunned. In 2017, to put a noose on a banana and the letters AKA -- we're clear about what that is," she said by phone.
In a letter to sorority sisters, Wilson urged school officials to investigate, discipline perpetrators and protect African Americans on campus.
"Alpha Kappa Alpha Sorority will not tolerate unwarranted attacks on our members or any member of our community -- physical, verbal or otherwise -- which interfere with their pursuit of higher education or their basic human rights," the letter said.
March Planned at American University After Racist Displays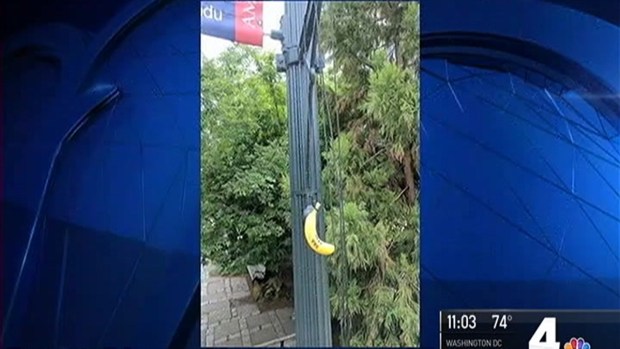 The university president condemned the messages of hate, saying in a message to students that the displays were a "crude and racially insensitive act of bigotry."
But some students said they want school officials to do more.
"I think we need more solidarity from the administration," sophomore Sammie Paul said Tuesday.
The bananas were found at a shuttle bus stop at Letts-Anderson Halls, in front of Mary Graydon Center and near the East Quad Building, school spokeswoman Camille Lepre said in an email to News4.
This is at least the third time in the past eight months that bananas have been used to harass African-American women on campus.
In September 2016, an African-American woman said a banana was thrown at her. Another African-American woman found a rotten banana and obscene drawings on her dorm room door that same month.
The PCDI will be available for one-on-one conversations with students in McDowell Hall at 6 p.m.
The school Department of Public Safety is investigating and reviewing surveillance video. They said they will continue to share more information and release photos as they become available.
Anyone with information is encouraged to call 202-885-2999 or visit the AUPD TIPS website. A reward of as much as $1,000 is offered.