A Laurel, Md., playground has been vandalized for the second time, authorities said Friday.
Vandals ripped up and removed a 4' by 2' section of the playground's rubber flooring Thursday at Discovery Park, located at 1030 Harrison Drive.
The park was destroyed in a fire earlier this year and had reopened in June. Investigators estimated the damage (pictured below right) to be around $100,000. Nothing could be salvaged from the blaze, officials said, and an arrest has yet to be made. The park was rebuilt three months later, at a cost of $100,000.
The recent damage to the flooring was estimated to be around $1,000.
"It's really a shame to destroy it after they've done so much work," Laurel resident Carrie Coleman said.
Laurel Director of Communications Pete Piringer said there's nothing at this point to indicate Friday's incident was related to the fire earlier this year.
"[There's] nothing obvious at this point, but certainly, public places get vandalized, and the potential for that is always there," he said. "Certainly we've had our issues at this park, but there's no reason to suspect that there's any connection other than geography."
However, Piringer said that a link hasn't been ruled out yet, and urged anyone with information to contact authorities.
The person who discovered the flooring damage initially thought there had been another fire at the park, Piringer said, because the underside of the floor's coating is charcoal-colored.
Two other Laurel playgrounds in Laurel have also been vandalized in the recent past, causing a total of $600,000 in damage.
Anyone with information on a suspect or suspects is asked to contact the Laurel Police Department at 301-498-0092.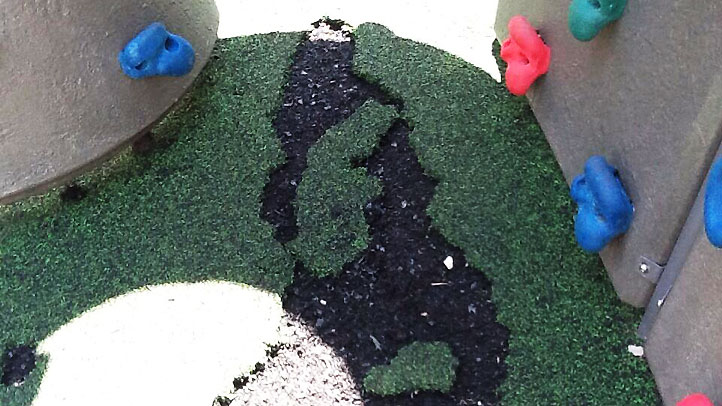 PREVIOUS COVERAGE: