On the 26th day of the longest government shutdown in United States history, hundreds of people lined up for free meals from chef José Andrés.
The line to get into Andrés's "emergency kitchen" on its first day open stretched around the building on Wednesday. World Central Kitchen is serving free meals to federal workers who are not being paid.
Air Force veteran and furloughed federal employee Serena Woods said she was grateful for the meal but embarrassed.
"I burst into tears on the phone with one of my creditors because I had to beg for forgiveness for the first time in my life, and it's debilitating and demoralizing," she said.
"Food is always comforting," another federal worker said.
The line outside @WCKitchen's emergency kitchen at 7th/Pennsylvania continues to grow. @nbcwashingtonpic.twitter.com/0MJVFlMPa0

— Cory Smith (@CoryNBC) January 16, 2019
Couple hundred furloughed federal employees/contractors have come to the #ChefsForFeds emergency kitchen at 7th/Pennsylvania. From 11-6pm free meals are provided for federal workers who present a valid government ID and their families. pic.twitter.com/w7olBSbchQ

— Cory Smith (@CoryNBC) January 16, 2019
She said she had worked for the federal government for more than a decade but was seeking work elsewhere.
"People have to get paid. People have to live," she said.
World Central Kitchen, at 701 Pennsylvania Ave. NW, near the United States Navy Memorial, is set to be open every day from 11 a.m. to 6 p.m. It's serving a "rotating menu of hot meals, sandwiches and salads," a statement from the nonprofit said.
Big news! We will open a kitchen on Pennsylvania Ave this week to join private sector effort to feed federal employees during the shutdown. It's only fair to feed Americans in need! #ChefsForFeds 👨‍🍳👩‍🍳🥘 Follow @WCKitchen for more details! pic.twitter.com/PRBtlaNug6

— José Andrés (@chefjoseandres) January 14, 2019
Andrés, who has fed people around in the world in the wake of disasters, said he empathized with federal workers.
"We believe that no person should have to go through the pain of not knowing what to feed their children," he said in a video filmed in Puerto Rico and posted to Twitter on Monday.
José Andrés Emergency Kitchen Opens in Downtown DC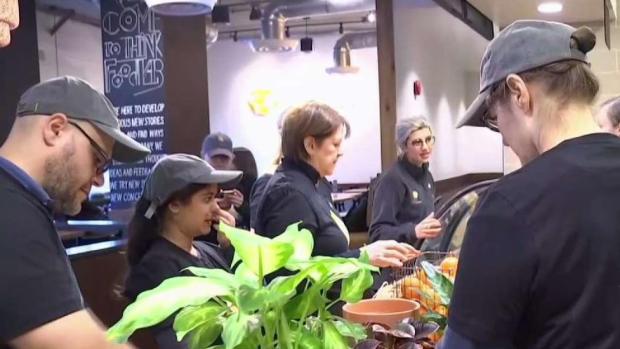 A federal employee who has worked for the government for three decades said she was frustrated by the need for Andrés's help.
"We shouldn't have to have this in America," she said.