Fairfax County firefighters battled two three-alarm blazes in Centreville, Virginia, Wednesday afternoon.
Four people were taken to a hospital with non-life-threatening injuries due to a fire at a four-story senior living community in the 14400 block of Woodmere Court. Three others were treated on the scene.
That fire started about 1 p.m. in a third-floor apartment and extended to the fourth floor and the attic, interim Fairfax County Fire Chief John Caussin said.
"It was extremely scary because watching it, top two floors were gone within 10 minutes," a witness said.
"The whole ceiling over there, roof was blazing," resident Janice Smith said. "Scared the heck out of me."
"I saw the flames, then I heard an explosion, and I saw debris just come flying out," resident Clay Kemp said.
Firefighters from surrounding departments assisted Fairfax County Fire and Rescue.
About 75 units were evacuated with the resident relocated to a recreation center. Red Cross is assisting the residents.
Firefighters remained at the scene for several hours to continue to extinguish the fire and determine the cause.
At the second Centreville fire less than 2 miles away, flames engulfed two rows of townhomes in the 5800 block of Watermark Circle. Ten townhomes were destroyed, said Fairfax County Fire & Rescue.
Two Rows of Homes Destroyed in Centreville Fire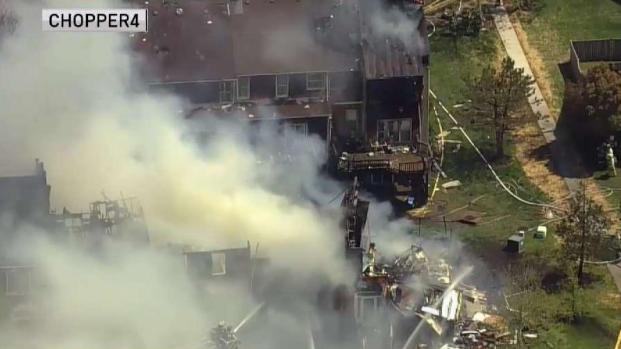 Neighbors said one woman was overcome by smoke and given oxygen at the scene.
The fire was under control about 3 p.m., but firefighters continued to put out hot spots.
"This is unusual ... especially fires this close together," Caussin said.
He said they have no reason to believe anything connects the two fires.
5800 block Watermark Circle UPDATE: Two rows heavily engulfed with exposure on two separate rows. One structure collapse. pic.twitter.com/EjeXNxB5cx

— Fairfax Fire/Rescue (@ffxfirerescue) May 2, 2018
Update 14400 block of Woodmere Ct in Centreville: Crews working on extinguishing fire. Two patients transported to area hospital with non-life threatening injuries. Three treated on scene minor injuries pic.twitter.com/g5IqRkZP1P

— Fairfax Fire/Rescue (@ffxfirerescue) May 2, 2018
Another three-alarm blaze Tuesday afternoon consumed at least one block of townhouses in Prince George's County, Maryland. And the roof of a bank in Fairfax collapsed due to fire.