A D.C. firefighter died in the line of duty Wednesday morning.
Lt. Kevin McRae, a 24-year veteran of the department, died after collapsing at a two-alarm fire at a downtown high-rise.
"D.C. lost a hero today," Mayor Muriel Bowser said outside MedStar Washington Hospital Center, where members of Engine 6 have gathered to support McRae's family.
D.C. Firefighters Remember Fallen Colleague as Mentor and Leader
Fire crews were called at 8:10 a.m. about the fire on the upper floors of an apartment building at 1330 7th Street NW, just north of the Washington Convention Center. McRae's crew from Engine Company 6 was the first team to arrive at 8:13 a.m., Bowser said.
Significant fire was coming from the 9th and 10th floors when crews arrived. A second alarm was called within minutes, and firefighters knocked down the blaze in about 50 minutes.
McRae and other firefighters ran to the top floors to help people get out of the building. He had just exited the building when he collapsed.
Zakia Boston says McRae saved her family.
"My sister was having an asthma attack, and we had to take them to the hospital," she said. "He encouraged us to go to the hospital ... and then he started getting sick right there at the bus stop."
Red Cross Helps Residents After 2-Alarm Fire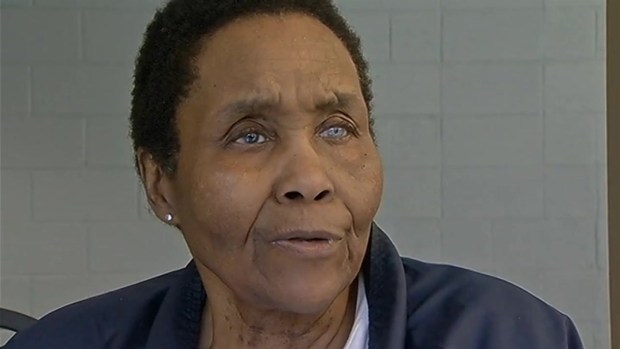 "Everything was routine right up until McRae exited the building and collapsed," said Acting Fire Chief Gregory Dean.
Paramedics began CPR and transported him to MedStar Washington Hospital, where he was pronounced dead shortly after 10 a.m.
McRae, 44, leaves behind his wife, three children and mother.
D.C. Firefighter Dies in Line of Duty
"They're devastated, as is his other family, which is the fire department and his crew," Bowser said outside the hospital shortly before noon Wednesday. "It's pretty shocking."
Cheryl Baskerville, who lived in the building until recently and witnessed the fire, called McRae the best of D.C.
"This building, 1330, is grateful for him," she said. "We are grateful for him."
Several students from Dunbar High School, where McRae's son is a senior, walked with Prinicpal Stephen Jackson to Engine Compnay 6, where they paid their respects to McRae.
Another firefighter also taken to a hospital was treated and released.
Firefighter Dies After Collapsing at Scene
Two civilians were also taken to local hospitals with non-life-threatening injuries.
Firefighters had arrived to find heavy fire on the top level of the building, and extended a ladder to the top of the building. At one point, flames and heavy smoke could be seen shooting from several windows near the top floor.
"All I know [is] I woke to an alarm going off in the building," said Ira Evans, who lives next door. "I came to look outside my door. There was smoke everywhere."
Evans said a resident of the apartment where the fire apparently began told him that she hadn't cooked anything Wednesday morning and that the fire broke out in a back room.
Firefighters holding hands in prayer outside hospital. pic.twitter.com/QQiFRf7ErN

— Mark Segraves (@SegravesNBC4) May 6, 2015
The @dcfireems firefighter collapsed at the scene of fire on 7th St his name is Lt Kevin McRae. @MayorBowser is at hospital now

— Mark Segraves (@SegravesNBC4) May 6, 2015
Fire investigators are working to determine the cause of the blaze.
Residents displaced by the fire are receiving services from the American Red Cross.
"Today is a day to mourn the passing of the lieutenant and comfort members of Engine 6, who lost a brother and a leader," Bowser said. "...As a city, we take care of our own, we take care of our firefighters, and we will soon have details of how members of the public may support the McRae family."
McRae joined the department July 31, 1989, as a member of Cadet Class 4. "He rose through the ranks as a cadet and he's mentored a lot of firefighters," Bowser said.
Apartment #fire in #DC at 7th and O st building in #shawdc@nbcwashingtonpic.twitter.com/LekehTpmh3

— Oliver Cox (@oliverhcox) May 6, 2015
He was the 100th member of the department to die in the line of duty, Bowser said.
Dean said the fire department will conduct an internal review of the incident and will work with federal agencies.
Dr. Jeff Dubin, chair of the emergency department at MedStar Washington Hospital, said McRae was immediately provided care by paramedics and firefighters at the scene and was taken to the emergency department, "where we continued trying to save him, trying to resuscitate him."
"We used everything we had, all the resources available were used, and unfortunately, despite everything that we did, Lt. McRae died, unfortunately, today," Dubin said.
Dubin said it appeared to be a sudden death. "We're just not sure," he said. "We'll have to wait."
A medical examiner will determine McRae's cause of death.
McRae's cousin, firefighter James McRae, died in the line of duty in July 2007.