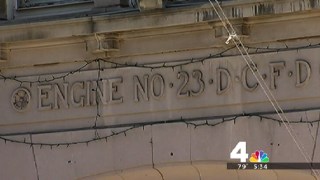 A D.C. firefighter accused of selling cocaine out of a Northeast barbershop pleaded not guilty before a judge Monday morning.
Norris Jackson was indicted last week on five charges; among them are possession with intent to distribute narcotics, carrying a pistol and possession of an unregistered firearm.
The investigation into Norris began after D.C. police received a complaint that a District firefighter was dealing drugs out of a barbershop, a police source told News4.
That led police to D.C. firefighter Norris Jackson, who was arrested July 2 in the 200 block of 63rd Street NE. According to an indictment document, Jackson had cocaine with him and was carrying an unregistered gun.
According to court documents, Jackson appeared in D.C. Superior Court two days after his arrest and was released to a halfway house.
Jackson has been with the department for eight years, and had been stationed at Engine 23 in Foggy Bottom. According to officials with D.C. Fire and EMS, Jackson was placed on administrative leave with pay.
His next court hearing is Aug. 22.
Published at 3:17 PM EDT on Jul 28, 2014 | Updated at 3:36 PM EDT on Jul 28, 2014