Two Maryland children are back home after authorities opened yet another investigation into their parents for allowing the young children to walk home alone.
A concerned citizen reported two unaccompanied children at Ellsworth Park in Silver Spring, Maryland, about 5 p.m. Sunday. A man who called 911 said he was walking his dog when the children asked to pet it. He said their clothes were dirty and they were walking around alone for about 20 minutes.
Child Protective Services confirmed it is investigating reports Danielle and Alexander Meitiv's children were alone again Sunday.
"Free-Range" Parent Considers Legal Action After Police Take Her Children From Silver Spring Park
The first officer to the scene contacted his supervisors, then CPS about 5:15 p.m. He saw a homeless man he recognized "eyeing" the children, police said.
The officer contacted another CPS employee about 6:10 p.m. for guidance, police said. At about 6:40 p.m., CPS informed him they were still making a decision. The decision to transfer the children to CPS in Rockville was made about 7:20 p.m., according to police.
CPS Investigating Md. "Free-Range" Parents Again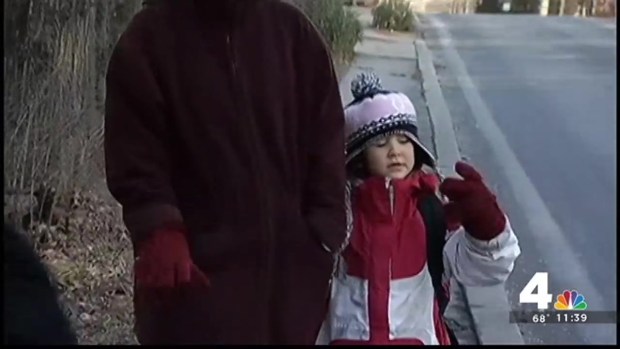 "I thought I was going to be taken away from my parents," 10-year-old Rafi Meitiv said.
Rafi told News4's Megan McGrath that he didn't get to see his parents for hours.
"They kept saying you can see them in a little bit," Rafi recounted. "Finally, 10:30 ... I could see them."
This is not the first time the family has been at the center of a CPS investigation.
Police stopped Rafi and his 6-year-old sister about halfway through a mile walk home Dec. 20 in Silver Spring. Police said they picked up the children and drove them home after someone reported seeing them.
In a message posted on Facebook Sunday night, Danielle Meitiv said Child Protective Services made both her and her husband sign a "safety plan" in order to bring the children home. The entire ordeal, she said, left the family "exhausted and terrified."
"The police coerced our children into the back of a patrol car, telling them they would drive them home. They kept the kids trapped there for three hours, without notifying us, before dropping them at the Crisis Center, and holding them there without dinner for another two and a half hours," the post reads. "We finally got home at 11pm and the kids slept in our room because we were all exhausted and terrified."
The Meitivs say they feel targeted and are considering legal action.
"They're healthy, they're well-behaved, well-fed, well-dressed, articulate, intelligent, confident. There's nothing in that list that suggests neglect," Danielle Meitiv said.
The family has said they're responsible parents who are teaching their children self-reliance and responsibility. They said the investigation infringed on their parental rights and invaded their privacy.
The parenting style has been labeled "free-range."
"I can't believe this has happened to the Meitiv family again," said Lenore Skenazy, founder of the "Free-Range Kids" movement. "All they're trying to do is give their kids an old-fashioned childhood, let their kids play outside on their own for a little bit. Not even on their own. There's two kids."
Child Protective Services says the Meitivs are not being targeted, adding that the police are legally obligated to get involved and contact CPS whenever they get a call about a child's welfare.
In March, the Meitivs were found responsible for "unsubstantiated child neglect" after their children were found walking home from a Montgomery County park by themselves.
The "unsubstantiated" ruling typically occurs when CPS "has some information supporting a finding of child neglect or has what appear to be credible reports that are at odds with each other or does not have sufficient information to reach a more definitive conclusion."
Danielle Meitiv had said then they planned on allowing her children to continue walking alone to and from the park.