Sept. 11 victims' loved ones marked the 12th anniversary of the attacks Wednesday at ground zero with the reading of names, moments of silence and serene music that have become tradition.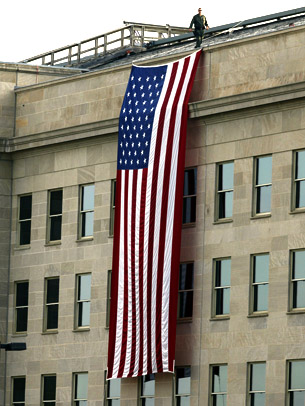 At a morning ceremony on the 2-year-old memorial plaza, relatives recited the names of the nearly 3,000 people who died when hijacked jets crashed into the World Trade Center and the Pentagon and near Shanksville, Pa., as well as the 1993 trade center bombing victims' names. Beforehand, Gov. Andrew Cuomo, musician Billy Joel, firefighters and others joined in a tribute motorcycle ride from a Manhattan firehouse to ground zero.

"Daddy, I miss you so much, and I think about you every day,'' Christina Aceto said of her father, Richard Anthony Aceto. "You were more than just my daddy, you were my best friend.''

Near the memorial plaza, police barricades were blocking access to the site, even as life around the World Trade Center looked like any other morning, with workers rushing to their jobs and construction cranes looming over the area.

Name-reading, wreath-laying and other tributes also will be held at the Pentagon and at the Flight 93 National Memorial in Shanksville while the commemoration unfolds at ground zero, where the mayor who has helped orchestrate the observances from their start will be watching for his last time in office. And saying nothing.

"No matter how many years pass, this time comes around each year - and it's always the same,'' said Karen Hinson of Seaford, N.Y., who lost her 34-year-old brother, Michael Wittenstein, a Cantor Fitzgerald employee.

"My brother was never found, so this is where he is for us,'' she said as she arrived for the ceremony with her family early Wednesday.

Continuing a decision made last year, no politicians will speak, including Mayor Michael Bloomberg.

Over his years as mayor and chairman of the National Sept. 11 Memorial & Museum, Bloomberg has sometimes tangled with victims' relatives, religious leaders and other elected officials over an event steeped in symbolism and emotion. But his administration has largely succeeded at its goal of keeping the commemoration centered on the attacks' victims and their families and relatively free of political image-making.

"Joe, we honor you today and all those lost on Sept. 11,'' said Kathleen O'Shea, whose nephew Joseph Gullickson was a firefighter in Brooklyn. "Everyone sends their love and asks that you continue to watch over us all, especially your wife.''

Memorial organizers expect to take primary responsibility for the ceremony next year and say they plan to continue concentrating the event on victims' loved ones, even as the forthcoming museum creates a new, broader framework for remembering 9/11.

"As things evolve in the future, the focus on the remembrance is going to stay sacrosanct,'' memorial President Joe Daniels said.

Hinson said she would like the annual ceremony to be ``more low-key, more private'' as the years go by.
Wednesday's ceremony at the Pentagon Memorial began just after 9:30 a.m. The event - in recent years - has moved out of the public's eye, becoming a time of private reflection for survivors and the families of victims. About 400 people were expected to attend the invitation-only ceremony. President Barack Obama is scheduled to speak.

The 12th anniversary also arrives with changes coming at the Flight 93 National Memorial in Shanksville, where officials gathered Tuesday to herald the start of construction on a visitor center. At the Pentagon, plans call for a morning ceremony for victims' relatives and survivors of the attacks and an afternoon observance for Pentagon workers.

Around the world, thousands of volunteers have pledged to do good deeds, honoring an anniversary that was designated a National Day of Service and Remembrance in 2009.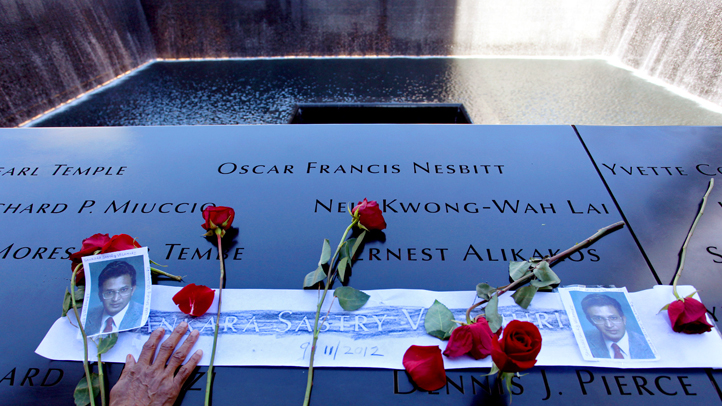 When Bloomberg and then-Gov. George Pataki announced the plans for the first anniversary in 2002, the mayor said the "intent is to have a day of observances that are simple and powerful.''

His role hasn't always been comfortable. When the ceremony was shifted to nearby Zuccotti Park in 2007 because of rebuilding at the trade center site, some victims' relatives threatened to boycott the occasion. The lead-up to the 10th anniversary brought pressure to invite more political figures and to include clergy in the ceremony.

By next year's anniversary, Bloomberg will be out of office, and the museum is expected to be open beneath the memorial plaza.

While the memorial honors those killed, the museum is intended to present a broader picture of 9/11, including the experiences of survivors and first responders.

But the organizers expect they "will always keep the focus on the families on the anniversary,'' Daniels said. That focus was clear as relatives gathered last September on the tree-laden plaza, where a smaller crowd was gathering Wednesday - only friends and family of the victims were allowed.

Bruni Sandolval carried a large photo of childhood friend Nereida DeJesus, a victim.

"We grew up together on the Lower East Side and I come every year with her family,'' she said. "Coming here is peaceful in a way.''

Denise Matuza, who lost her husband on Sept. 11, said people ask her why she still comes to the service with her three sons.

"`It doesn't make us feel good to stay home,'' she said. Her husband called after the towers were struck."`He said a plane hit the building, they were finding their way out, he'd be home in a little while. I just waited and waited,'' she said.

"A few days later I found an email he had sent that they couldn't get out.''
Copyright AP - Associated Press