Police have arrested and charged four men and a teenager in the gruesome murder of a 16-year-old boy from Fairfax County, Virginia.
The five suspects are part of an MS-13 "clique" that operates in Fairfax County, Virginia, police said. The victim, Jacson Pineda Chicas, also belonged to the gang.
A sheriff's deputy found the Chicas' body over the weekend in a wooded area off of River Road in Fredericksburg, Virginia. Authorities believe he was murdered in Prince George's County, Maryland.
Prince George's County police said Friday that 29-year-old Jose Ordonez-Zometa, 25-year-old Jose Hernandez-Garcia, 20-year-old Jonathan Castillo-Rivera, 18-year-old Kevin Rodriguez-Flores and 16-year-old Christian Martinez-Ramirez were charged in Chicas' murder.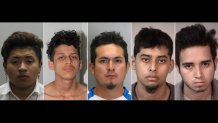 Chicas' mother, who did not want to be identified, told News4 Thursday that her son was forced to join the gang in El Salvador and that's why their family fled the country. But Chicas was unable to escape the gang's grip in America.
"They threatened him and they would follow him to work. He worked at IHOP ... everyday he would leave [the house] with fear," she said.
She said Chicas was trying to leave the gang and he started living at a house in Prince George's County to spare his parents and siblings from danger.
Chicas' mother told News4 that when gang members previously accused him of talking to police they threatened to kill his family and he had told them to kill himself instead.
"He had to take knives to defend himself, and screwdrivers. He had razors and he told me, 'Mom, I'm going to defend myself with them, but it's not going to be enough.'"
Police have not confirmed a motive for the killing, but said Chicas and several members went to a meeting at the clique leader's home in the 7000 block of Varnum Street in Landover Hills on March 8.
"During the meeting, a violent attack took place where our victim was stabbed as many as 100 times," said Major Brian Reilly with the Prince George's County Police Department.
Reilly said the suspects then drove Chicas' body to Stafford County, where they dumped it and set it on fire.
Local
Washington, D.C., Maryland and Virginia local news, events and information
Ordonez-Zometa is in the custody of Prince George's County police, while the four others are in custody in Virginia.
Chicas was a student at Falls Church High School.
"Jacson was an engaging young man, well-liked by all who knew him, and will be greatly missed by the Jaguar school community. I have been in contact with Jacson's family to offer them our condolences and support. They have allowed me to share the news of his death with you so that you may be prepared to support your child," Principal Ben Nowak said in a letter to parents.
Police are asking anyone with information on the investigation to call detectives at 301-772-4925. Callers wishing to remain anonymous may call Crime Solvers at 1-866-411-TIPS (8477), or go online at www.pgcrimesolvers.com, or use the "P3 Tips" mobile app.
The Stafford County Sheriff's Office is collaborating with Prince George's County police in the investigation.