A 13-year-old boy, two women and two men were hurt in Southeast D.C. Tuesday morning when gunfire erupted, police say.
D.C. police responded to the 2200 block of Alabama Avenue SE about 8:40 a.m. after gunshots were heard, Metropolitan Police Chief Robert Contee said. A lone gunman appeared off 22nd Street about 8:38 a.m. and fired at people in front of a convenience store.
"These types of crimes that happen in our community should be unacceptable. I don't care what ward you live in," Contee said. "When someone brazenly fires into a crowd of people, striking five people, innocent people in this instance, that's unacceptable."
Contee said police found three of the victims at the shooting scene. Later, two more victims showed up at hospitals.
Most of the victims had injuries that were described as not life-threatening; however, one man who was shot in the torso was said to be in critical condition, reported News4's Justin Finch.
Police did not say whether they believe any of the victims was the intended target, or if this was a random act of violence.
Cmdr. John Branch said he feared the District is seeing more of what he called "spray and pray" shootings.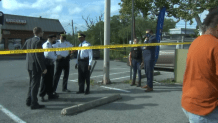 "Unfortunately that's what people are doing now. They're just indiscriminately shooting into crowds," he said. "Years ago it was a different thing — someone was targeting one person. They would target that one person. Now it's a 'spray and pray'-type mentality."
Police had a vague description of the suspect but later shared some images. They said the suspect is wanted for assault with intent to kill.
"I'm pleading for the community's help. This is unacceptable. This could be anyone's child, anyone's mother, father, sister, brother out at 8:38 in the morning," Contee said.
As he has done too many times before, Jay Brown with the nonprofit group Community Shoulders arrived at the shooting scene to provide trauma support.
Local
Washington, D.C., Maryland and Virginia local news, events and information
Brown said he doesn't know what drove this shooter to pick up a weapon, but having been to countless crime scenes, he said he saw a pattern.
"It's a lack of coping skills, poor threat perception. A lot of individuals feel like, 'I need to handle whatever it is that I'm dealing with internally, whatever I'm dealing with mentally, in the most violent way,'" Brown said.
This is the second mass shooting in the District this month.
Three people were killed when a gunman opened fire on Longfellow Street NW on Sept. 4. In July, 6-year-old Nyiah Courtney was killed in a mass shooting in Southeast D.C.
Police are once again asking the community for help not just solving this crime, but in preventing gun violence.
For Brown, the shooting Tuesday morning showed there's still great work to be done.
"The gun should not be the only option that a young man or a young women feels like they have. Pain should not be our only commonality," he said.
Anyone with information is asked to call police at 202-727-9099 or text them anonymously at 50411 with any tips.
Stay with News4 and NBC Washington for more on this developing story.