The United States picked up three more medals overnight.
Here's what happened in Pyeongchang in the last 24 hours:
GW Grad Meyers Taylor Clinches Silver on Bobsled Track
[NBCO-GalleryFeed] Model Olympian: Elana Meyers Taylor
Pilot Mariama Jamanka and Lisa Buckwitz won Germany's latest gold in a sliding sport in PyeongChang, defeating Team USA's Elana Meyers Taylor sled by 0.07 seconds. Meyers Taylor, along with brakeman Lauren Gibbs, matched the silver she won in Sochi.
Two-time defending champion champion Kallie Humprhies of Canada, who had a different brakeman for each gold and was riding with Summer Olympian Phylicia George in PyeongChang, won bronze. In her three Olymipcs, she never finished off the podium.
The American sled piloted by Jamie Greubel Poser with brakeman Aja Evans finished fifth, 0.13 seconds off the podium.
Italy's Goggia Wins Gold, Vonn Takes Bronze in Women's Downhill

[[472227313, L]]
Italy's Sofia Goggia held off a strong field to win gold in the women's downhill, while Team USA's Lindsey Vonn took bronze, finishing 0.47 seconds behind her rival.
"I gave it my best shot," Vonn said through tears after the race. "And I'm so proud to have competed with so many amazing girls."
Ragnhild Mowinckel of Norway won silver, finishing 0.09 seconds behind Goggia.
Vonn's bronze-medal finish makes history: At 33, she is the oldest female medalist in Alpine skiing at the Winter Games. She will ski again in the combined on Thursday (Wednesday night in the U.S.), going up against teammate Mikaela Shiffrin, who won gold in these Games in the giant slalom.
Team USA's Alice McKennis finished fifth, Breezy Johnson finished seventh and Laurenne Ross finished 15th.
You can find a full recap here.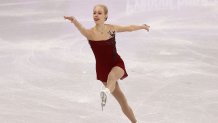 Russian Skaters Deliver in Women's Short Program
[NATL] Funny Faces of Figure Skating
Women's figure skating at the Pyeongchang Olympics was billed as a showdown between Olympic Athletes from Russia Evgenia Medvedeva and Aliona Zagitova, and they delivered Wednesday at Gangneung Ice Arena.
Zagitova set a new short program record with her score of 82.92 to slide into first place, ahead of Medvedeva by 1.31 points. If the 15-year-old Zagitova holds on to the top spot through Friday's free skate, she would become the second youngest women's figure skating gold medalist behind Tara Lipinski, the 1998 Olympic champion.
Canada's Kaetlyn Osmond was in third place after the short program with 78.87 points.
All three Americans skating in the short program planned to open their routine with triple jumps, and all three stumbled. Bradie Tennell and Mirai Nagasu each fell all the way to the ice — Tennell on a triple lutz to triple toeloop combination, and Nagasu on a her trademark triple axel — while teammate Karen Chen placed a hand on the ice to brace herself coming out of a triple lutz.
After 42 Years, US Wins Gold in Women's Cross-Country Skiing
[NBCO-GalleryFeed] Model Olympian: Jessie Diggins
Team USA ended their 42-year Olympic medal drought in cross-country skiing Wednesday and they made American cross-country history in the process.
Jessie Diggins and Kikkan Randall became the first American cross-country skiers to capture a gold medal by winning the women's team sprint at the Alpensia Cross-Country Centre in Pyeongchang, South Korea. Sweden captured silver and Norway took home bronze.
Diggins and Randall are the first American women to win an Olympic medal and join Bill Koch as the only American cross-country skiers to earn an Olympic medal.
Koch picked up the silver medal in the men's 30km in Innsbruck, Austria, in 1976.
Going into the team event, Diggins had three fifth-place finishes and a sixth-place finish in these Olympics.
Diggins' other high finishes have come in the 4x5-kilometer relay (fifth), the skiathlon (fifth), the 10-kilometer freestyle (fifth) and the classic sprint (sixth). But throughout her career, she's shined in the team sprint, winning gold at the world championship in 2013 and bronze at the world championship in 2017.