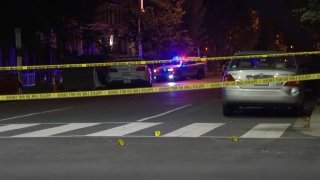 Four men were shot in Southeast D.C. Friday night and one has died, the Metropolitan Police Department confirmed.
The shooting took place at 17th Street and Independence Avenue before 8:15 p.m.
The deceased was found a block away at 17th and A streets, police said. He was pronounced dead at the scene.
A second man was taken to a hospital with non-life-threatening injuries.
Two other men went to the hospital with non-life-threatening gunshot wounds suffered in this incident.
D.C. police said they are looking for a large, light-colored sedan. It could be gray or silver.