Police are renewing efforts to find out what happened to a 3-month-old baby after she was taken from her mother's arms in 1983.
On Dec. 2, 1983, April Williams and her young mother were waiting at a bus station in downtown Washington when they were approached by a woman who introduced herself as Latoya.
The two women started chatting, and after a few hours, the stranger took April into her arms and told the girl's mother that she was going to get a soda, a 1984 Washington Post article said.
But the woman never returned.
Officers scoured downtown D.C. looking for April, but the infant was never found.
In the years since her disappearance, police have released an age progression photo of what she could look like as an adult. Poice say she may also have a small birthmark in the shape of a straight line on the top of her left wrist.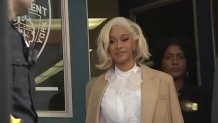 Police say the suspect was a young black woman with a slim build. She was 5 feet 3 inches tall with a dark brown complexion and spots on her face. She identified herself to April's mother as Latoya, but she could also go by Rene or Rene Latoya, according to police.
Local
Washington, D.C., Maryland and Virginia local news, events and information
The woman also had two piercings in each ear and could have a sister named Latisha or Natisha. She may also have an astrological sign of Leo.
Anyone with information that can help police is asked to call 202-727-9099. A reward of up to $1,000 is being offered for information that leads to an arrest and indictment.