Three men in their 20s are missing after they went overboard Sunday evening from a boat in the Potomac River.
None of the men were wearing life jackets and a recovery operation, not a rescue operation, is underway, D.C.'s fire department says.
Mustafa Haidar, 26; Ahmad "Johnny" Noory, 28; and Omid Rabani, 23, were on a boat in the area of Joint Base Anacostia-Bolling when they fell into the water, officials said. D.C. police described all three men as being Afghan.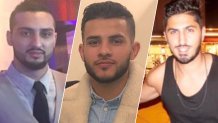 Several people said they saw the men go underwater and not resurface. Firefighters were called to the scene at about 5:40 p.m.
Multiple rescue agencies searched for the men, including members of the Coast Guard, D.C. police, Alexandria fire department, Prince George's County fire department and Metropolitan Washington Airports Authority fire department.
D.C. Fire and EMS said at 8 p.m. that the response had become a recovery operation. Spokesman Vito Maggiolo reminded anyone on the water to wear a life jacket.
"If folks were wearing personal flotation devices, we wouldn't be dealing with a tragedy, "he said.
Stay informed about local news and weather in the D.C. area. Get the NBC4 Washington app for iOS or Android and pick your alerts.
An investigation into the circumstances of the incident is underway.