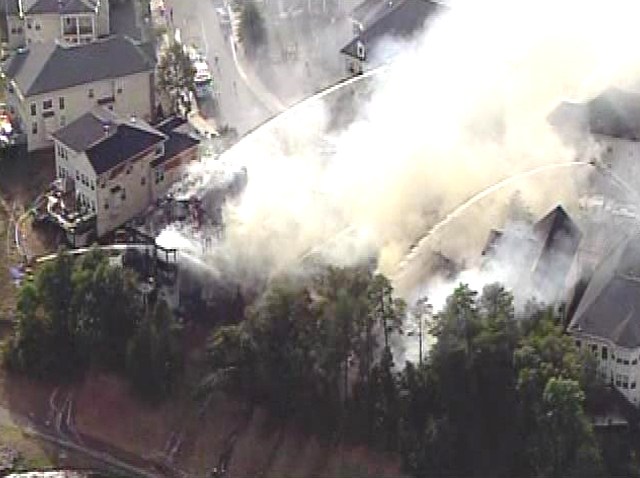 Thursday and five more damaged after a massive blaze ripped through a row of homes in the Sumner Lake subdivision off Plantation Lane in Manassas.
The fire broke out after 3 p.m. at 8355 Tillett Loop in the Sumner Lake subdivision and quickly spread, damaging houses from 8351 to 8359 Tillett Loop. Three were completely destroyed, two sustained heavy damage and three had minor damage like melting siding, fire officials said.
One resident of the subdivision described smelling burning plastic and going to a home where there was smoke. A young man was inside. The two then went door-to-door to making sure the other homes were empty.
One person suffered a burn to the hand in the blaze and another an unspecified minor injury, said Prince William County Battalion Chief Joe Robertson. No other injuries were reported.
Firefighters from Manassas, Manassas Park and Prince William and Fairfax counties were called to battle the fire, which quickly spread due to wind, Robertson said.
Chris Scott, a former firefighter who witnessed the blaze, said he'd never seen anything like it.
"I've never seen a house disappear so fast," he said of the first home engulfed in flames.
Firefighters had the blaze under control by 5 p.m. The Red Cross was called in to help families -- 11 people altogether -- whose homes were damaged or destroyed.
Manassas school officials sent students back to Mayfield Intermediate School and Haydon Elementary School when buses couldn't reach the subdivision. Parents on Thursday evening were called to pick up their children at their schools.
Traffic on Va. 28 and all roads surrounding the area was slowed due to the smoke and all the fire apparatus.
The blaze put a strain on fire and rescue stations around the region, prompting a call for volunteers to staff medic units and ambulances "ASAP," according to an alert issued about 5:15 p.m.
Firefighters and medics from Fauquier and Loudoun counties were called in to fill empty stations.
Sumner Lake is a community of about 60 single-family homes built in 2002-2003. Most are assessed at about $400,000.
Manassas Mayor Harry J. Hal Parrish II was out of the city Thursday but said he was on his way to the scene at about 5:30 p.m.
"I understand it's not a good situation," Parrish said from his cell phone.
Rumors flew Thursday night about what might have started the blaze.
Early investigation revealed that the fire may have started at a barbeque grill on the back deck of one of the houses, said Parrish, who is a volunteer firefighter. But investigators had not yet determined an official cause of the fire Thursday, Parrish said.
Parrish said he was concerned about how quickly the fire spread.
"What concerns me, quite frankly, is that the fire got a pretty good start," Parrish said.
Parrish said the houses on Tillett Loop are "pretty close together" and "largely wooden structures," which may have caused the fire to spread quickly, he said.
Fire officials said the houses are built about 10 feet apart, which contributed to the damage.
Robertson, a firefighter for 29 years, said the blaze was one of the area's biggest in recent years.
---
Fan, Follow and Text: Get the latest from NBCWashington.com anytime, anywhere. Follow us on Twitter and Facebook. Sign up for our e-mail newsletters and get breaking news delivered right to your mobile phone -- just text DCBREAKING to 622339 to sign up. (Message and data rates may apply.)