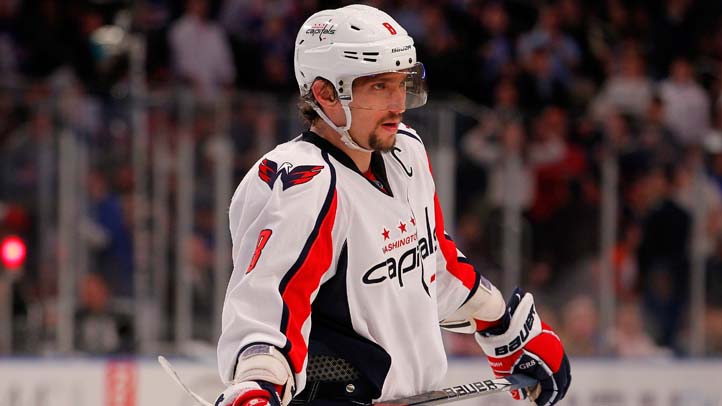 Since the NHL lockout began nearly three months ago, Washington Capitals forward Alex Ovechkin has threatened to never return to the NHL if his salary is cut in any way.
Yet, it seems that Ovechkin, currently playing for Dynamo Moscow of Russia's Kontinental Hockey League, has had a change of heart.
"I am very comfortable in Moscow, Russia in general, but my soul is across the ocean, in the NHL, with Washington Capitals, with whom I still hope to win the Stanley Cup," he said to Russian outlet vmdaily.ru, which was then translated by blog Alex Ovetjkin. "Alas, every week, even every day and hour, the hope that the NHL lockout will be solved, is decreasing."
Ovechkin, who has 12 goals and 27 points through 22 games in the KHL, will stay in Russia until the ongoing labor dispute between the NHL and NHL Players' Association is resolved, but some of his fellow players will take part in a players-and-owners-only meeting in New York Tuesday in yet another attempt to find some sort of common ground that could lead to a deal between the two sides.
At the suggestion of NHL Commissioner Gary Bettman, he and NHLPA Executive Director Donald Fehr will sit out of this meeting while six owners -- Ron Burkle of the Pittsburgh Penguins, Jeremy Jacobs of the Boston Bruins, Mark Chipman of the the Winnipeg Jets, Larry Tanenbaum of the Toronto Maple Leafs, Murray Edwards of the Calgary Flames, and Jeffrey Vinik of the Tampa Bay Lightning -- will meet with a similar amount of currently-undisclosed players. NHL Deputy Commissioner Bill Daly will join the owners, while it has been reported that NHLPA Special Counsel Steve Fehr will flank the players.
This meeting comes one week after federal mediation failed after just two days.

"There will be owners attending this meeting who have not previously done so, which is encouraging and which we welcome," Donald Fehr said in a statement. "We hope that this meeting will be constructive and lead to a dialogue that will help us find a way to reach an agreement."
The NHL lockout has already claimed all regular-season games through Dec. 14 -- 422 total games -- as well as the Winter Classic and All-Star Game.
---
Follow Adam on Twitter @AdamVingan and e-mail your story ideas to adamvingan (at) gmail.com.