New round-trip Amtrak routes start Monday between Washington, D.C., and two Virginia cities: Norfolk and Roanoke.
The additions will bring the number of state-funded round trips from the nation's capital to eight, The Washington Post reported Saturday.
"We're adding more options for people at the right time," said Michael McLaughlin, chief operating officer at the Virginia Passenger Rail Authority. "Capacity on the trains is getting full, and ridership is at record-high levels."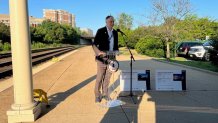 We're making it easier for you to find stories that matter with our new newsletter — The 4Front. Sign up here and get news that is important for you to your inbox.
The expansion means there will be two new round trip options for Roanoke passengers and three round trips for Norfolk travelers. The rides from Norfolk to Union Station will take about four and a half hours.
"I think anybody that lives in this area has been on 95 between D.C., Fredericksburg and 66 out west," D.J. Stadtler the executive director of Virginia Passenger Rail Authority said. "This allows folks to get out of their cars, out of the rush hour traffic and onto trains."
In the past couple of months, Stadtler said they are seeing higher monthly ridership now than before COVID-19.
"So that's telling us that folks are coming back to the train," Stadtler said.
Amtrak already runs one morning trip from Roanoke to D.C. and an evening return trip. Starting Monday, a new train will leave D.C. for Roanoke at 8:05 a.m., and a Washington-bound train will leave Roanoke at 4:30 p.m., arriving shortly before 9:30 p.m.
Amtrak, which expanded service to Richmond last year, said the additions will give riders more options to travel in Virginia and boost connections to the Northeast.
Virginia is among 17 states that have state-sponsored Amtrak service, the Post reported.
"Providing people throughout the Commonwealth with reliable, frequent and competitive service," Amtrak CEO Stephen Gardner said. "Providing opportunities whether that's for visiting friends or family, or whether it's to pursue new jobs."
Akiyah Mcghie, from Tidewater, Virginia, said she likes to get out to Roanoke Valley and approves of the new Amtrak service.
"I think that will be beneficial considering inflation and the cost of traveling right now," Mcghie said.
The Associated Press contributed reporting.
Copyright AP - Associated Press