One of the two firefighters shot while checking on a man's welfare in Maryland Friday night has died, officials confirmed.
John Ulmshneider, 37, was a 13-year veteran of the Prince George's County Fire Department, a husband and a father of a 2-year-old daughter, fire officials said.
"Will it ever end? God, I hope so. But at the end of the day, the men and women of public safety are going to be there when the community needs us. And that's the reality," Prince George's Police Chief Henry Stawinski said.
Firefighter Kevin Swain, 19, was shot four times and flown to Shock Trauma University of Maryland Medical Center in Baltimore. After a lengthy operation, he is in serious but stable condition and is expected to survive his injuries.
Swain is a volunteer for the Morningside Volunteer Fire Department.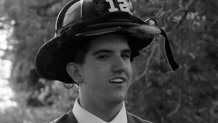 The firefighters were shot while responding to a medical call. The shooter is in custody and is cooperating with police, Stawinski said.
The incident began at about 7:30 p.m., when firefighters and police received a 911 call from a man who was worried about his brother at a home in the 5000 block of Sharon Road in Temple Hills in Prince George's County, police said.
When they arrived on the scene, the firefighters tried to communicate with the man in the home, but there was no response. When they tried to go into the house, the man inside fired several rounds, striking the two firefighters and his brother who called 911, officials said.
The man has been released from police custody, the department said about 7 p.m. Saturday. No charges have been filed.
Local
Washington, D.C., Maryland and Virginia local news, events and information
"There was only gunfire from the resident of the home directed at public safety. After public safety got into the residence, the situation immediately became calm and no police officers fired any weapons. It was simply the resident inside," Stawinski said. "After several rounds were fired and I think they realized it was public safety, that's when the confrontation ended."
Ulmshneider was in "extremely critical condition" and was flown to Southern Maryland Hospital Center, where he was pronounced dead.
"Right now, we're here supporting the family as best as we can and to prepare to send our brother home," Deputy Fire Chief Benjamin Barksdale said.
Funeral arrangements for Ulmschneider were finalized Saturday. A visitation will be held on Tuesday, April 19 from 5 p.m. to 8 p.m. at St. John's Parish in Hollywood, Maryland, fire officials said. Ulmschneider's funeral will be the following day, Wednesday, April 20, at St. John's Parish and a private burial will follow the funeral.
On Saturday, Gov. Larry Hogan released the following statement:
"We are deeply saddened by the loss of Prince George's County firefighter John Ulmschneider. Our administration is committed to working with Prince George's County officials as necessary, and the Maryland State Police is prepared to assist local law enforcement officials with their ongoing investigation. The First Lady and I send our deepest condolences to the family, friends, and colleagues of John Ulmschneider, who gave his life trying to protect the community he served. His legacy as a husband, father and firefighter, and his commitment to protecting others, will not soon be forgotten by his loved ones, the community, or Maryland. In honor and remembrance of a true hero, I have ordered the flags to be flown at half staff."
The brother of the shooter sustained a gunshot wound to his shoulder. He is in fair condition.
After announcing Ulmshneider's death, county officials recalled having to deliver similar news when Officer Jacai Colson was killed in a shootout outside a police station and also noted the crash that seriously injured a Maryland State Trooper on Thursday.
"And yet you're going to find that tonight, there are firefighters responding to calls, there are police officers responding for calls for service, there are state troopers responding to calls for serivce, to protect this community," Stawinski said.
"The main thing that we ask for the men and women of Prince George's County are your prayers, your thoughts," said Prince George's County Executive Rushern Baker.
Prince George's County State's Attorney Angela Alsobrooks said the county will do a thorough investigation of the shooting.
"Tonight we're here to express our sorrow, to support the men and women of this department, to wrap our arms around this family and to be here as a family," Alsobrooks said.
Two other Morningside volunteer firefighters were injured after the shooting while seeking cover. One firefighter sustained a knee injury and another sustained an injury to her jaw.
Both members were treated and released from the hospital Saturday morning.