The fire in Virginia's Shenandoah National Park was still burning 10 days after it began and had spread across more than 10,000 acres by Monday, officials said.
More than 350 firefighters from as far as Puerto Rico were working to contain the blaze, the National Park Service said.
Hundreds of personnel were using aircraft and ground vehicles to extinguish the fire, which closed portions of the Appalachian Trail and Skyline Drive.
The fire was reported around 1:15 p.m. April 16 and had scorched some 70 acres when firefighters first arrived. Flames had consumed more than 2,000 acres by Monday and had doubled in size 24 hours later. The National Park Service said Monday night the fire had spread across 10,376 acres.
Mountain laurel, pine and oak forests are burning.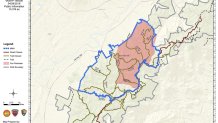 Firefighters from 33 states, Washington, D.C. and Puerto Rico were battling the forest fire. They were equipped with four helicopters, two airplanes and several ground vehicles, the National Park Service said.
Local
Washington, D.C., Maryland and Virginia local news, events and information
National Park Service officials were investigating the cause of the fire. The forest is unusually dry this year, with rainfall 3 to 4 inches below normal for the spring, according to the National Park Service.
Residents near Shenandoah National Park are not at risk, officials said. The smoke was not expected to affect air quality in Culpeper, Charlottesville, Elkton or Harrisonburg, Virginia, the National Park Service said on its Facebook page.
About 17 miles of the Appalachian Trail were closed Tuesday, from Blackrock Gap (mile 87.5) to Powell Gap (mile 70). The Skyline Drive trail was closed between Swift Run Gap (mile 65.5) to black Rock Gap (mile 87.5). More than a dozen other trails were closed. A full list of closures is available on the park's Facebook page.
The National Park Service estimates the spread of the blaze can be stopped by Saturday, two weeks after it was reported.
Most forest fires in Virginia are caused by human actions and can be prevented, the Virginia Department of Forestry says.
The department recommends the taking the following steps to help prevent fires:
Do not leave a campfire fire unattended. If a fire does become uncontained, call 911 immediately
Keep a supply of water and a rake or shovel near the fire
Start fires only when the wind is calm
Report any acts of arson immediately and note a description of the suspect and their vehicle
Teach children about how to safely set and put out a campfire