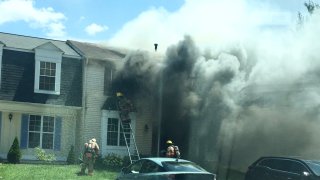 A woman was rescued from a burning townhouse in the White Oak area of Montgomery County on Tuesday afternoon and one person is charged with arson, officials say.
The woman was trapped in a home in the 1700 block of Featherwood Street. More than 100 firefighters responded to the blaze. Several families may be displaced.
Crews arrived at about 1:30 p.m. and found smoke pouring from the windows of the townhouse. Chopper4 footage showed ladders stretched up to the second-floor windows.
Salim Cole, 35, of the 1700 block of Featherwood Street was interviewed by police and arrested on charges of first-degree arson, reckless endangerment and first-degree malicious burning. Other charges are pending.
The fire caused more than $250,000 in damage. 
Stay with NBC Washington for more details on this developing story.