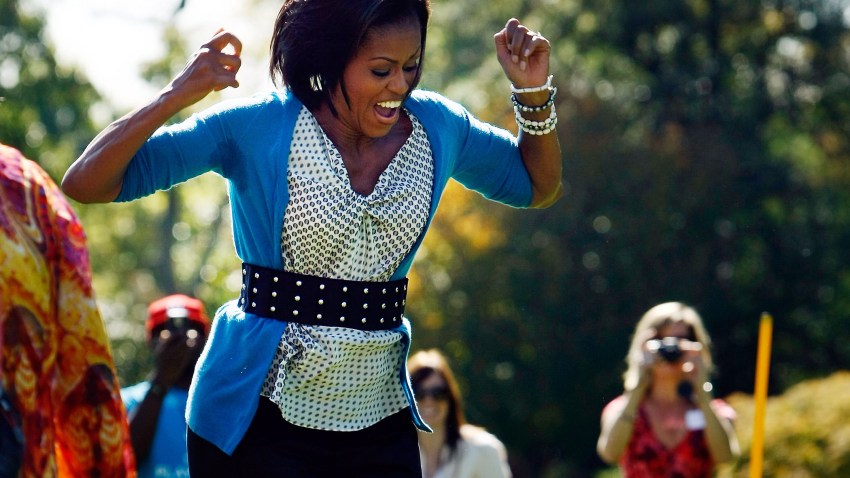 Wednesday marks the first anniversary of Let's Move! -- a national campaign designed to solve the nationwide dilemma of childhood obesity.
Who's involved? In an effort to shape up our youth, medical professionals, business leaders, community leaders and sports leagues are pitching in toward the effort.
First lady Michelle Obama is taking a primary role in spearheading the effort of spreading the campaign message. Today, she will deliver a major address to spotlight her role as a parent, caring for the health of her children, as well as to project how the nation can collectively gather to fight childhood weight gain.
Obama will be hosted by North Point Community Church and Ray of Hope Christian Church at North Point's congregation, located in Alpharetta, Ga.
During the address, the First Lady will introduce the national Let's Move! public service announcement campaign, designed by the Ad Council.
In a press release, the First Lady stated, "One year later, Let's Move! is far more than just a campaign. It is so much more than just a slogan. It's a nationwide movement to give our kids everything they need -- all the energy, strength and opportunities they need to fulfill every last bit of their potential and achieve every last one of their dreams."
She further commented that action on the behalf of Americans is necessary for a healthier nation:
"We need to ask ourselves, 'What can I do, through my workplace, my place of worship, my organization, to help kids in my community lead healthier lives.' It might be as simple as getting your office to help sponsor a local youth sports league. Maybe your club or community organization can adopt a local playground. And how about getting your church or place of worship involved?"
The campaign highlights its year-long accomplishments of helping to provide access to affordable, healthier foods -- especially in schools, providing opportunities for physical activity, as well as educating families about the importance of proper health and nutrition.
Some of these specific accomplishments include the establishment of the Healthy, Hunger-Free Kids Act, ground-breaking legislation instituted to ensure children have access to healthy lunch options and other foods in schools across the nation.
Furthermore, by way of the campaign, three of the largest U.S. school cafeteria food providers have agreed to meet the recommended levels of fat, sugar and whole grains in meals during the course of the next five years, as well as to double the amount of fruits and vegetables served to children over the next 10 years.
Barbara Foster, a retired preschool teacher of the greater D.C. metropolitan area, emphasizes that educating children at a young age about the methods to maintain a healthy lifestyle is crucial.
"You want them to grow up with good habits -- with good eating habits -- so that they don't get diseases like diabetes," she said.
Over the next three years, the Fruit and Vegetable Alliance, the Food, Family and Farming Foundation and the United Fresh Produce Association have agreed to place more than 6,000 salad bars in schools.
With the encouragement of the government, food labelers and manufacturers are also taking part to identify nutritional content on packages, so that the average consumer may have an easier time interpreting information.
And, in terms of physical activity, advocates within the campaign are working with community leaders to build or adopt playgrounds, so that children may resort to safe recreational areas.
Foster explained that nutrition and exercise are all important pieces of the puzzle for a healthy life, lowering risk of obesity and other diseases down the road.
"You want your child to grow up healthy. If they're eating healthy and are active, then that's going to help eliminate obesity," said Foster.
In the release, Obama summarized, "We're here to celebrate a new conversation in this country about the health and well-being of our children. It's a conversation about what our kids eat and how active they are. About how they feel and how they feel about themselves. And about what that means, not just their physical and emotional health, but for their success in school and in life."
As the first lady points out in the Let's Move! campaign, the health of our nation begins with our youth by helping them develop positive habits early. So get active -- and let's get moving toward the path of a healthier America.
For more information, visit www.LetsMove.gov.