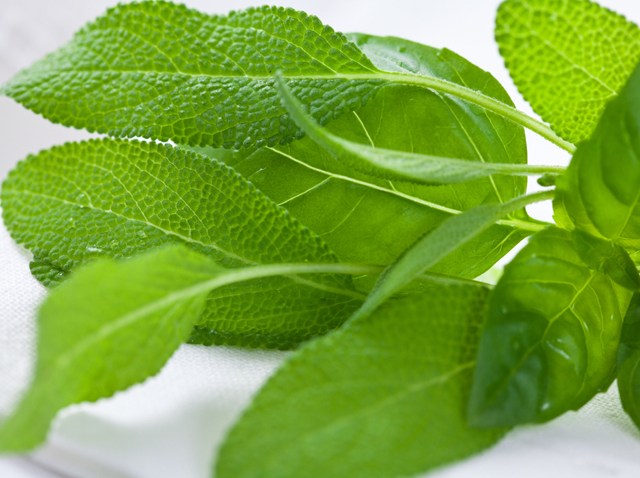 You're cooking the same old, same old again -- The Wednesday Night Fried Chicken Dinner. Cue the simultaneous rolling of your family's eyes ... now.
But before you reach for the pan and vat of barbeque sauce in the squeezey bottle, consider spicing up your dish with herbs. You know, the things in those 20-year-old, expired glass jars pushed behind the cooking spray in your kitchen cabinet. But instead of using expired herbs, go for the fresh herbs or stock up on the non-expired ones, instead.
If you're unfamiliar with the world of herbs, websites like culinaryherbguide.com include a list of 54 hyperlinked herbs that can be used for cooking. It even, conveniently enough, includes descriptions like the taste and culinary use for each.
For instance, most people are familiar with the sweet and spicy, clover-like aroma of the basil leaf. The green leaves are often seen between layers of mozzarella and tomatoes in a caprese, or chiffonaded and sprinkled on an array of other Italian foods like pizza and pasta. One type of popular basil is called sweet basil, which is used as a staple in pesto.
The guide also details less commonly known herbs, such as lemon grass. Caribbean and Asian cooking infuse the citrus-tasting herb, which comes powdered or fresh, into soup, salad and curry recipes. Peel and thinly slice the stalk to toss over greens, or slice and smash the stalk to release its oils and then slip into simmering pots.
You could also reach for fresh or dried sage, a member of the mint family that emits a smoky aroma. Use sage in sparse amounts as its pungent flavoring is packed with taste: drop it in meat dishes, like lamb, or incorporate in breads or stuffing for an added savory taste.
Cooking with herbs has not only taste but health benefits as well. Dietician Sandra Pinney, whose private practice is on M Street, suggests cooking with herbs to replace the excessive oil and sugar content found in sauces and marinades. "It's just so much easier to get tasty foods with less calories," she states.
And, the next time you're rummaging around in your fridge, flip over one of those sticky marinade bottles and skim the nutrition label. Then, remember to take into account that the nutritional information is based on serving sizes and, sadly, not the entire bottle. Maybe your Wednesday Night Chicken has more calories and other fillers than you might think.
Pinney recommends roasting foods with your herb of choice with a very small amount of olive oil and personally loves steaming carrots and other vegetables with dill. "Herbs expand the flavor," she says, "especially when you're not looking for the fat with the flavor."
If you're in an especially adventurous mood, try mixing in various citruses, like lemon, for lemon-and-dill roasted carrots. If that doesn't sound succulent, then let the health factor of the side dish make your mouth salivate. "It takes away the fatty oils or butters that you might normally have in a glazed carrot," Pinney said.
Many herbs, like mint, are easy to care for and grow indoors if you're interested in cooking with fresh, easy-to-pluck ingredients. For those who may not necessarily have a green thumb, try the AeroGarden. Add water and nutrients to the system when the automatic indicators instruct you to do so, and set the timer on the lighting, which mimics natural sunlight. In several weeks, you'll spot the sproutings of dill, parsley, oregano, or maybe mint.
With all of the varieties of herbs, it's not hard to find a tasty combination to liven up a supper that's beneficial for your waistline. Experiment to find what suits your palette and don't be afraid to stick with the familiar herbs, either. After all, what's a pile of steamed crabs without Old Bay?