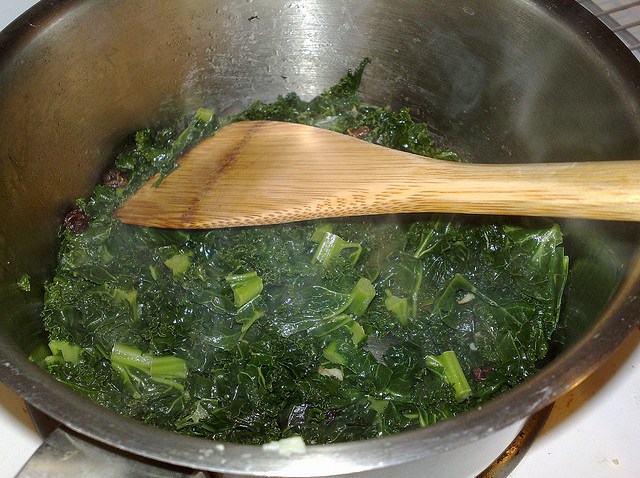 Pass Tracye McQuirter on the streets of D.C., and you might think she's your average Jane. You probably wouldn't know that -- oh, ho hum -- she's really a speaker and best-selling author, paving the way in the health industry around the world by teaching others how to shape up and eat better.
But publications like Ebony Magazine and the Chicago Sun-Times are quick to recognize McQuirter, author of By Any Greens Necessary: A Revolutionary Guide for Black Women Who Want to Eat Great, Get Healthy, Lose Weight, and Look Phat. Experts including Dr. Neal Barnard, President of the Physicians Committee for Responsible Medicine, are raving about her plant-based guide to eating, which is chock full of recipes and mouth-watering visuals.
The book, published this past May, guides readers (with a focus on black women), through the steps of transitioning to veganism. (The topic, by the way, is a relevant and timely one as October marks Vegetarian Awareness Month.)
Why the emphasis on the demographic of black women?
"While we are fabulous, we happen to have the highest prevalence of overweight and obesity rates," McQuirter said. She explains that 80 percent of women are overweight and 50 percent are obese.
And though the premise is that of veganism, McQuirter encourages readers to revamp their diets in general.
"It's a serious topic, but I wanted to make it accessible, available and fun," she said. "So there's humor as well as discussion."
So, what's on the plates of "black America" (as McQuirter puts it)? Well, first start with the plates of Americans in general, which are loaded with meat and dairy (think, tons of cholesterol and saturated fat), as well as other processed foods packed with fat, salt and sugar.
But on top of the typical American diet, black Americans are famous for their soul food: macaroni and cheese, fried chicken, potato salad, sweet potato pie, BBQ ribs, fried fish and so on.
Revamping old eating habits poses a potentially tricky obstacle. Still, the feat isn't impossible. First, start by adding healthier food items like dark leafy greens to your plate, instead of initially taking away foods. Try filling half of the plate with kale, collards or spinach. Whole grains, including brown rice, red rice and quinoa, are also healthy power foods.
As a child, McQuirter ate the standard American diet that incorporated meat, dairy, grains and skim milk. "We only went out for fast food once a week and didn't have a cookie jar. We ate Total and Cream of Wheat," she said.
Yet despite her mother's efforts to promote healthy eating, McQuirter would pig out at school to eat the stuff she couldn't get at home.
"I never thought I would grow up to be a healthy eater. I never thought I'd grow up and get a Masters in public health nutrition," McQuirter said. "I was anti-healthy food, actually."
During her youth, McQuirter had a strong aversion to vegetarian diets. In the seventh grade, she petitioned a camping trip when her teachers informed her that the trip was going to be meat-free. Instead of hamburgers and hot dogs, the students ate granola and drank fruit juice. (McQuirter's efforts to petition were, notably, denied.)
She attributes her first negative exposure to vegetarianism as the lack of information on both ends. Specifically, her teachers didn't explain the motivating factor for a vegetarian camping trip: "My teachers never told me why, but I never asked either."
It wasn't until McQuirter's sophomore year in college that she experienced an aha! moment. That year, Dick Gregory visited her university and spoke about what's on the plates of black America. "He basically got me about his lecture that graphically traced the path of the cow to the slaughter house to a clogged artery," she said.
The lecture left a lasting impact. "The first week after the lecture, I gave up meat." She read everything that she could get her hands on at the Library of Congress about vegetarianism to educate and support her new-found lifestyle.
McQuirter wanted to take her diet a step further, though, and eventually transitioned to veganism. It took about two years for her to give up eating cheese, because she was addicted to the taste. She ultimately decided that the momentary pleasure of eating a slice of cheese wasn't worth the health risks. Now, she boasts herself as a 20-year vegan.
McQuirter is also an active community member, directing causes like the Vegetarian Society of D.C. Eat Smart program, the nation's first government-funded initiative that's based on vegan nutrition. Eat Smart targets low income African-American households in D.C., and it educates communities about the functions of nutrition, as well as how to make wise purchases at grocery stores. She points out that if folks from impoverished neighborhoods don't have access to health stores, they're going to eat what's available, like canned and processed foods from convenient stores.
And if those aren't enough accomplishments, the writer and community activist even helped to strategize a lawsuit with the Physicians Committee for Responsible Medicine against the USDA to prove the biased regulations set forth by the U.S. Dietary Guidelines. Why the bias? Because six out of 10 members of the guidelines committee are representatives from the meat and dairy industries.
So what does the wonder-woman's diet typically consist of? It generally includes breakfast smoothies, curried chickpeas or a spicy black bean burger for lunch. Dinner menus might include tofu and vegetable skewers drizzled with BBQ sauce. On the weekends, lasagna or pizza (vegan, of course), or maybe a tofu scramble with hash browns may appear on her plate.
So, think twice before you casually pass bystanders on the street. They could be making waves among our local communities and even national ones, such as McQuirter herself.
"I'm a writer at heart. I've always loved to write. So it was natural that I would be writing books," she says. "I'm also very passionate about promoting healthy eating and sharing the information. So it just made sense that I would combine the two and write the book."
At least, that's her vegan story and -- really -- she's sticking to it.