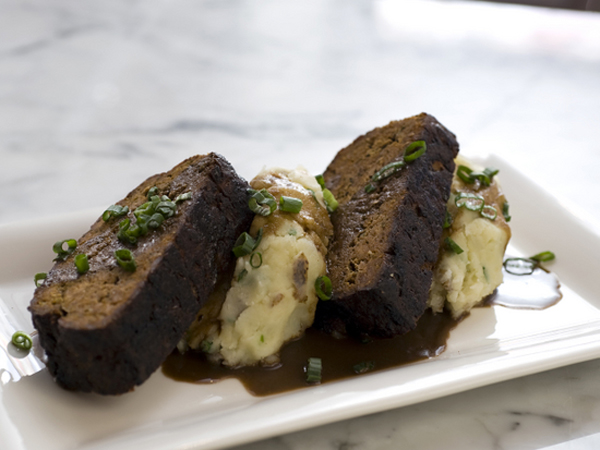 When business manager Tommy Foster stumbled across a recipe in a health magazine, he was intrigued. Why? Because the recipe was for a healthy version of meatloaf, one of his favorite comfort food dishes. (And what man doesn't like a good meat and potatoes type of dinner-- nutritious, to boot?)
The recipe in mention is a healthier version of Grandmom's Sunday night meatloaf, because it swaps out normally used ingredients for healthier ones.
In particular, bread crumbs are a staple in meatloaf because they serve as a binder -- and just so happen to be made from calorically empty, white processed flour. Swap one cup of breadcrumbs with one cup of a crushed, 100 percent whole grain cracker (think along the lines of Triscuits) in the recipe, and you've automatically boosted the nutrition level of your supper, adding increased fiber levels and nutrients.
Intrigued, too? Here's the recipe, courtesy of Foster:
Tommy's Turkey BBQ Meatloaf

1 pound of ground turkey breast
2 eggs
1 cup of whole grain crackers, crushed
3/4 cup of diced onion
2 cloves of garlic, crushed
1/2 teaspoon of dried oregano
1/2 cup of BBQ sauce, plus extra for top

Add eggs to the turkey, and then mix in the remaining ingredients, including the BBQ sauce, until well-blended. Form the meat into a loaf shape and place on a broiler pan. Then, coat the loaf with the remaining sauce.

Cook at 350 degrees Fahrenheit for 50 to 55 minutes. Double check the internal temperature with a meat thermometer as it should read 160 degrees Fahrenheit. Makes 4 servings.
Want more swap-out ideas? Other healthy food substitutions, found on checkyourhealth.org, include using one cup of evaporated fat-free milk for one cup of heavy cream, 1/2 cup of applesauce for 1/2 cup of oil or 1/2 cup of margarine, 2 egg whites for 1 egg and 1 tablespoon of fat-free plain yogurt for the equivalent measurement of regular mayonnaise.
Trying a hand at baking? Consider swapping 1 ounce of unsweetened chocolate for three tablespoons of unsweetened cocoa powder, and save yourself the approximation of 103 calories.
In addition to food substitutions, don't be shy about tweaking recipes, either.
Initially, Foster's discovered meatloaf recipe called for half ground beef and half turkey, which presented him with a bit of a conundrum: his wife doesn't eat beef. Instead of discarding the recipe, though, Foster did what he thought best -- he tweaked.
"I make it with all white meat turkey instead of using half ground beef, half turkey," he said, "I still wanted to make this meatloaf, so I tried it out and it [was] still good."
As with Foster's recipe, tweaking recipes doesn't need to be involved -- it can be as simple as replacing a main ingredient, like beef, with another type of protein (in this case, ground white turkey). Not a big fan of oregano? Try the less potent-tasting parsley, instead.
"I recommend people tweak recipes here and there to better fit their tastes as well their diet," said Foster.
Foster's turkey meatloaf recipe is a relatively easy dish to make, and he often finds himself turning to his tried-and-true favorite when whipping up a quick meal for his wife (who happens to be a fan of it, by the way) or for company.
"I like it because it's easy, it tastes good, it's very healthy and can be enjoyed anytime of the year. Also, it tastes just as good as leftovers -- just add a little more BBQ to it," Foster said.
In the end, Foster's got the best of three worlds: he gets his meatloaf, doesn't have to add on an extra half hour to his workout and gets a pat on the back from his wife.
Try the recipe and tweak if you feel necessary -- because Foster claims it's a manly dish that can't be beat: "It tastes like a yummy loaf of meat," he said.