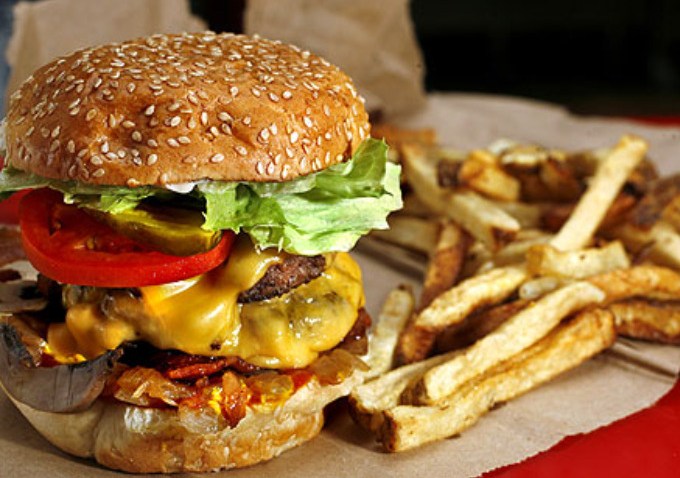 OK, we all know that most fast food is bad for you and that eating out at chain restaurants isn't a better idea. Whether the food is high in salt or higher in fat content, the results just aren't going to be good.
But did you know it could be this bad?
Eating one order of Bob Evans' Cinnamon Cream Stacked and Stuffed Hotcakes is the same as eating TWO country-fried steaks and FOUR eggs, according to the Center for Science in the Public Interest. That's 1,380 calories and 34 grams of fat. Seven of those grams of fat are trans fat -- more than you should eat in three and a half days, according to the organization. And that's all without the syrup.
Gulp.
That menu item at Bob Evans has earned one of CSPI's Xtreme Eating Awards for 2010. The list was released Tuesday morning, and it doesn't look pretty.
Other CSPI "Award" Winners:
California Pizza Kitchen Tostada Pizza with Grilled Steak: (1,680 calories, 1 1/2 day's worth (32 grams) of saturated fat, and more than 2 day's worth (3,300 mg) of sodium)
Says CSPI: Ordering the single-serve pizza is like eating a Pizza Hut Personal Pan Pepperoni Pizza topped with six Taco Bell Crunchy Beef Tacos.
Five Guys Bacon Cheeseburger: (920 calories (without toppings) and 1 1/2 day's worth of saturated fat (30 grams))
Says CSPI: A McDonald's Quarter Pounder has 410 calories. The Five Guys hamburger weighs in at 700 calories. A large order of French fries at Five Guys has 1,460 calories -- about triple the calories of a large order of fries at McDonald's.
P.F. Chang's Double Pan-Fried Noodles Combo: (1,820 calories and 7,690 milligrams of sodium)
Says CSPI: You could eat 10 egg rolls and not top the calories in this dish, and the salt content is about three teaspoons of salt -- a five-day supply.
The Cheesecake Factory Pasta Carbonara with Chicken: (2,500 calories and 85 grams of fat)
Says CSPI: When CSPI first dubbed fettuccine Alfredo a "heart attack on a plate," it was because CSPI's lab tests found it had 1,500 calories and 48 grams of saturated fat. But, according to the company, this dish has ... more saturated fat than one should consume in four days. It's like eating the chain's onion-ring-topped Grilled Rib-Eye Steak with French fries, and a slice of Tiramisu Cheesecake.
The Cheesecake Factory Chocolate Tower Truffle Cake: (1,670 calories and 2 1/2 days' worth (48 grams) of saturated fat.
Says CSPI: A tower of any food is rarely a good idea. This six-inch-long, three-quarter-pound slab of cake ... (feels) like eating 14 Hostess Ho Hos for dessert.
Outback Steakhouse New Zealand Rack of Lamb: (1,300 calories and 60 grams of saturated fat, minus the sides)
Says CSPI: Butter's everywhere at Outback. It's in the veggies (or they wouldn't have 7 grams of sat fat) and it's in the garlic mashed potatoes (13 grams). Salt shakers must be everywhere too. The lamb packs nearly a day's worth of sodium (1,340 mg), and the mashed potatoes don't have all that much less (1,060 mg).
Chevys Crab & Shrimp Quesadilla: (1,790 calories, 63 grams of saturated fat and 3,440 mg of sodium)
Says CSPI: Those numbers make (it) more damaging than any other Chevys quesadilla, including the Fresh Mex Pork Carnitas & 3-cheese (1,650 calories and 48 grams of sat fat). In fact, they're more damaging than any fajitas, enchiladas, tacos, or burritos on Chevys' menu.
"I wouldn't accuse California Pizza Kitchen or P.F. Chang's of being a threat to national security, but with a quarter of young Americans too heavy to join the military, these and other chains ought to get the extremes off their menus," said CSPI nutrition director Bonnie Liebman. "At a minimum, they should disclose calories on menus now, even before federal regulations make it mandatory."
P.F. Chang's released the following statement in response to the CSPI award:
"P.F. Chang's menu is designed for family style dining with a focus on sharing a variety of appetizers, entrees and side dishes. We provide our guests with a wide range of menu options and our website provides per serving nutritional information for all of our items."
The Cheesecake Factory also issued a statement from Mark Mears, senior VP and chief Marketing officer:
"With more than 200 items on our menu, we literally provide a way to satisfy every guest. In addition to our liberal substitution policy where guests can customize any meal to fit specific dietary or nutritional requirements, we're pleased to offer healthy alternatives from our Weight Management line-up, which features several meals under 590 calories each. The Weight Management items are flavorful and satisfying, and as with all of our menu items, are prepared fresh-from-scratch in our restaurants each day and generously portioned, which makes them perfect for sharing or taking home for a second meal. Of course, we will continue to comply with all applicable local, regional or state nutritional labeling laws as they go into effect for guests who desire specific information from which to make their menu selections."
Feel good about heading out of the office for lunch now? No? We don't blame you.
The CSPI's complete list will be published in next month's issue of Nutrition Acton Healthletter.
What did we learn from all this? Perhaps it's best to just cook at home, where you know exactly what's going into your meal.
Let's go Around Town: Keep up with what's happening in the D.C. area anytime, anywhere. Follow us on Twitter and Facebook. Sign up for our e-mail newsletters and find out What You're Doing Tonight with texts delivered right to your mobile phone -- just text DCTONIGHT to 622339 to sign up. (Message and data rates may apply.) Don't forget our iPhone app!