Washington, D.C., has announced plans to open two new hospitals in Wards 1 and 8 over the next six years, investing more than $700 million in new health centers operated in part by Howard University Hospital and George Washington University.
The mayor's office says the hospitals will help address health care inequality in the District, which has been highlighted during the coronavirus pandemic. The new hospitals will replace Howard University's current hospital and United Medical Center in Southeast D.C.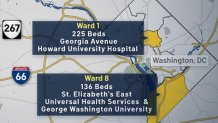 "While DC continues to battle this pandemic, our team has remained committed to delivering hope and a better DC through a more equitable health care system," Mayor Bowser said in a press release.
The new hospital in Ward 8 will be built at St. Elizabeth's East. It will have 136 beds and is expected to open in 2024, at which point United Medical Center will proceed with a closure that was planned before the coronavirus pandemic.
The District will fully fund construction of the new hospital at St. Elizabeth's East, which is expected to cost $306 million, the mayor's office says. The city will also fund a $69 million health services complex at St. Elizabeth's expected to open in the fall of 2023.
The hospital and health services at the new complex will be integrated with the GW Hospital currently in Foggy Bottom, the health system said in a press release. United Health Services, a Fortune 500 company, will operate the hospital alongside GW.
General surgery, neonatal and obstetrics care, mental health and a Level III trauma center are set to be offered. The mayor's current plan does not place in Wards 7 or 8 any Level I or II trauma centers, which are hospitals equipped and staffed to provide 24-hour care for patients with life-threatening injuries, the American College of Surgeons says.
D.C. Council Member Elissa Silverman said she was concerned that residents east of the river would not get the same level of care as those west of the river, where there are three Level I trauma center.
"I think that the biggest question that Wards 7 and 8 ask is, 'Why do we get a Level III trauma center when Wards 2 and 3 — which, let's be honest, are the whitest, richest wards in the city — get a Level I trauma center each?'" she said Thursday.
City administrator Rashad Young says that D.C.'s has sufficient trauma centers in other areas and that the new hospital will offer emergency services for pediatric and adult patients.
"You don't need to have a Level I trauma center in every neighborhood of the District," Young said.
Chief Executive Officer of The GW Medical Faculty Associates Dr. Barbara L. Bass says they plan to have a surgeon available 24/7.
The D.C. Council is set to review the contract with Universal Health Services for the St. Elizabeth's East hospital in June.
Wards 7 and 8 will each also get new urgent care centers funded by Universal Health Services.
A new Howard University Hospital will be built on Georgia Avenue NW in Ward 1. It will have 225 beds and is set to open in 2026.
Bowser says the new center at Howard University, which graduates more African-American doctors than any other institution, will ensure culturally sensitive care in the District.
The new Howard University Hospital will receive a $225 million tax abatement to support the project, expected to cost about $450 million. The Ward 1 center, created in partnership with Maryland-based Adventist HealthCare, will have a Level I trauma center and serve as a teaching hospital.
Howard's Sickle Cell, Women's Health, Oral Health, Trauma and Violence Prevention, and Substance Abuse centers will get $26.6 million to support efforts. The city has also promised to use one of the hospital's office buildings for a government agency and provide $25 million in infrastructure support.
Howard University President Dr. Wayne Frederick, who is also a surgeon at Howard University Hospital, said the new hospitals will address "health care inequality."
"Life expectancy in Ward 8 is 72 years. Life expectancy in Ward 3, which is just on the other side of the Capitol, is actually 87.6 years," he said. "That 15.6 year difference is tragic in my opinion."
The coronavirus pandemic has laid bare D.C.'s persistent health disparities: African-American patients have made up 80% of COVID-19-related deaths, while representing only 46% of city residents. Washingtonians living in Wards 7 and 8 have lower life expectancies.
"It is my hope that these hospitals will heal the community ... by giving them better health outcomes, by giving them better screening," Frederick said.
GW Hospital CEO Kimberly Russo says the new hospital will help "improve outcomes through comprehensive medicine."
The plans for the hospitals come as the DC Council and mayor must cut $1.5 billion from the city's budget over the next two years because of the coronavirus-induced recession. The mayor would not say where she will make cuts or tough choices. Her budget is due to the Council soon.