Find Your Race
Looking for a specific race? Search by locality name, candidate, office, proposition number or description.
You Might Like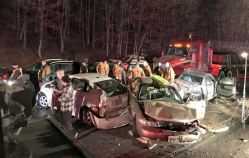 A package bomb that authorities believe is linked to the recent string of Austin bombings exploded early Tuesday inside of a FedEx distribution center near San Antonio, leaving one worker with minor...
United Airlines is pausing its pet-shipping business after mishaps that include a dog winding up in Japan instead of Kansas. United said Tuesday that it will halt PetSafe reservations while it reviews...
Multiple people were injured in a shooting at a high school in southeast Maryland Tuesday morning, the St. Mary's County sheriff's office confirmed.