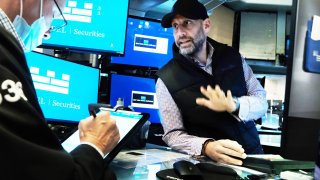 BY THE NUMBERS
U.S. stock futures rose slightly to start the new week after the Dow on Friday saw its first record close since mid-August. The S&P 500 dipped from Thursday's record finish. The Nasdaq dropped Friday, sending the tech-heavy index nearly 2% away from its latest record close on Sept. 7. All three benchmarks logged their first weekly winning streaks last week for the first time since early July. (CNBC)
Bond yields and U.S. oil prices remained elevated Monday, with the 10-year Treasury yield around 1.66% and West Texas Intermediate crude above $85 per barrel.  The average U.S. price of regular-grade gasoline spiked 13 cents over the past two weeks, to $3.44 per gallon. The price at the pump is $1.22 higher than a year ago. (CNBC & AP)
Bitcoin was higher Monday, rising back toward $63,000 as Wednesday's all-time high just below $67,000 had been met with some subsequent selling. Bitcoin's move to a record last week came as the first bitcoin futures exchange-traded fund in the U.S. debuted, an important development that drummed up excitement in crypto. (CNBC)
IN THE NEWS TODAY
Holdout Sen. Joe Manchin, D-W.Va., appears to be on board with White House proposals for new taxes on billionaires and certain corporations to help pay for President Joe Biden's scaled-back social services and climate change package, according to The Associated Press. Biden huddled with Manchin and Senate Majority Leader Chuck Schumer, D-N.Y., at the president's Delaware home Sunday.
Shares of Facebook, following Friday's 5% decline, fell less than 1% in premarket trading. The social network continued to be embroiled in controversy, with a Wall Street Journal report Monday morning detailing internal arguments over the handling of right-leaning content.

Former Facebook data scientist turned whistleblower Frances Haugen plans to answer questions Monday from U.K. lawmakers working on legislation to rein in the power of social media companies. It will be Haugen's second appearance before lawmakers after she testified in the U.S. Senate earlier this month. (AP)

Facebook is scheduled to report earnings after the bell Monday, kicking off a crush of quarterly results from Big Tech, including Apple, Microsoft, Alphabet and Amazon. About 30% of S&P 500 companies issue earnings this week. A third of the Dow reports, including Caterpillar, Coca-Cola, Merck, Boeing and McDonald's. (CNBC)
Pinterest (PINS) tumbled 13% in premarket trading after PayPal (PYPL) said it was not pursuing an acquisition of the social media company at this time. Its statement came in response to reports that it was pursuing an acquisition of Pinterest for as much as $45 billion. PayPal shares jumped 6%. (CNBC)
Tesla (TSLA) raised prices on certain versions of its Model X and Model S cars, according to the company's website. Additionally, car rental giant Hertz has ordered 100,000 Tesla vehicles for its fleet, according to Bloomberg. Tesla shares rallied 4% in the premarket.

* Tesla pulls its new Full Self-Driving beta due to software 'issues' (Reuters)
* Tesla shares will rally another 30%, says Morgan Stanley's Jonas (CNBC Pro)
Restaurant Brands International (QSR) reported quarterly profit of $1.52 per share, 2 cents a share above estimates. Revenue was slightly below forecasts, with Covid contributing to supply chain and labor pressures for the parent of Tim Hortons, Burger King and Popeyes. The stock added 1.2% in the premarket. (CNBC)
Wells Fargo (WFC) is developing a virtual assistant to help it convert more retail banking customers into digital users, CNBC has learned. The assistant, named Fargo, will be able to execute tasks including paying bills, sending money and offering transaction details and budgeting advice.
The Russian-linked hacking group that's been blamed for an attack on the U.S. government and a significant number of private U.S. companies last year is targeting key players in the global technology supply chain, according to cybersecurity experts at Microsoft. Nobelium, as the hacking group is known, is infamous for the SolarWinds hack. (CNBC)
"Rust" start Alec Baldwin was rehearsing a scene that involved pointing a revolver "towards the camera lens" when the gun, which the crew had been told did not contain live rounds , suddenly went off and killed the movie's cinematographer, according to the film's director, who was quoted in an affidavit released Sunday night. (NY Times)
STOCKS TO WATCH
The Covid vaccine made by Pfizer (PFE) and BioNTech (BNTX) showed 90.7% effectiveness in children 5-11. Health officials said a rollout of the vaccine for kids could come as soon as early November.
Investor Carl Icahn is calling on Southwest Gas (SWX) to first offer shares to existing shareholders, amid the energy producer's plans to sell up to $1 billion in equity as part of financing to buy pipeline company Questar. Icahn, who holds a significant stake in the company, is against the deal, and is moving ahead with a tender offer to buy the shares he doesn't already own for $75 per share.
Kimberly-Clark (KMB) slid 3% in premarket trading after quarterly earnings came in 3 cents a share below estimates at $1.62 per share. Revenue was slightly above forecasts, but Kimberly-Clark's results were hit by higher inflation and supply chain issues.
Otis Worldwide (OTIS) came in 4 cents a share above estimates, with quarterly earnings of 77 cents per share. Revenue also topped analysts' projections. The company best known for its flagship elevators also raised its full-year outlook.
HSBC (HSBC) reported better-than-expected quarterly profit, with a 74% rise from a year earlier, and the bank also announced a $2 billion share buyback.
WATERCOOLER
Denis Villeneuve's "Dune" debuted with $40.1 million in ticket sales in its opening weekend in North America, drawing a large number of moviegoers to see the thundering sci-fi epic on the big screen despite it also being available to stream in homes. Warner Bros. has continued to maintain it will return to exclusive theatrical releases next year. (CNBC)
Copyright CNBCs - CNBC