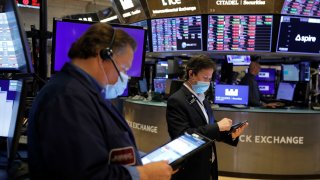 BY THE NUMBERS
Dow futures rose more than 150 points Monday after the 30-stock average broke a three-session losing streak on Friday with a 225-point gain. The S&P 500 and Nasdaq logged their second straight positive days. But Friday's rally was not enough to lift the three stock benchmarks out of negative territory for the week. They all hit record closing highs earlier this month. (CNBC)

* Oil prices surge and snap seven-day losing streak, helped by weaker dollar (Reuters)
* Shareholder payouts to hit $1.4 trillion in 2021, nearing pre-pandemic levels (CNBC)
Bond yields started the week higher. The 10-year Treasury yield traded around 1.27% on Monday, ahead of the Federal Reserve's Jackson Hole, Wyoming, economic symposium. The Kansas City Fed announced last week it will hold the annual gathering of central bankers virtually this year due to rising Covid cases. Fed Chairman Jerome Powell's address to the group this Friday will be livestreamed. (CNBC)
Bitcoin rose more than 3% on Monday, one day after topping $50,000 and hitting a three-month high. The cryptocurrency hit an all-time high over $64,000 in April but sold off heavily in June and July, even briefly dipping below $30,000. But since mid-July, bitcoin has been on a steady rise. Other major digital coins were also higher Monday, with ether trading up more than 5%. (CNBC)

* PayPal launches its cryptocurrency service in the UK (CNBC)
IN THE NEWS TODAY
The Food and Drug Administration is working on full approval of the two-shot Covid vaccine made by Pfizer and BioNTech as soon as Monday, The New York Times reported, citing sources. The move would make it the first Covid vaccine to go from emergency use authorization to full FDA approval.

* More children hospitalized with Covid, doctors fear it will get worse (WSJ)
* Israel finds Covid booster shots significantly lowers infection risk (Reuters)
Former President Donald Trump was booed at a rally on Saturday in Alabama after telling supporters they should get vaccinated. "You know what? I believe totally in your freedoms. I do. You've got to do what you have to do," Trump said. "But, I recommend: Take the vaccines. I did it. It's good. Take the vaccines." (NBC News)
The primary focus of the U.S. in Afghanistan right now is to evacuate American citizens, Afghan allies and vulnerable groups, Vice President Kamala Harris said Monday. The Pentagon has ordered U.S. commercial airlines to provide planes to help speed the process. (CNBC)

* Deadly firefight erupts at Kabul airport as evacuation chaos continues (CNBC)
Henri continued to drench parts of the Northeast on Monday. The slow-moving weather system, which made landfall as a tropical storm Sunday in Rhode Island, already has dumped 3 to 6 inches of rain. About 1 to 3 inches of additional rainfall are forecast for parts of New England, New York, New Jersey and eastern Pennsylvania. (AP)

* At least 22 dead, dozens still missing after 17 inches of rain in Tennessee (AP)
Boeing (BA) added 1% in the premarket, after saying it planned to invest in a SPAC merger planned later this year by Richard Branson's satellite launch company Virgin Orbit. Virgin Orbit plans to merge with blank-check company NextGen Acquisition (NGCA), whose shares jumped 6% following the announcement. (CNBC)
Democrat Andrew Cuomo neared the end of his decade as New York's governor Monday, as he prepared to relinquish his tight grip on government to Lt. Gov. Kathy Hochul in a midnight power transfer that will break another glass ceiling for women in state politics. (AP)
Target (TGT) said Monday it will roughly triple the number of Disney shops within its stores, helping to drive foot traffic as the holiday season approaches. The national retailer, which has about 1,900 stores in the U.S., began opening Disney shops in select locations in 2019. (CNBC)
A charismatic Ryan Reynolds and good word-of-mouth helped Walt Disney's (DIS) "Free Guy" stay at the top of the box office. The film added another $18.8 million domestically over the weekend. While falling 34% from its opening tally, such a decline is about half the drop for a typical movie in its second week. (CNBC)
STOCKS TO WATCH
Pfizer said it would buy the portion of cancer specialist Trillium Therapeutics (TRIL) that it doesn't already own in a deal worth 2.26 billion or $18.50 per share in cash. That compares to Trillium's Friday close of around $6 per share. Trillium shares nearly tripled in Monday's premarket trading.
General Motors (GM) expanded the recall of its Chevy Bolt electric car to include newer models, a move that will cost the automaker an additional $1 billion. The recall will address an issue that can increase the risk of battery fires. GM fell 2% in the premarket.
Uber (UBER), Lyft (LYFT) and DoorDash (DASH) tumbled in the premarket after a California judge ruled the state's "gig workers" law was unconstitutional. California voters had approved a ballot measure last November allowing those companies to treat workers as independent contractors rather than employees.
China-based ride-hailing company Didi Global (DIDI) may be forced to hand over shares containing special rights to the Chinese government, according to a report in the Financial Times. Didi rose 1.9% in premarket trading.
WATERCOOLER
The pandemic ushered in the instantaneous, widespread use of QR codes. But restaurant industry experts think the technology will stick around. Invented by a Japanese engineer in 1994 to keep track of car parts more easily, quick response codes entered the mainstream years later as smartphones with cameras took over. (CNBC)
Copyright CNBCs - CNBC