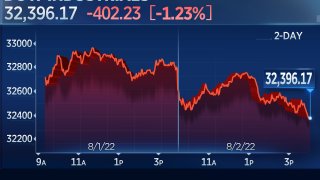 Check here for real-time updates of the U.S. stock market.
Stocks slumped on Tuesday as investors weighed increased tensions between the U.S. and China with House Speaker Nancy Pelosi's Taiwan visit and reacted to comments from Federal Reserve presidents about the central bank's path forward.
The S&P 500 slipped 0.67% to 4,091.19 after being down nearly 1% earlier in the session. The benchmark had earlier climbed off of lows as Pelosi's plane landed safely in Taiwan Tuesday morning. The Dow Jones Industrial Average also shed 402.23 points, or 1.23%, to 32,396.17. Caterpillar weighed on the 30-stock index and shares slid after the company posted disappointing quarterly earnings. The Nasdaq Composite fell 0.16% to 12,348.76, even though Uber jumped 18.9% following earnings.
We're making it easier for you to find stories that matter with our new newsletter — The 4Front. Sign up here and get news that is important for you to your inbox.
Stocks wavered early in the afternoon, reacting to multiple comments from regional Fed presidents who all threw cold water on the idea that the central bank will be done raising rates or move them lower anytime soon.
Chicago Fed President Charles Evans said that he hopes the central bank can raise its benchmark interest rate by half a percentage point in September and then continue with quarter-point hikes until the start of the second quarter in 2023. San Francisco Fed President Mary Daly said that the central bank still has work ahead to combat inflation.
Later, Loretta Mester, president of the Cleveland Fed, said that several more months of evidence that inflation has peaked will be needed before the central bank ends its rate hike cycle.
In political news, Pelosi is expected to spend the night in Taiwan, Reuters reported. Leading up to the trip, Chinese officials threatened to act if Pelosi moved forward with the visit. Pelosi is the most senior U.S. official to meet with Taiwan leaders on the island since former House Speaker Newt Gingrich visited in 1997.
"I do think the trip will not lead to any real economic disruption, but of course the rhetoric and the headlines start to intensify and it's something we need to watch going forward," said Mona Mahajan, Edward Jones senior investment strategist, on CNBC's "Squawk Box" Tuesday. "Geopolitical tension has been a theme we've really been seeing all year that has been weighing on markets."
Traders are also looking ahead to another raft of earnings from companies such as Starbucks, PayPal and Advanced Micro Devices on Tuesday after the bell. On the economic data front, investors this week are awaiting the July nonfarm payrolls report slated for release Friday for further clues into the state of the economy and the job market.
Lea la cobertura del mercado de hoy en español aquí.
Best trades on CNBC Tuesday: Uber shares pop after quarterly results. Here's what the pros say
Uber caught market pros' attention after shares popped on the ride-sharing app's quarterly results. The company posted a big second-quarter loss, but managed to defy expectations on revenue. Shares ended the day 19% higher.
-Christina Falso, Darla Mercado
All three major averages fall Tuesday for second day in a row
The S&P 500, Dow Jones Industrial Average and the Nasdaq Composite slumped Tuesday, unable to hold onto earlier gains.
The S&P 500 slipped 0.67% to 4,091.19 after being down nearly 1% earlier in the session. The Dow Jones Industrial Average also shed 402.23 points, or 1.23%, to 32,396.17. The Nasdaq Composite fell 0.16% to 12,348.76, even though Uber jumped 18.9% following earnings.
— Carmen Reinicke
Caterpillar, Boeing lead Dow to the downside
The Dow is lagging the S&P 500 and Nasdaq in Tuesday's session, and most of the stocks in the 30-name average are in the red.
The worst performers in the Dow come from the industrials sector. Shares of Caterpillar are down more than 5% after the company's second-quarter revenues came in below expectations, while Boeing has dropped nearly 3%.
Elsewhere, Shares of Visa are down more than 2%, as are shares of Intel.
Insurance stock Travelers is the only Dow name up at least 1%.
—Jesse Pound
Stocks mixed in last hour of trading
An hour before the closing bell, stocks were mixed with the S&P 500 and Dow Jones Industrial Average down 0.31% and 0.89%, respectively.
The Nasdaq Composite was still in the green, however, up 0.20%, boosted by Uber's more than 18% jump following earnings.
— Carmen Reinicke
ETF flows showed big pivot to growth in July
Last month's rally for growth stocks was due in part to a historic divide in ETF flows, according to Strategas ETF strategist Todd Sohn.
"Notably, the monthly spread between Growth inflows and Value outflows was the largest in our dataset history," Sohn wrote in a note to clients on Tuesday. The data goes back to 2009.
In particular, the iShares Russell 1000 Value ETF saw roughly $800 million in outflows last month, according to Strategas.
However, value has still attracted more flows than growth since March 2020, thanks to massive flows earlier this year, according to Strategas.
— Jesse Pound
Fed officials trying to cool market's rally, analyst says
Federal Reserve officials appear to be downplaying the chances of a Fed pivot in their comments this week, according to John Luke Tyner, a portfolio manager and fixed income analyst at Aptus Capital Advisors.
Tyner said that Fed speakers, including San Francisco Fed President Mary Daly earlier today, are "probably trying to walk back the move that we've seen in risk assets."
"When you have this rebound in risk assets that we've seen, really what that's telling me is the Fed has done nowhere enough damage to make the mark that they need to slow down inflation," Tyner said.
He also pointed to an increase in the 5-year breakeven inflation metrics as an area that would likely concern the Fed.
— Jesse Pound
Citi raises Tesla's price target
Citi raised Tesla's price target, to $424 from $375, citing some better-than-expected second quarter earnings results, as well as easing commodity costs for automakers. Still, the investment firm maintained a sell rating on the electric vehicle maker.
"We are moderately raising our estimates to reflect the Q2 EPS beat on continued strong execution and non-automotive upside," analyst Itay Michaeli wrote in a Monday note.
Automakers have been forced to raise prices on vehicles as they deal with a surge in commodities costs for materials such as cobalt, lithium and nickel, which have more than doubled during the pandemic.
Still, Tesla CEO Elon Musk wrote in a July 28 tweet: "Inflation might be trending down. More Tesla commodity prices are trending down than up fwiw."
Tesla shares were up more than 1%.
— Sarah Min
Mester sees 'more work to do' on controlling inflation
Cleveland Federal Reserve President Loretta Mester said more progress is needed on inflation before the central bank can relax.
In an interview with the Washington Post, the policymaker said there's "more work to do" on inflation, which is running at its highest level since the early 1980s. She added that she would need to see "compelling evidence" that inflation is slowing on a month-over-month basis, and would look for not only a peak but also signs that the cost of living is moving lower.
Her comments come the same day as fellow regional Fed presidents Mary Daly of San Francisco and Charles Evans of Chicago said they also think there are more hikes ahead. Evans tempered his remarks with hopes that the Fed may not have to go to extremely restrictive policy to control inflation.
—Jeff Cox
The 10-year yield traded in a wide range Tuesday, and may have found a near-term bottom
The 10-year Treasury yield traded in a large, volatile range Tuesday, and possibly has found a near-term bottom, strategists say. 
The yield was at 2.71% in afternoon trading, coming off a low of 2.52% at about 8:30 a.m. ET, according to Wells Fargo's Michael Schumacher. "For me, looking out over the next few months, to the end of September, I think yields are a fair amount higher than they are today," he said. Yields move opposite price.
"I think it probably has bottomed," he said, noting the yield could return to the year high of 3.49%.
Greg Faranello of AmeriVet Securities said separate comments Tuesday from San Francisco Fed President Mary Daly; Chicago Fed President Charles Evans, and Cleveland Fed President Loretta Mester all reinforced a hawkish tone. That helped yields move higher, as did a report that House Speaker Nancy Pelosi's plane landed safely in Taiwan earlier today.
"There's been a little bit of geopolitical nervousness," said Faranello. He said Fed officials are pushing back on the view of some investors that the Fed will soon pivot from its hiking policies.
"Even Daly, who is a bit of a dove, says we're nowhere near done," he said. "The Fed speak has been 110% unequivocally bearish. There's not even a doubt in my mind."
--Patti Domm
Household debt hits record $16.2 trillion amid inflation burst
Household debt passed $16 trillion for the first time as Americans paid more for autos and real estate and increasingly used credit cards for their purchases, the New York Federal Reserve reported Tuesday.
Total debt rose $312 billion, most of which came from a $207 billion increase in mortgage debt. The total American IOU across all forms rose to $16.15 trillion, a 2% increase.
Credit card balances rose the most in more than 20 years over the past 12 months, while non-housing credit balances showed their biggest quarterly gain since 2016.
The increases come amid surging inflation and as the Fed raises rates, which makes all forms of debt, particularly mortgages, more expensive.
—Jeff Cox
Lots of bad news already discounted, MRB Partners says
Stocks have rallied off their June lows even as strong inflation persists, economic growth slows and the Federal Reserve continues to raise rates.
One reason for that may be that the market has already priced in much of the bad news out there, according to research firm MRB Partners.
"After de-rating dramatically in the first-half of this year, many investors fear that a significant decline in corporate profits looms, signaling much more pain ahead for stock prices," MRB said in a note Tuesday.
"That said, from our perspective of a mid/late-cycle slowdown, stocks prices have discounted a lot of bad news," they said. "Our comparatively constructive economic outlook implies that the selloff in equities and other risk assets is somewhat overdone and there is room for a partial re-rating, provided interest rate expectations and bond yields remain calm for a period."
They also noted that the Fed will not "sacrifice the U.S. expansion for the sake of achieving a specific inflation rate at a specific time."
—Fred Imbert
Chicago Fed President Evans hopes for smaller rate hikes in coming meetings
Chicago Federal Reserve Bank President Charles Evans on Tuesday said he thinks the central bank could hand out smaller interest rate increases in coming meetings if inflation continues to tick down.
He hopes that the Fed can proceed with a half-percentage point hike in September, he told reporters Tuesday. Following that move, he'd like to see the central bank hand out a series of quarter-percentage-point increases until the start of the second quarter next year.
Overall, he said that he thinks the Fed will have to raise rates between 3.75% and 4% by the end of the year.
— Carmen Reinicke
Stocks midday: S&P 500, Nasdaq Positive, Dow slips
Stocks were mixed in midday trading. At about 12:30 p.m. ET, the S&P 500 was up 0.4%, having gained from being down as much as 1% earlier in the session. The Nasdaq Composite was also in the green, up 0.89%, supported by a more than 17% jump in Uber.
The Dow lagged the other averages and was down about 54 points in the early afternoon. It was dragged lower by shares of Caterpillar, which slipped more than 3% on an earnings miss.
— Carmen Reinicke
Federal Reserve President remarks lift stocks
The S&P 500 and the Nasdaq Composite gained Tuesday afternoon following comments from regional Federal Reserve Bank presidents on what may be ahead in interest rate hikes as the central bank looks to keep inflation in check.
San Francisco Fed President Mary Daly on Tuesday said that the bank is "nowhere near almost done" with interest rate hikes following the second consecutive 75 basis-point increase at its last meeting.
"We have made a good start and I feel really pleased with where we've gotten to at this point," she said on CNBC.
Later, Chicago Fed President Charles Evans said that a 50 basis-point hike in September would be reasonable, and another 75 basis-point increase would also be ok.
— Carmen Reinicke
JetBlue slumps after high costs lead to earnings miss
Shares of JetBlue fell more than 6% Tuesday after the company reported earnings that missed Wall Street's expectations, mainly because of an increase in costs.
— Carmen Reinicke
Nancy Pelosi lands in Taiwan
House Speaker Nancy Pelosi landed in Taiwan safely on Tuesday, even amid China's threats that there would be "serious consequences" for her visit.
The escalating rhetoric left investors somewhat skittish ahead of Pelosi's arrival, with the major U.S. stock averages falling on Tuesday before the landing.
The S&P 500 climbed into the green and was last flat in trading shortly after Pelosi arrived as traders bet China allowing the plane to land means tensions would soon ease. The benchmark was down 0.9% earlier in the session.
—Fred Imbert
Defense contractors catch a bid as Pelosi Taiwan visit looms
Predictably, leading defense contractors caught a bid early Tuesday– bucking a softer stock market elsewhere –as headlines that House Speaker Nancy Pelosi would soon land in Taipei added to geopolitical tensions between the U.S. and the People's Republic of China.

Lockheed Martin was ahead 2.4%, Northrop Grumman added 2%, Raytheon Technologies climbed 0.9%, General Dynamics rose 0.6% and Huntington Ingalls advanced 0.1%.
—Scott Schnipper
Bill Ackman calls for further rate hikes
Hedge fund manager Bill Ackman said on "Squawk Box" that the Federal Reserve needs to hike rates to around 4% or higher in order to fight off inflation.
"I think rates are going to need to stay 4%-plus for the foreseeable future — 12 to 18 months, or so — in order to kill this inflation. And they may need to take rates higher," Ackman said. "The biggest risk to the markets is that people are not pricing that in."
Ackman's Pershing Square has interest rate hedges in place that would benefit from short-term rates and the 30-year Treasury yield moving higher, he said.
Check out the full interview here.
— Jesse Pound
Job openings plunge in June
The June Job Openings and Labor Turnover Survey, released Tuesday morning by the Bureau of Labor Statistics, showed that job openings fell to 10.7 million. That was much lower than economist expectations of an 11.14 million print.
The largest decreases in job openings were in retail trade, wholesale trade and state and local government education.
— Carmen Reinicke
Stocks open lower, led by Dow's 266 point drop
Stocks opened lower Tuesday as traders digested tensions with China over House Speaker Nancy Pelosi's Taiwan visit, a new round of earnings reports and economic data coming later in the day.
The Dow slipped more than 260 points and was weighed down by Caterpillar, which slumped more than 4% on weaker-than-anticipated earnings. The S&P 500 slipped 0.53% and the Nasdaq Composite was down 0.30%.
— Carmen Reinicke
CNBC's Jim Cramer says inflation has peaked, citing drop in oil prices
The economy has reached peak inflation, as shown by the recent drop in oil prices, according to a Tuesday tweet from CNBC's Jim Cramer.
"The speed of the decline in oil i think puts the lie to the notion, again, that we have not had peak inflation," Cramer wrote. "The inflationistas simply refuse to believe it could have peaked regardless of the evidence."
Data pointing to a global manufacturing downturn caused oil prices to slip further from their highs this week, though they recovered somewhat since.
—Sarah Min
Stocks may move higher after Pelosi lands in Taiwan, JPMorgan says
Stock markets may shrug off House Speaker Nancy Pelosi's visit to Taiwan Tuesday, especially if there is no immediate reaction from China, JPMorgan wrote in a Tuesday note.
"Senators from both sides of the aisle have visited Taiwan this year, including Democrats Duckworth and Menendez and Republicans Graham and Scott," analysts wrote. "Some of the Chinese response to those visits were military drills in the Taiwan Strait and military plane flyovers of Taiwan."
Thus, parallels to Russia/ Ukraine and the potential for shutting off parts of the global supply chain may be off base, according to the note.
"Today, Pelosi's plane is scheduled to land about an hour after the US opens; it there is no immediate reaction you may see markets move higher," JPMorgan analysts wrote.
— Carmen Reinicke
Don't lose sight of JOLTS data, El-Erian says
Investors focused on House Speaker Nancy Pelosi's trip to Taiwan should make sure not to overlook key economic data coming today that could influence the Federal Reserve's path forward, according to Mohamed El-Erian, Allianz chief economic advisor.
"There's so much attention on the US China issue, don't lose sight of the JOLTS data," El-Erian said Tuesday on CNBC's "Squawk Box," referring to the Job Openings and Labor Turnover survey due later in the morning.
That data is important for the Fed, he added, as they chart their path of potential interest rate hikes.
— Carmen Reinicke
Bank of America says clients have bought stocks for five straight weeks
Bank of America clients were net buyers of U.S. stocks last week, the fifth straight week of positive inflows, according to a note from strategist Jill Carey Hall. Total inflows were $4 billion, according to the note.
"All client groups were buyers this week. Buying was led by institutional clients after selling the week before, while hedge funds and private clients were net buyers for the second and fifth consecutive week, respectively," Hall wrote.
There was positive net buying in nine of 11 sectors, with Bank of America clients tilting toward cyclical sectors, according to the note.
— Jesse Pound
Pinterest shares still elevated after Elliott Management announces stake
Shares of Pinterest were up more than 18% in premarket trading, holding onto a surge from Monday night following activist investor Elliott Management announcing it had taken a stake in the company and was its largest investor.
The image-sharing company also reported earnings Monday that disappointed on both earnings and revenue but showed better-than-expected user numbers.
— Carmen Reinicke
Uber surges on earnings revenue beat
Shares of Uber popped more than 10% in premarket trading after the company reported quarterly earnings that beat Wall Street's expectations for revenue.
The company also reported a net loss of $2.6 billion for the quarter, some of which was attributed to investments in Aurora, Grab and Zomato.
- Carmen Reinicke
Impact of Pelosi trip on markets
Mona Mahajan, Edward Jones senior investment strategist, addressed the impact of Pelosi's possible Taiwan visit on markets in a CNBC "Squawk Box" appearance Tuesday:
"Geopolitical tension has been a theme we've really been seeing all year that has been weighing on markets. ... The risk and the concern is that we have a Russia-Ukraine 2.0, something that's even more severe coming out of China. I think for now it's a tail risk. I do think the trip will not lead to any real economic disruption, but of course the rhetoric and the headlines start to intensify and it's something we need to watch going forward."
—John Melloy
Caterpillar drops after reporting earnings
Caterpillar shares slid more than 1% after the industrial giant posted mixed quarterly results. The company earned $3.18 per share, beating a Refinitiv consensus forecast of $3.01 per share. However, Caterpillar's revenue of $14.25 billion was just below an estimate of $14.35 billion.
—Fred Imbert
Treasury yields fall in early trading
U.S. Treasury yields fell in early trading Tuesday ahead of House Speaker Nancy Pelosi's expected trip to Taiwan. The benchmark 10-year rate dropped more than 5 basis points to 2.548%, while the 2-year yield slid to 2.856%.
—Fred Imbert
Oil major BP boosts dividend as quarterly profits jump on high commodity prices
U.K. oil giant BP boosted its dividend on Tuesday as it posted bumper second-quarter profits, benefitting from a surge in commodity prices.
Second-quarter underlying replacement cost profit, used as a proxy for net profit, came in at $8.5 billion. The soaring profits gave BP room for a 10% increase in its quarterly dividend payout to shareholders, raising it to 6.006 cents per ordinary share.
European stocks retreat, tracking global risk-off sentiment
European markets pulled back slightly on Tuesday, tracking risk-off sentiment globally as investors assess whether last month's rally has further to run.
The pan-European Stoxx 600 dropped 0.6% by mid-morning in London, with tech stocks shedding 2.1% to lead losses as almost all sectors and major bourses slid into the red. Telecoms gained 0.6%.
Earnings remain a key driver of individual share price movement. BP, Ferrari, Maersk and Uniper were among the major European companies reporting before the bell on Tuesday.
Chinese stocks drop as tensions rise over Pelosi visit
Chinese stocks led losses in Asia as U.S.-China tensions rose over House Speaker Nancy Pelosi's expected visit to Taiwan.
Taiwan is a democratic self-ruled island that China sees as a runaway province, and Beijing has been vocal about its opposition to Pelosi's trip.
Taiwan Semiconductor Manufacturing Company shares dropped 3%, while the wider Taiex index fell 1.83%.
Mainland China's Shanghai Composite dipped 2.86% and the Shenzhen Component lost 3%. The Hang Seng index in Hong Kong was 2.88% lower.
The Japanese yen, commonly seen as a safe-haven asset, strengthened and last stood at 130.88 against the dollar.
— Abigail Ng
Stock futures open flat
Stock futures opened flat in overnight trading on Monday.
Futures tied to the Dow Jones Industrial Average inched 0.06% lower, or 21 points. S&P 500 futures and Nasdaq 100 futures dipped 0.06% and 0.01%, respectively.
— Samantha Subin
The upside from here is limited over the next few months, says Truist's Lerner
Investors overallocated toward stocks should consider using the current market conditions to trim back their positions as the upside for equities is limited going forward, says Keith Lerner, co-chief investment officer at Truist.
According to Lerner, the upside for the market over the next few months is likely capped in the 3% to 5% range, but the downside could exceed that amount.
"The market's been very resilient, no doubt, and maybe it stays that way for a little bit, but we don't see the risk-reward as that compelling here," he said.
This by no means is an indication of the top of the market and equities could squeeze higher, but it is an opportunity to reallocate exposure after last month's strong market rally, Lerner added.
-Samantha Subin
Pinterest shares pop 21% as Elliott Management reveals position as largest investor
Pinterest shares popped more than 21% after the company posted stronger-than-expected user numbers and Elliott Management revealed it's the largest shareholder in the image-sharing company.
Activist investor Elliott said in a statement that it has "conviction in the value-creation opportunity" at Pinterest, calling the social media company a "highly strategic business with significant potential for growth."
 "As the market-leading platform at the intersection of social media, search and commerce, Pinterest occupies a unique position in the advertising and shopping ecosystems, and CEO Bill Ready is the right leader to oversee Pinterest's next phase of growth," Elliott wrote.
Despite the stock move, Pinterest missed estimates for the second quarter on the top and bottom lines. Monthly active users for the period came in 2 million above estimates.
— Samantha Subin
Copyright CNBC