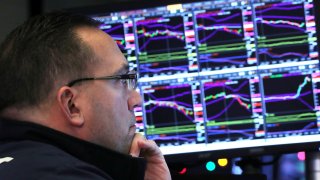 One key market indicator may be forecasting a comeback, Oppenheimer's Ari Wald says.
After a "high-intensity low" on Dec. 3 — which Wald described as a point when most stocks decline and the Cboe Volatility Index peaks — selling pressure seems to be easing, the firm's head of technical analysis told CNBC's "Trading Nation" on Monday.
"On top of that, we are encouraged that the put-call ratio — it's an option-based sentiment indicator — is showing the most pessimism in the ratio since November of 2020," Wald said.
"That does argue that there's contrarian firepower and I think it does set up for new highs looking out into the new year," Wald said.
However, the quality of the rally matters, Wald said, adding that he would be concerned if S&P 500 highs were "undermined" by fewer than 60% of NYSE stocks trading above their 200-day moving averages.
"We've found historically that's been a good market top signal," he said. "Haven't seen it yet, though."
Another trader saw opportunity in the market's sudden downturn.
"There are a lot of ... reasonably priced valuations out there because much of the market movement has been from high-flying growth stocks," Rockefeller Capital Management's Michael Bapis said in the same interview.
This "knee-jerk reaction" to Covid omicron risks and uncertainty around Federal Reserve policy has "normalized" technology, bank, energy and health-care stock valuations, said Bapis, managing director of Vios Advisors.
"Assuming omicron continues in the path that it's continuing and the Fed isn't doing anything drastic with rates, we'd definitely look at this as a buying opportunity," Bapis said. "Frankly, the markets have moved up so far so fast that a pullback was going to happen anyway."
Copyright CNBCs - CNBC