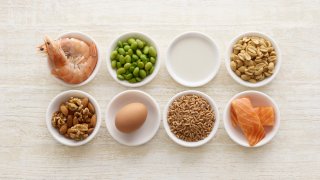 If you have a food allergy, you're likely aware of it by now. Many people are allergic to nuts and shellfish, and were either born with the allergy or developed it with age.
Despite how careful you might be with the foods you're allergic to, it is possible that you're still consuming foods every day that your body is sensitive to in other ways.
Food allergies are typically easy to detect because your body usually reacts immediately, and that reaction can be so severe that it requires medical attention, says Gill Hart, a biochemist and scientific director at YorkTest.
On the flip side, "food sensitivities are very different [and] take longer to generate," says Hart.
We're making it easier for you to find stories that matter with our new newsletter — The 4Front. Sign up here and get news that is important for you to your inbox.
"So, you can eat something maybe on a Saturday, and it might not be until Tuesday that you even get a reaction."
Food sensitivities are also known as food intolerances, and "reactions tend to be long-term and chronic," she adds. They can present as a variety of symptoms, including irritable bowel syndrome and migraines, and most people react to five or six foods based on YorkTest results, Hart notes.
Is it a food allergy or a food sensitivity?
This chart features a side-by-side comparison of food allergies and food sensitivities to help distinguish the major differences between the two.
I took a food sensitivity test that picked up on something I eat weekly
As someone who's allergic to pineapples, I've often wondered if there are other foods I should avoid.
So, I recently took a food sensitivity test by YorkTest. The process involved pricking my finger and shipping my blood sample off to be tested in a lab.
The results group food sensitivities into three categories:
High reactivity
Borderline
Normal reactivity
Foods with a high reactivity label indicate clear food sensitivities.
My body isn't a big fan of eggs
I typically eat a high-protein, plant-based diet. My meals often include either beans, peanut butter or pasta. If I do eat animal-based foods, it's usually fish, shrimp and eggs.

I eat eggs twice a week — sometimes more — to make sure I'm getting enough protein. Before taking the test, I was already pretty aware of how my body reacts to eggs. I often experience symptoms of IBS and other digestive issues.
When I got the results of my test, I wasn't entirely surprised to learn I have a sensitivity to eggs, but seeing it on paper made it harder to ignore.
Hart believes I can benefit from removing eggs from my diet, but that it isn't as crucial as the steps I take to avoid the foods I'm allergic to.
"All we're doing is giving you a starting point for an elimination diet. We're not diagnosing anything or treating anything," says Hart.
"We're just saying if you wanted to try and remove some foods from your diet, we suggest you start with these particular foods."
DON'T MISS: Want to be smarter and more successful with your money, work & life? Sign up for our new newsletter!
Take this survey and tell us how you want to take your money and career to the next level.
Copyright CNBCs - CNBC