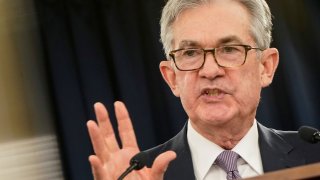 Federal Reserve Chairman Jerome Powell spoke to reporters for one hour after the central bank published its March 2021 decision on interest rates and thoughts on the U.S. economy.
The Federal Reserve on Wednesday greatly improved its economic forecasts in its March 2021 monetary policy decision but nonetheless indicated that it doesn't expect to hike interest rates through 2023.
Paul McCulley cheers Powell for offering 'substance' to new policy framework
We're making it easier for you to find stories that matter with our new newsletter — The 4Front. Sign up here and get news that is important for you to your inbox.
Paul McCulley, the former chief economist and managing director at PIMCO, cheered Fed Chairman Jerome Powell's press conference Wednesday, saying it provided clarity around the central bank's updated approach to inflation as the economy recovers from the pandemic.
"We got substance to the Fed's new, strategic brainwork and reaction function, which was implemented last year. But this was the first time for the Fed to put some real meat on the bones with numbers," McCulley said on CNBC's "Closing Bell." "They upgraded the forecast. At the same time, they said we're not going to be preemptive. I would look at this press conference today as the funeral for the doctorate of preemption, and I think that's a glorious thing." 
— Kevin Stankiewicz
Fed expected to leave rates unchanged, but all eyes on Powell presser
While the Federal Reserve isn't expected to make any adjustments to interest rates this month, all eyes are on Chair Jerome Powell to see if he signals any futures changes to central bank policy.
That's because a rebounding economy, percolating inflation and a stock market jumping to records don't usually warrant easy monetary policy.
The challenge for the central bank this week will be to explain that position to investors and assure them that even if the status quo remains, that won't provoke policymakers to change course, nor should they.
"The basic line is, 'Everything looks a little better, but there's still a lot of uncertainty and we're not going to do anything soon.' I'm sure we'll hear that," said Bill English, former head of the Fed's Division of Monetary Affairs and now a finance professor at the Yale School of Management.
— Thomas Franck, Jeff Cox
Copyright CNBC