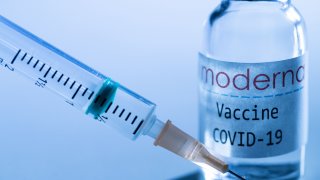 What to Know
Moderna's vaccine could be administered to the public as early as next week if it wins emergency use authorization from the FDA.
The FDA staff endorsement comes two days before the agency's Vaccines and Related Biological Products Advisory Committee, a group of outside medical advisors, is scheduled to review it
The committee is expected to recommend Moderna's vaccine for emergency use
The staff report is meant to brief the FDA's Vaccines and Related Biological Products Advisory Committee, which meets Thursday to review Moderna's request for emergency use authorization.
The group of outside medical advisors recommended Pfizer's vaccine for emergency use last Thursday, and the FDA approved it the next day. The committee is expected to recommend Moderna's vaccine. The FDA doesn't have to follow the committee's recommendation, but it often does.
The FDA staff said it determined that the clinical trial results and safety data were "consistent with the recommendations set forth in FDA's Guidance on Emergency Use Authorization for Vaccines to Prevent COVID-19."
"FDA has determined that the Sponsor has provided adequate information to ensure the vaccine's quality and consistency for authorization of the product under an EUA," it said.
The announcement helped Moderna's stock rise 1.5% just before the opening bell.
The documents are "enormously encouraging," said Dr. Paul Offit, a voting member on the committee, adding they show there are now two highly effective vaccines. He voted in favor of recommending Pfizer's vaccine last week.
Moderna is asking the FDA to approve the use in people age 18 and over, while Pfizer's vaccine was cleared for use in people age 16 and older. The scant data in younger teens was a sticking point for the few members of the advisory committee who voted against authorizing Pfizer's vaccine last week.
The FDA said it recommends tracking cases of Bell's palsy, a condition that causes a sudden freezing or weakness in facial muscles, if the vaccine is cleared for use. The agency said there were three cases in the vaccine group and one in the placebo group among the 30,000 trial participants. "Currently available information is insufficient to determine a causal relationship with the vaccine," the agency wrote.
Offit agreed that the condition is worth monitoring as the vaccine rolls out. "I'm not dismissing that yet," he said in an interview with CNBC.
When Merck submitted its data from its rotavirus vaccine trial, there were five cases of Kawasaki disease but none in the placebo group. That was "statistically significant" and caused Merck to change its label to note the cases.
The most common side effects were pain at the injection site, fatigue, headache, muscle pain and chills, the FDA said, adding more severe reactions were more common after the second dose. Trial participants told CNBC in September the symptoms were uncomfortable, and at times intense, the participants said they often went away after a day, sometimes sooner, and that it was better than getting Covid-19.
The FDA said 13 deaths were reported as of Dec. 3, with six in the vaccine group. Two deaths in the vaccine group were people over age 75 with preexisting conditions, the agency said. One case was a 72-year-old vaccine recipient with Crohn's disease and short bowel syndrome who was hospitalized for thrombocytopenia and acute kidney failure.
Moderna submitted its COVID vaccine data to the FDA on Nov. 30. It said a final analysis of its phase three clinical trial found the vaccine was more than 94% effective in preventing COVID, was safe and appeared to fend off severe disease. Its vaccine uses messenger RNA, or mRNA, technology. It's a new approach to vaccines that uses genetic material to provoke an immune response.
The documents published offer a glimpse of the FDA's view of the vaccine.
If the FDA approves the vaccine, it would be the second one for emergency use in the U.S., behind the Pfizer-BioNTech vaccine. Gen. Gustave Perna, who oversees logistics for President Donald Trump's vaccine program Operation Warp Speed, said Monday that the U.S. plans to ship just under 6 million doses of Moderna's vaccine once the FDA approves emergency use.
Such an authorization isn't the same as a full approval, which can typically take months longer. Moderna, like Pfizer, has only submitted two months of follow-up safety data, but the agency usually requires six months for full approval. Pfizer's vaccine was authorized for people 16 and older.
Cambridge, Massachusetts-based Moderna has said its vaccine remains stable at 36 to 46 degrees Fahrenheit, the temperature of a standard home or medical refrigerator, for up to 30 days. It can be stored for up to six months at negative 4 degrees Fahrenheit. By comparison, Pfizer's vaccine requires a storage temperature of minus 94 degrees Fahrenheit.
The federal government announced last week that it will purchase an additional 100 million doses of Moderna's vaccine. The U.S. entered an agreement with Moderna in August to acquire 100 million doses for about $1.5 billion. Moderna said that month it was charging $32 to $37 per dose for its vaccine for some customers, under cheaper "pandemic pricing." The company said it was in discussion for larger volume agreements that will have a lower price.
CNBC's Will Feuer and Noah Higgins-Dunn contributed to this report.
Copyright CNBC