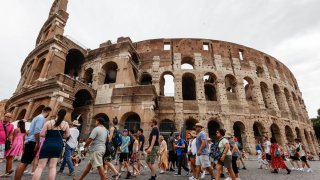 This is CNBC's live blog covering European markets.
European stock markets were mixed Tuesday, with investors seemingly in a holding pattern after a serious bout of market volatility.
The pan-European Stoxx 600 index was down 0.1% by late afternoon, with many sectors paring the early morning's strong gains.
Banks saw a 0.8% uptick, restoring gains from earlier in the session, with Credit Suisse climbing 1.6% and UBS up 2.5%. Deutsche Bank regained earlier losses to drop 0.9% following recent volatility.
We're making it easier for you to find stories that matter with our new newsletter — The 4Front. Sign up here and get news that is important for you to your inbox.
In a memo seen by Reuters on Monday, UBS Chief Executive Ralph Hamers reportedly said of the bank's recent Credit Suisse acquisition: "While we did not seek this transaction, we were prepared, and we see it as an opportunity to accelerate our firm's growth story. We did not buy Credit Suisse only to close it."
Policymakers and central bank officials have continued to stress the banking system is not heading for a crash, though jitters remain.
Charles-Henry Monchau, chief investment officer at Syz Group, told CNBC's "Squawk Box Europe" investors were beginning to reassess the view that interest rates hikes are good for banks because they mean higher net interest margins, instead factoring in that sharp rate rises would hit the weakest links of the economy, where banks may "pay the price."
Factors keeping nerves on edge include U.S. Treasury Secretary Janet Yellen's statement last week that she cannot give a blanket guarantee for all bank deposits; perceived vulnerabilities in the U.S. corporate real estate sector, where 80% of loans are held by regional banks; and UBS and Credit Suisse facing a U.S. justice department probe, said Nancy Curtin, global chief investment officer at AlTi.
Beyond banks, European sector gains included mining stocks, which are up 1.5%, and oil and gas, up 1.9%. Tech stocks fell 1.4%.
Asia-Pacific markets closed mixed on Tuesday as investor fears over recent banking sector turmoil continued to show signs of easing.
U.S. stocks dropped slightly as an uptick in rates put pressure on the indexes. The Nasdaq shed about 0.8%, while the S&P 500 dipped 0.3%. The Dow Jones Industrial Average hovered above the flat line.
Europe's energy landscape will never be the same, says Norwegian official
Andreas Bjelland Eriksen, Norway's energy state secretary, says the Norwegian continental shelf has become "extremely important" for Europe's energy system.
We're not in a 'great economic phase' for commodities, investment management firm says
Paul Jackson, global head of asset allocation research at Invesco, says that's particularly the case for industrial commodities.
Offices of French banks searched
The shares of several French banks were down mid-afternoon amid reports of French authorities searching offices due to suspected money laundering and fiscal fraud.
Shares of Societe Generale were down 2%, while BNP Paribas dropped 1.3%. HSBC offices were also searched, as reported by Reuters, and shares of the British bank dipped 0.6%. Stocks were already down in the morning session on wider concerns over the global banking system.
A spokesperson of the PNF financial prosecution office confirmed that premises had been searched.
Societe General confirmed the searches, according to a Reuters report. The other concerned banks did not immediately reply to requests for comment.
The full story can be read here.
— Hannah Ward-Glenton
Real estate sector is 'very, very far from 2008,' analyst says
People want to draw parallels to the past, but the current real estate market is nothing like 2008, Cedrik Lachance, director of research at real estate analysis firm Green Street, tells CNBC.
Oil and gas stocks make the biggest gains; sector up 1.5%
The oil and gas sector made the biggest gains in the Stoxx 600 index with a 1.5% uptick around 11.30 a.m. London time.
Energean led the pack, slightly extending earlier gains to 8.9% after a dip in stock price last Thursday following the publication of its full-year results.
Scotland-based oil and gas company Harbour Energy was up 3.1%, while Portuguese energy corporation Galp Energia was up 3%.
— Hannah Ward-Glenton
We're not in a 'great economic phase' for commodities, investment management firm says
Paul Jackson, global head of asset allocation research at Invesco, says that's particularly the case for industrial commodities.
UK retail prices rise at record rate as food costs soar
U.K. shop prices rose by 8.9% annually in March, a record high, according to figures published by the British Retail Consortium.
Inflation was most extreme in food prices, which were up by 15%, with fresh food up by 17%.
A separate survey from Kantar found shoppers faced an £837 increase in annual shopping bills without changing their spending habits.
"Shoppers are taking action and clearly hunting around for the best value," said Fraser McKevitt, head of retail and consumer insight at Kantar.
"Footfall was up in every single grocer this month, with households going to the shops just over four times per week in March. Apart from Christmas, that's the highest frequency we've seen since the start of the pandemic."
— Jenni Reid
Stocks on the move: Energean up 8.5%, Embracer Group down 13%
Shares of hydrocarbon exploration Energean topped European stocks in morning trade, gaining 8.5%.
The company's stock price had dipped after the publication of full-year results last Thursday, which showed it swung from a $96.2 million loss to a $17.3 million profit and set out a growth plan.
Embracer Group, the Swedish media holding company, dropped 13.6%.
In a statement on Monday afternoon, the firm said some of the partnership and licensing deals it had in the works would be completed slightly later than planned.
Embracer also featured in a Financial Times report which noted investor concerns over the company's light-touch approach to integrating new businesses and the gap between its actual and adjusted profits.
— Jenni Reid
French business confidence falls
Business confidence in France dipped in March, figures from national statistics agency Insee showed.
The index compiled from business manager responses shed one point from February, though it remained above its long-term average.
Sentiment weakened in retail trade, services, manufacturing and building construction, with only wholesale trade showing improvement.
Figures published Monday showed business sentiment in Germany climbed for a fifth straight month in February, as measured by the Ifo Business Climate Index.
— Jenni Reid
European stocks open higher
European stocks were higher early Monday, with the Stoxx 600 index up 0.5% at 8:20 a.m. London time.
Oil and gas stocks climbed 1.44%, mining stocks were up 1.36% and banks continued to regain some positive momentum, up 1.2%.
— Jenni Reid
Bailey: U.K. banks are 'resilient', inflation remains key focus
Bank of England Governor Andrew Bailey said in a speech Monday night that he had confidence in the U.K. banking system and regulatory framework, which allows the central bank to remain focused on bringing down inflation.
He described U.K. banks as "resilient, with robust capital and liquidity positions, and well placed to support the economy," Sky News reported.
"We have a strong macroprudential policy regime in this country. With the Financial Policy Committee on the case of securing financial stability, the Monetary Policy Committee can focus on its own important job of returning inflation to target," Bailey said.
The BoE hiked its key rate by 25 basis points to 4.25% last week, after inflation came in hotter-than-expected at 10.4% in February.
— Jenni Reid
We're not heading toward a global financial crisis: CEO
Policymakers were right to shoot first and ask questions later amid recent banking volatility, Thanos Papasavvas, founder and CEO at ABP Invest, tells CNBC.
Bitcoin, ether fall after Binance's founder named in U.S. complaint
Prices of bitcoin and ether fell roughly 3% in Asia's morning trade, according to Coin Metrics – after U.S. officials filed a complaint against crypto exchange Binance and its co-founder Changpeng Zhao.
The filing alleged that the firm actively solicited U.S. users and subverted the exchanges own "ineffective compliance program."
Bitcoin fell 3.09% in the past 24 hours, according to Coin Metrics, and traded at $27,003 – while ether also fell 2.95% to $1,712.
Bitcoin is up roughly 63% quarter-to-date and on pace to mark the best quarter since the first quarter of 2021, when bitcoin gained 103.73%. It is also on pace to see the third consecutive month of gains.
Ether is also up 41.3% quarter-to-date and on pace for the best quarter since the first quarter of 2021, when the cryptocurrency gained over 150%.
– Rohan Goswami, Gina Francolla, Jihye Lee
CNBC Pro: As small caps hit multi-decade lows, one fund manager reveals 3 stocks to buy
The market sell-off earlier this month has hurt small-cap stocks more than their larger peers.
Yet Josh Bennett, senior portfolio manager at Alger, believes the volatility has created opportunities for investors to pick stocks that will outperform in the medium to long term.
Bennett named three stocks that he says are likely to have resilient earnings through a potential recession.
CNBC Pro subscribers can read more here.
— Ganesh Rao
Asia-Pacific financials, banks rise as SVB deal offers relief on Wall Street
Shares of banks in the Asia-Pacific rose, tracking Wall Street's moves overnight after First Citizens bought a large chunk of failed Silicon Valley Bank.
Australia's Macquarie Group rose 1.5% in Asia's morning trade, alongside Westpac, National Australia Bank and Commonwealth Bank of Australia all up roughly 1%.
South Korea's financials also rose – Shinhan Financial Group rose 3.44%, KB Financial Group climbed 3.53% and Woori Financial Group gained more than 2%.
In Japan, Mizuho Financial Group also gained 3.15%, Mitsubishi UFJ Financial Group rose 2.42% and Sumitomo Mitsui Financial Group rose more than 3%.
— Jihye Lee
CNBC Pro: Morgan Stanley has upgraded a raft of stocks to overweight — here are 5
Despite the market volatility, Morgan Stanley upgraded a raft of stocks in March, including both U.S. and global picks.
The bullish calls spanned tech, pharmaceuticals and more, with the bank giving one stock a double upgrade. Here are five of the stocks upgraded by the investment bank:
CNBC Pro subscribers can read more here.
— Weizhen Tan
European markets: Here are the opening calls
European markets are heading for a positive open Tuesday.
The U.K.'s FTSE 100 index is expected to open 18 points higher at 7,498, Germany's DAX 41 points higher at 15,177, France's CAC up 24 points at 7,104 and Italy's FTSE MIB 85 points higher at 25,822, according to data from IG.
On Tuesday, earnings are set to come from MAN Group and data releases will include French business climate data and Italian consumer confidence figures.
— Holly Ellyatt
Copyright CNBCs - CNBC