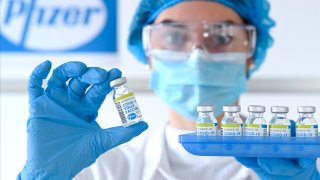 The coverage on this blog is now closed.
The U.S. Covid-19 crisis is still trending in the wrong direction. The country recorded more than 2,700 virus-related deaths on Thursday, bringing the national death toll to at least 292,190, according to data compiled by Johns Hopkins University. The U.S. reported more than 224,000 new coronavirus cases, nudging the seven-day average to a record 210,201 daily new infections, according to a CNBC analysis of the JHU data. More than 107,000 people are currently hospitalized with the virus, according to the COVID Tracking Project.
The following data was compiled by Johns Hopkins University:
Global cases: More than 69.78 million
Global deaths: At least 1.58 million
U.S. cases: More than 15.63 million
U.S. deaths: At least 292,382
White House threatens to fire FDA chief unless Pfizer vaccine approved Friday, reports say
White House chief of staff Mark Meadows told FDA Commissioner Stephen Hahn to submit his resignation if the agency doesn't clear Pfizer's coronavirus vaccine for emergency use by the end of the day Friday, according to multiple reports.
The warning led the FDA to accelerate its timetable for clearing America's first Covid-19 vaccine from Saturday morning to later Friday, according to the Washington Post, which cited anonymous sources.
"This is an untrue representation of the phone call with the Chief of Staff," Hahn told CNBC in a statement. "The FDA was encouraged to continue working expeditiously on Pfizer-BioNTech's EUA request. FDA is committed to issuing this authorization quickly, as we noted in our statement this morning."
The report comes after President Donald Trump, who has repeatedly pushed the FDA to move quickly on the vaccine development process, told the agency in a tweet earlier in the day to "Get the dam vaccines out NOW."
–Berkeley Lovelace Jr.
Nearly 2 out of 3 Americans are living paycheck to paycheck
About 63% of U.S. adults reported that they've been using all or most of their income to cover their monthly expenses since the outbreak of Covid-19, according to a recent survey by Highland Solutions of roughly 2,000 U.S. adults. Prior to the pandemic, 53% of respondents said they were not living paycheck to paycheck. 
Not only are many struggling to make ends meet, but their savings levels are low as well. Nearly half of those surveyed, 47%, say their emergency savings has run out. If faced with a $500 emergency, roughly 8 out of 10 report they would not be able to cover the cost. 
Although Covid has caused financial hardship for many Americans, the pandemic is not the only factor in the recent financial squeeze. About 44% of respondents say they were living beyond their means before the pandemic started and two-thirds say they regret not having more emergency savings. 
The rising cost of living — including food, housing, education and medical expenses — as well as stagnant wages also play a role. 
The lack of savings and the mounting debt have many hoping for another federal relief package. About 43% of respondents are confident that Congress will pass another round of legislation at some point — 31% believe it will be in 2021.
—Megan Leonhardt
Walgreens may begin Covid vaccinations in nursing homes before Christmas
Walgreens may begin administering coronavirus vaccines at nursing homes before Christmas, according to Rick Gates, the company's senior vice president of pharmacy and healthcare.  
In an interview with CNBC, Gates said the national drugstore chain expects to receive initial shipments of Covid-19 vaccines around Dec. 21, with inoculations beginning in long-term care facilities shortly thereafter. "We're ready and certainly excited to get vaccines to start to help America pivot past this challenging time," Gates said.
Walgreens and CVS Health have deals with the U.S. government to handle the vaccinations at long-term care facilities. Walgreens, in particular, is working with about 30,000 nursing homes and assisted living facilities.
Lessons learned from administering vaccines at hard-hit nursing homes can be applied once more people in the general public are able to receive shots. "The more we have from a practical application perspective, then we can educate more broadly on the safety protocols that we're seeing with the vaccines as well as we expand into larger populations," Gates said.
—Kevin Stankiewicz
New York City to close indoor dining beginning Monday, Gov. Cuomo says
New York City restaurants will have to close their indoor dining sections beginning Monday, though they can continue to offer outdoor dining and take-out and delivery services, Gov. Andrew Cuomo said.
Cuomo warned earlier in the week that if Covid-19 hospitalizations didn't stabilize in the city, he would order indoor dining to shutter. The state is reporting an average of roughly 4,653 people hospitalized with Covid-19, a 30% increase compared with a week ago, according to a CNBC analysis of data compiled by the Covid Tracking Project, an independent volunteer organization launched by journalists at The Atlantic. 
The Democratic governor cited additional warnings from the Centers for Disease Control and Prevention issued last week that warned against "exposures at nonessential indoor settings and crowded outdoor" settings.
"In New York City, you put the CDC caution on indoor dining, together with the rate of transmission and the density and the crowding, that is a bad situation. The hospitalizations have continued to increase in New York City," Cuomo said.
—Noah Higgins-Dunn
Black health leaders try to build trust in the vaccine among African Americans
African-American health professionals and community health groups across the U.S. have begun to do outreach in Black communities that have been hit hard by the coronavirus, CNBC's Bertha Coombs reports.
Seven out of 10 African Americans know someone who has been hospitalized or died from Covid, a Pew Research poll conducted last month found. Still, vaccine skepticism runs high. Only 42% of Blacks surveyed plan to be vaccinated, compared with more than 60% of Americans overall.
"They want to know and have real reasons for trust. They want to know that the process is going to be fair, that they are not being guinea pigs to a system that is rigged against them," said Dr. Reed Tuckson, co-founder of The Black Coalition Against Covid, and the former health commissioner of Washington, D.C.
The breakneck pace of the Covid development is one of the issues that has many Americans wary about being among the first to get the shot. For African Americans, however, the wariness is partly based on history. As part of the notorious Tuskegee Study of syphilis, Black men were treated with placebo drugs instead of the antibiotics which could cure it to track the disease's progression for years.
To try and build trust, the Coalition on Covid has brought together the major African-American medical groups, including the National Medical Association and the National Black Nurses Association, as well as leaders from the four historically Black medical schools, including Howard University and Morehouse College, to advocate for African American patients.
—Terri Cullen
An avalanche of evictions could make the Covid crisis far worse
Researchers have been studying how evictions impact the spread of the coronavirus.
As many as 433,700 excess cases of Covid and 10,700 additional deaths were caused by states lifting their eviction moratoriums between March and September, one recent study found, raising concerns about what will happen when the Centers for Disease Control and Prevention ban lapses at the end of December.
"The economic toll of Covid has been unrelenting and experts predict an avalanche of evictions if the federal moratorium expires," said Dr. Craig Pollack, an associate professor at Johns Hopkins Bloomberg School of Public Health. "Our research suggests that this will be associated with a large number of cases and deaths that could potentially be avoided if the moratorium were to remain in place."
—Annie Nova
Live events industry lost $30 billion due to the pandemic, trade publication says
The total lost revenue for the live events industry in 2020 due to the pandemic is more than $30 billion, according to concert trade publication Pollstar, the Associated Press reports.
In its year-end report, Pollstar said the live events industry should have hit a record-setting $12.2 billion this year, according to AP. Instead, it incurred $9.7 billion in losses as the rampant spread of Covid forced mass cancellations of live performances.
Pollstar said the projected $30 billion in losses includes "unreported events, ancillary revenues, including sponsorships, ticketing, concessions, merch, transportation, restaurants, hotels, and other economic activity tied to the live events." Those losses came to more than $8 billion.
Pollstar said Elton John's "Farewell Yellow Brick Road Tour" topped the year's Top 100 Worldwide Tours list with $87.1 million grossed between Nov. 30 through March 7. Celine Dion was second this year, with $71.2 million, AP reported.
—Terri Cullen
Kentucky hospital system ready to receive vaccine, CEO says
Baptist Health CEO Gerard Colman told CNBC his Louisville-based hospital system is prepared to receive Pfizer's Covid-19 vaccine after Food and Drug Administration grants emergency use authorization.
"We'll be vaccinating as soon as we get the vaccine," Colman said on "Squawk on the Street," expressing confidence that supply chain logistics will go smoothly.
"It's really a matter of getting it to the hospitals as quickly and efficiently as possible. We're very confident in the vaccine itself," he added.
—Kevin Stankiewicz
FDA advisor explains her 'no' vote on Pfizer vaccine recommendation
A member of the FDA advisory panel who voted against recommending emergency use authorization for Pfizer and BioNTech's Covid-19 vaccine told CNBC her opposition was because she did not believe 16- and 17-year-olds should be included.
"I want to be very clear that I am fully supportive of the emergency use authorization for the use of this vaccine from Pfizer and BioNTech for adults 18 years and older," Dr. Archana Chatterjee, dean of the Chicago Medical School, said on "Squawk Box."
However, that was not the question put for a vote before the outside group of experts, and Chatterjee, pediatric infectious disease specialist, said she wanted to see additional follow-up data on the younger trial participants before she felt comfortable recommending it.
—Kevin Stankiewicz
Dow falls at open as stimulus deal remains unresolved
The Dow Jones Industrial Average and S&P 500 opened lower as the outlook for additional fiscal stimulus remained uncertain, reports CNBC's Fred Imbert and Yun Li.
The Dow traded 91 points lower, or down 0.3%, and the S&P 500 slipped 0.4%. The Nasdaq Composite dipped 0.5%.
—Melodie Warner 
FDA working to quickly authorize Pfizer's vaccine for emergency use
U.S. Food and Drug Administration Commissioner Stephen Hahn said the agency is rapidly working toward issuing an emergency authorization for Pfizer's Covid-19 vaccine after a key panel endorsed the drug on Thursday evening.
"The agency has also notified the U.S. Centers for Disease Control and Prevention and Operation Warp Speed, so they can execute their plans for timely vaccine distribution," Hahn said in a joint statement with Dr. Peter Marks, director of the FDA's Center for Biologics Evaluation and Research.
In a tweet, Hahn added that the FDA "is finalizing the necessary documents to ensure that patients and providers have the information that they need to make informed decisions and to safely administer the vaccine."
The comments come after the FDA's Vaccines and Related Biological Products Advisory Committee on Thursday voted 17 to 4 with one abstention to recommend the vaccine, which the company developed alongside BioNTech, for emergency authorization.
—Noah Higgins-Dunn, Will Feuer
Almost 40% of Americans plan to spend less this holiday season
Nearly 40% of Americans aren't planning to spend as much on gifts this holiday season as they did last year, according to the CNBC All-America Economic Survey.
CNBC's Steve Liesman reports that just 11% plan to spend more on gifts, as many Americans struggle to cope with widespread unemployment amid the pandemic.
Almost 30% of the 800 Americans surveyed said they plan to spend less due to lost wages or income, 19% cited the coronavirus, and 17% cited the poor economy. And with the number of new Covid cases rising to fresh record levels — and forecast to spike even higher in the coming winter months — the financial pain many households are feeling will likely intensify.
—Terri Cullen
AstraZeneca to work on vaccine combination with developers of Sputnik V
Britain's AstraZeneca said it will start work to understand whether its coronavirus vaccine can be successfully combined with a vaccine being developed by Russia's state-backed science research institute.
The move comes shortly after Russia's Gamaleya Institute, the developers of the Sputnik V vaccine, approached AstraZeneca via Twitter late last month. They had asked whether they should try combining the two common cold virus-based vaccines to boost efficacy.
AstraZeneca said in a statement that being able to combine different Covid-19 vaccines "may be helpful to improved protection and/or to improve vaccine accessibility."
"This is why it is important to explore different vaccine combinations to help make immunisation programmes more flexible, by allowing physicians greater choice at the time of administering vaccines," it added.
The Russian Direct Investment Fund welcomed the chance to cooperate with AstraZeneca, saying clinical trials would begin before the end of the month.
—Sam Meredith
More colleges set to reopen in the spring, despite rise in Covid cases
Even as Covid-19 infections reach record levels, a growing number of colleges and universities are determined to bring students back for the spring semester.
Georgetown University, Morehouse College, Smith College, the University of Florida and Princeton University are among the schools inviting undergraduates to live on campus come January after being largely virtual in the fall.
Administrators say they are better able to manage the public health guidance affectively. But, for some schools, reopening is also a matter of financial necessity.
If schools continue to operate remotely, a significant number of would-be college students will opt out entirely, putting an economic stranglehold on higher education.  
Already, universities have furloughed thousands of employees and announced revenue losses in the hundreds of millions. Some have even cut academic programs that were once central to a liberal arts education. 
—Jessica Dickler
Sanofi and GlaxoSmithKline announce Covid vaccine delay
Sanofi and GlaxoSmithKline announced a delay in their joint Covid-19 vaccine project after the drug under development showed an insufficient immune response in clinical trials, Reuters reports. Phase 3 trials were expected to start this month.
The companies plan to launch a new study in 2021 in the hopes of coming up with a more effective vaccine by the end of next year.
Sanofi said the results showed "an immune response comparable to patients who recovered from COVID-19 in adults aged 18 to 49 years, but a low immune response in older adults likely due to an insufficient concentration of the antigen."
—Sara Salinas
Why two members of the FDA advisory panel on the Pfizer-BioNTech vaccine voted against approval
FDA says will soon finalize emergency authorization for Pfizer's Covid vaccine
FDA Commissioner Stephen Hahn said Friday the agency will soon finalize an emergency use authorization for Pfizer's Covid-19 vaccine, recommended for authorization by an FDA advisory panel late Thursday.
It's somewhat unusual for the FDA to pre-announce an emergency use authorization, which allows for administration of a drug on an advanced timeline ahead of a full FDA approval, but the U.S. and its leaders have been eager to start the vaccine rollout. The U.K. approved Pfizer's vaccine last week and began inoculations earlier this week.
—Sara Salinas

Read CNBC's previous live coverage here:
Covid updates: UPS, FedEx prepare to distribute vaccines; France extends lockdown until January
Copyright CNBC