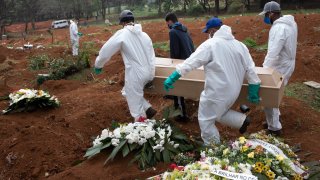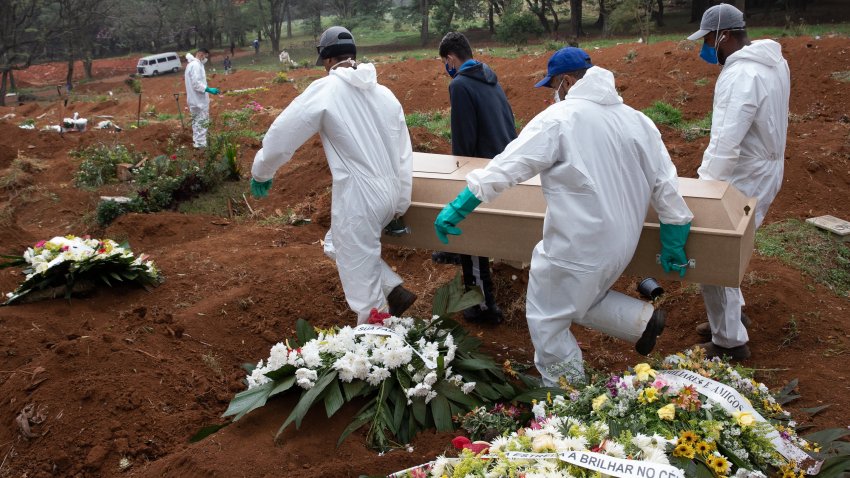 The coverage on this live blog has ended — for up-to-the-minute coverage on the coronavirus, visit CNBC's latest live blog.
More than 60 million people in the U.S., or 18% of the population, have received at least one shot of a Covid vaccine, according to the latest data from the Centers for Disease Control and Prevention. Just over 32 million people are fully vaccinated against the virus, either through two doses of the Pfizer or Moderna vaccines or through the one-shot Johnson & Johnson vaccine that entered the market in recent weeks. In total, the U.S. has administered nearly 94 million vaccine doses to date — and the pace is only improving.
The U.S. is recording at least 57,400 new Covid-19 cases and at least 1,560 virus-related deaths each day, based on a seven-day average calculated by CNBC using Johns Hopkins University data.
Here are the biggest developments Wednesday:
The following data was compiled by Johns Hopkins University:
Global cases: More than 117.95 million
Global deaths: At least 2.61 million
U.S. cases: More than 29.14 million
U.S. deaths: At least 529,009
There is no evidence migrants crossing border are significantly spreading Covid, doctors say
Doctors in Texas told The Associated Press there is no evidence that migrants crossing the U.S.-Mexico border are significantly contributing to the virus spreading in the U.S.
"It's not trivial," said Dr. James Castillo, the public health authority for Cameron County in Texas' Rio Grande Valley, told the AP.
"Is it the biggest source of infection to our whole community?" he said, referring to migrants arriving with the virus. "No, it's maybe one source, and there's a lot of different sources. And it's a shame that we're going to create new sources by dropping the restrictions."
The report comes as Texas Gov. Greg Abbott has tried to shift concern about the virus spreading to migrants. Abbott announced last week that Texas would fully reopen March 10.
—Fred Imbert
Los Angeles movie theaters could reopen as early as Saturday, Gov. Newsom says
Gov. Gavin Newsom said that movie theaters in Los Angeles could reopen as soon as Saturday if enough residents in the county get vaccinated, CNBC's Sarah Whitten reports.
Counties in California must have fewer than 10 new Covid-19 cases per 100,000 people before they can reopen. Los Angeles County had just 6.9 new cases per 100,000 residents as of Wednesday.
"Southern California, LA, will be a big beneficiary of this new metric," Newsom said during his daily press conference.
LA's potential reopening follows New York City venues being able to resume operations. The pandemic's impact on the two cities has had an outsized impact on the movie-theater industry, with New York and California accounting for more than one-fifth of the total U.S. box office receipts every year.
—Fred Imbert
Texas opens vaccine eligibility to people ages 50 and older
Texans ages 50 and older will be eligible to receive a Covid-19 vaccine starting March 15, , the state's department of health said Wednesday.
So far, Texas has allowed frontline health-care workers, people with underlying health conditions and those 65 and older to receive a shot. Last week, the state added school and child-care workers to its vaccine list as well.
The expanded eligibility next week will add 5 million more Texans to the state's priority list, though more than 1 million of them have already been vaccinate, according to the statement.
— Noah Higgins-Dunn
Biden says he will announce 'next phase' of the U.S. Covid response Thursday
President Joe Biden said he will announce the "next phase" of the U.S. Covid-19 response during his primetime address to Americans on Thursday.
"Tomorrow night, I'm going to primetime to address the American people and talk about what we went through as a nation this past year. But more importantly, I'm going to talk about what comes next," Biden said Wednesday following a meeting with the CEOs of Johnson & Johnson and Merck.
The Biden administration has been working to ramp up the supply of Covid-19 vaccines and get the majority of Americans as quickly as possible.
Earlier Wednesday, the Biden administration announced that it plans to buy 100 million additional doses of J&J's Covid-19 vaccine. The deal would double the nation's supply of the vaccine.
"I'm doing this because in this wartime effort, we need maximum flexibility," Biden said Wednesday on plans to purchase more J&J vaccine doses. "There's always a chance that we'll encounter unexpected challenges or there will be a new need for a vaccine effort ... a lot can happen, a lot can change and we need to be prepared."

–Berkeley Lovelace Jr.
Insurance through health exchanges may now be more affordable
The $1.9 trillion Covid relief package that cleared Congress on Wednesday includes provisions intended to lower the cost of health insurance through the federal exchange or a state's marketplace for 2021 and 2022.
The changes include increasing premium tax credits available and expanding who qualifies for the financial help, as well as forgiving amounts due by taxpayers who received too much in subsidies in 2020 (and minimizing that issue for 2021).
In typical years, eligibility for those premium subsidies is limited to households whose income is from 100% to 400% of the poverty level. Under the bill, which is headed to President Joe Biden for his expected signature, that upper cap would be eliminated for two years. Additionally, the amount paid in premiums will be limited to 8.5% of income, as calculated by the exchange.
Other changes include forgiving taxpayers for any excess they received in 2020 premium tax credits and limiting the impact that unemployment benefits in 2021 could have on qualifying for the financial help.
—Sarah O'Brien
First $1,400 stimulus checks will go out to people with direct deposit
The first batch of $1,400 stimulus checks will be issued to Americans who gave direct deposit information when they filed taxes for 2019 or 2020, a Treasury Department official confirmed to NBC.
Those payments, offered by the American Rescue Plan, will start arriving later this month, President Joe Biden said Saturday.
Biden hopes to sign the $1.9 trillion Covid relief bill Friday. The House passed the legislation Wednesday and it cleared the Senate last week.
The IRS will issue electronic payments to taxpayers with direct deposit. The government will send paper checks or debit cards to those households for which Treasury cannot determine a bank account.
—Greg Iacurci
Brazil sees a surge in Covid cases, with record number of deaths in 24 hours
The Pan American Health Organization said that cases in Latin America are still on the rise, with the organization pointing to Brazil as a country of particular concern, Reuters reported.
The rise in new cases in Brazil has led to record deaths.
"We are concerned about the situation in Brazil. It provides a sober reminder of the threat of resurgence: areas hit hard by the virus in the past are still vulnerable to infection today," PAHO Director Carissa Etienne said.
The country was hit by a new variant last year that left the already struggling country with a health-care crisis. Brazil logged a record 1,972 deaths from the coronavirus in 24 hours on Thursday, according to Reuters.
Vaccines are finally arriving in Latin America, with 28.7 million doses delivered to the region for the next three months, the news service said.
–Rich Mendez
Brands using curbside pickup freebies to target pandemic shoppers
As more Americans buy groceries online, traffic has shifted from store aisles to the parking lot. Brands like General Mills are taking note and paying for samples of their products to be tossed into curbside pickup orders or given away in swag bags.
For example, some Walmart shoppers received a sample of General Mills' owned Old El Paso taco seasoning with recipe cards around Cinco de Mayo. The retailer handed out other General Mills products — Annie's Fruit Snacks and Bunny Grahams — at a drive-in movie event.
For consumer packaged goods companies, it's a new way to get in front of people as the pandemic permanently changes shopping behavior. For retailers, samples are a money-making opportunity — and a way to delight customers.
Walmart and other retailers charge companies an insertion fee for samples, along with them covering the cost of the product itself.
—Melissa Repko
Congress approves $14 billion more for airlines in new aid package
Congress approved $14 billion for U.S. airlines' labor costs as part of the $1.9 billion aid package Congress passed Wednesday. In exchange for this third round of federal payroll support, airlines are prohibited from cutting jobs or workers' pay rates through Sept. 30.
That aid will have the biggest impact on workers at American Airlines and United Airlines, which have warned about 27,000 employees combined that their jobs are at risk when the current round of aid expires after March 31.
While travel demand remains weak, some airlines are starting to plan for a travel rebound and hiring again.
Since March 2020, when travel demand plunged early in the pandemic, Congress has passed $54 billion in payroll for U.S. carriers, which together lost more than $35 billion last year.
—Leslie Josephs
Relief package includes $40 billion boost for child care providers
As part of the $1.9 trillion Covid-19 relief package approved by the House on Wednesday, the child care industry will receive $39 billion in direct funding through the Child Care and Development Block Grant Program (CCDBG). The legislation allocates an additional $1 billion to the Head Start program. 
About $25 billion of that money will go toward a child-care stabilization fund to provide grants for child care centers, day cares, preschools and home-based child care programs. Providers can use these grants to help their businesses in a number of ways, including making payroll, purchasing sanitization supplies and covering fixed costs like rent.
"This is a monumental occasion and an historic investment in child care,"  Lynette Fraga, CEO of Child Care Aware of America said in a statement Wednesday. "Across the COVID-19 relief packages passed over the past year, child care will have received over $50 billion in relief during this pandemic. This critical funding will save thousands of providers from permanent closure and help families across the country afford child care."
—Megan Leonhardt
Stimulus bill gives nearly $40 billion to higher education
President Biden is expected to sign a $1.9 trillion stimulus bill that includes nearly $40 billion for higher education by the weekend.
The legislation extends the Higher Education Emergency Relief Fund through September 2023, gives financial assistance to colleges and universities that do not have endowments worth over $1 million and supports emergency need-based financial aid for college students.
—Abigail Johnson Hess
NYC and New Jersey boost indoor dining capacity to 50% next week
Indoor dining in New York City and New Jersey will move to 50% capacity, up from 35% capacity, beginning March 19, New York Gov. Andrew Cuomo and New Jersey Gov. Phil Murphy said in a joint announcement.
Cuomo also announced that the rest of New York state will move to 75% indoor dining capacity, up from 50% capacity.
"In New York State, our decisions are based on science and data and we are encouraged by the continued decline in infection and hospitalization rates," Cuomo said in a statement.
The announcements come after Dr. Rochelle Walensky, director of the Centers for Disease Control and Prevention, noted earlier Wednesday at a White House briefing that daily new cases of Covid-19 appear to yet again be falling after a brief plateau last week.
—Will Feuer
House passes Covid relief package
President Joe Biden's $1.9 trillion Covid relief bill passed the House Wednesday without a single Republican vote, CNBC's Jacob Pramuk reports.
Biden is expected to sign the bill Friday, and the $1,400 stimulus checks included in the bill are likely to be sent out shortly after.
The package also includes a boost to jobless benefits, expansion of the child tax credit, additional funding for vaccines, rent assistance and $350 billion in relief to state and local governments.
The legislation was the first major initiative of Biden's presidency. His administration and congressional Democrats said the country needed another large stimulus plan to ensure a strong recovery and curb existing economic pain from the pandemic.
Republicans said the plan was too large and put money into unrelated Democratic priorities. No GOP lawmakers supported it in the Senate or House.
—Chris Eudaily
Businesses are rethinking the future of the corporate office
One year after many office workers were sent home due to the Covid pandemic, executives face big questions about how to use their office spaces in new capacities.
Corporate leaders are still grappling with how to safely reopen work spaces. They face even bigger questions about how much office space they really need and what incentives they might require to lure people back. Many have learned over the past 12 months that their employees can work from just about anywhere. So that means the office must serve a much more compelling purpose: A hub for collaboration that can't be accomplished virtually and a place to retain and train an incoming workforce.
"If you look back, maybe a decade or two decades ago, the workplace was a means to an end," said Sanjay Rishi, CEO of the real estate services firm JLL's corporate solutions business in the Americas. "Now, workplaces are becoming as much an end in themselves, because ... everybody is aspiring to get something more out of the workplace."
In January, CBRE polled 40 of its office clients, which collectively span 245 million square feet of office space globally and found 9% of businesses had already, slowly started bringing people back to work — using socially distanced floor plans, temperature checks, reservation systems and other precautionary measures.
Twelve percent planned to do so during the second quarter, and 21% during the third quarter. Forty percent of respondents still had no plans to return to the office, as of January, CBRE said.
—Lauren Thomas
Celebrity chef Wolfgang Puck says it's important to invest in outdoor dining spaces
Chef and restaurateur Wolfgang Puck joined "Squawk on the Street" to discuss the importance of restaurants investing in outdoor dining spaces.
—Melodie Warner 
U.S. economy is coming around, but still struggling a year after pandemic struck
A year ago, the U.S. government shut down a $20 trillion economy hoping to stunt the growth of what was then a largely unknown virus that spawned into a deadly pandemic, reports CNBC's Jeff Cox.
As of this week, the economy was at 85% of where it was a year ago, according to Jefferies, which compiles a weekly gauge of where the economy is compared to pre-Covid levels.
The better news is that Covid cases are increasing at their slowest pace and vaccinations are now registering about 2.2 million a day.
The Atlanta Fed's GDPNow tracker, which uses incoming data to project quarterly growth, now indicates a gain of 8.4% in the first quarter. If that proves accurate, it will be the fastest quarterly growth rate in the U.S. since the fourth quarter of 1984, not counting the aberration of last year's third quarter.
—Melodie Warner 
Prada's e-commerce and Asia sales help offset virus-driven slump
Italian fashion group Prada's operating profit recovered during the second half of 2020, thanks in part to strong e-commerce and Asia sales, Reuters reported.
The positive sales trend also continued into the first months of 2021, the wire service reported.
Prada's revenue plunged 40% to 2.42 billion euros ($2.9 billion) for the year.
Chief Executive Patrizio Bertelli said Prada responded quickly to market changes by strengthening its relationship with local customers to help offset the absence of tourists, according to Reuters.
"These results give us confidence to face the upcoming rebound, as soon as the most critical phase of the pandemic will end," Bertelli said.
–Rich Mendez
Racial disparities among young Covid-positive Americans were substantial last spring, says CDC
Racial and ethnic differences among young people infected with Covid-19 in the U.S. "were substantial" early in the pandemic, according to a new study from the Centers for Disease Control and Prevention.
The federal health agency studied more than 689,600 Covid-19 cases among people younger than 25 years old that were reported to the CDC's case-based surveillance system in 15 states and Washington D.C. Researchers found that from January through April, infections were "substantially higher among most racial and ethnic minority groups" compared with non-Hispanic White people.
White people reported just 35 cases per 100,000 while American Indian and Alaska Native people reported the most of any group at 163 cases per 100,000. Hispanic and Latino people reported 137 cases per 100,000; Black people reported 87 cases; Asian people reported 54 cases; and Native Hawaiian and Pacific Islander people reported 88 cases per 100,000, according to the study.
Those disparities declined throughout the year, but that's because there was "a greater increase in incidence among White persons, rather than a decline among racial and ethnic minority groups," researchers wrote.
—Noah Higgins-Dunn
Port congestion causing inventory problems during the pandemic
Jim Newsome, South Carolina Ports Authority president and CEO, and Thompson Research Group CEO Kathryn Thompson joined "Squawk Box" to discuss how congestion at ports is causing inventory problems for a growing number of retail companies.
—Melodie Warner 
Biden administration to purchase an additional 100 million doses of J&J's vaccine
The Biden administration plans to purchase an additional 100 million additional doses of Johnson & Johnson's Covid-19 vaccine, two administration sources told NBC News.
President Joe Biden is expected to announce the plans Wednesday during a White House meeting with executives from J&J and Merck.
The announcement comes as the administration works to ramp up the production of J&J's vaccine after it learned earlier in the year that the company had fallen behind in vaccine production.
J&J currently has a deal with the U.S. government to provide 100 million doses by the end of June. The additional purchase would double that supply. Last week, Biden announced that pharmaceutical giant Merck would help make J&J's Covid vaccine.
–Berkeley Lovelace Jr.
Target will have Covid vaccines at CVS locations inside hundreds of stores
Target shoppers can now get a Covid-19 shot at the big-box store.
The retailer said more than 600 CVS Health locations inside of its stores will administer the vaccines to customers and employees who get an appointment and are eligible based on their age, medical conditions and other factors. Participating stores are listed on the CVS website.
Target announced in February that it would give extra pay and cover the cost of a Lyft ride for employees who get the vaccines. At the time, the company said it was also working on getting CVS and other providers to give doses to employees inside of stores and at distribution centers.
—Melissa Repko
J&J vaccine distribution in poor, black communities raises race questions
Public health officials are running into an unforeseen issue with distributing Johnson & Johnson's Covid-19 vaccine.
While J&J's vaccine is a highly effective shot, especially against severe illness and death, it's perceived by some Americans as inferior to Pfizer's and Moderna's. Though unintentional, the allocation of J&J's shot to inner-cities and rural areas, as some officials are suggesting, risks bringing allegations of discrimination based on race and class, health experts say.
That could further erode trust in the vaccine rollout, especially in communities of color, health experts say, as more data from states shows Blacks and Hispanics continue to make up a disproportionate share of Covid-19 fatalities but are receiving the vaccines at significantly lower rates than white people.
State and local health officials must clearly communicate the benefits of J&J's vaccine and why it may be distributed in a certain way.
"If you start distributing this vaccine to certain groups and certain neighborhoods, without explaining why it is being done that way, then there is likely to be a perception that 'my group, my neighborhood, my town is getting this low efficacy vaccine compared to that group, that neighborhood or that town,'" said Kasisomayajula Viswanath, a professor of health communication at Harvard T.H. Chan School of Public Health.
—Berkeley Lovelace Jr.
The latest on daily U.S. Covid cases
Eli Lilly's combination antibody drug produces more positive results in phase 3 trials
Eli Lilly's combination antibody drug produced more positive results treating Covid-19 in phase 3 trials, CNBC's Meg Tirrell reports. The therapeutic was found to reduce the risk of hospitalization and death by 87% in the study of more than 750 high-risk patients.
The combination drug was granted emergency use authorization from the Food and Drug Administration in February. The latest study found a lower dose produced superior results.
—Sara Salinas
Alaska makes vaccines available to people 16 and older
Alaska on Tuesday said coronavirus vaccines would be made available to everyone who lives or works in the state, and is aged 16 and older. It is the first U.S. state to remove eligibility requirements for the vaccination.
Other states are inoculating at-risk groups such as senior citizens, health care workers and those with underlying illnesses.
According to Alaska's vaccine dashboard, around 16.4% of its population is fully vaccinated, and 23.6% has received at least one shot.
"A healthy community means a healthy economy. With widespread vaccinations available to all Alaskans who live or work here, we will no doubt see our economy grow and our businesses thrive," Gov. Mike Dunleavy said in a statement.
— Abigail Ng
Read CNBC's previous live coverage here:
Covid updates: Fauci warns progress is slowing; Maryland reopens more businesses
Copyright CNBCs - CNBC