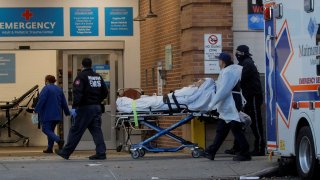 The coverage on this live blog has ended — but for up-to-the-minute coverage on the coronavirus, visit the live blog from CNBC's U.S. team.
America's coronavirus crisis continues to worsen. The U.S. seven-day average of daily new Covid infections surpassed 150,000 for the first time on Monday, according to a CNBC analysis of Johns Hopkins data. The current record of nearly 155,000 new infections per day marks the 10th straight day of about 30% growth or higher in that seven-day trend. As cases and hospitalizations climb, more mayors and governors are tightening restrictions on businesses and residents in an effort to slow the spread.
Here are some of the biggest developments Tuesday:
The following data was compiled by Johns Hopkins University:
Global cases: More than 55.6 million  
Global deaths: At least 1.33 million
U.S. cases: More than 11.3 million
U.S. deaths: At least 248,687
The U.S. Food and Drug Administration (FDA) has given emergency use approval to the first Covid-19 test that can be conducted entirely at home.
The approval allows the test to be used by anyone aged 14 and over if their health-care provider suspects they may have Covid-19.
Produced by Lucira Health, a privately held, California-based biotech company, the single-use swab test can provide results within 30 minutes. According to the company's website, it is "intended to cost less than $50."
"While Covid-19 diagnostic tests have been authorized for at-home collection, this is the first that can be fully self-administered and provide results at home," FDA Commissioner Stephen Hahn said in a press release.
—Karen Gilchrist
Zurich, Paris and Hong Kong have been named the world's most expensive cities, after Singapore and Osaka were displaced by the two European cities, The Economist Intelligence Unit said.
Strength in the Swiss franc and the euro boosted Zurich and Paris in the rankings, according to the Worldwide Cost of Living 2020 report.
"The Covid-19 pandemic has caused the weakening of the U.S. dollar while western European and north Asian currencies have strengthened against it, which in turn has shifted prices for goods and services," said Upasana Dutt, head of Worldwide Cost of Living at The EIU. New York City is the base city in the index.
"Asian cities have traditionally dominated the rankings in the past years but the pandemic has reshuffled the rankings of this edition."
— Abigail Ng
Singaporean biotech firm Hummingbird Bioscience says it hopes to make its Covid-19 treatment widely available by early 2021 as the company embarks on phase three testing.
The experimental Hummingbird 115 antibody therapy, which works by "building a wall" around infected cells, began small-scale human trials in Singapore last month after receiving approval from health authorities.
Co-founder and chief scientific officer Jerome Boyd-Kirkup said he is "optimistic" those will ramp up to large, phase three tests in Singapore and beyond by December, in preparation for "widespread accessibility" of the therapy in the new year.
Boyd-Kirkup said the treatment will be a "really important option" to add to the arsenal of vaccines and treatments required to combat the coronavirus pandemic.
—Karen Gilchrist
Montana Gov. Steve Bullock issued new restrictions for the state with cases spiking and strain being put on hospitals.
Bullock, a Democrat, set out the new measures in a
series of tweets
Statewide mask requirement: Applies to the entire state, no matter how many active cases. Businesses, government facilities, and other indoor public spaces must follow the face-covering order.
Occupancy limit: Restaurants, bars, breweries, distilleries, and casinos limited to 50% of normal capacity and must close by 10:00 p.m. Tables restricted to 6 people per table, with 6 feet of physical distance between groups.
Public gathering limit: Public gatherings and events — except for K-12 schools and churches — limited to 25 people if social distancing isn't an option or where social distancing isn't happening.
Montana has 49,398 cases, according to data from Johns Hopkins University, and has set record highs for daily cases and deaths in recent days.
—Chris Eudaily
Sen. Chuck Grassley, a Republican from Iowa who is 87 years old, tested positive for Covid-19, he announced via Twitter.
Grassley said in a tweet that he would quarantine and follow the directions of his doctors.
Earlier Tuesday, Grassley said that he had been exposed to the virus and was quarantining while awaiting test results.
—Chris Eudaily
Dr. Eric Goosby, a member of President-elect Joe Biden's coronavirus task force, told CNBC that the delayed start to the presidential transition is becoming increasingly worrisome for pandemic planning.
"Our focus is really to stop the spread of the virus and in order to do that, we need to understand in detail where the Trump administration has engaged at state and local levels," Goosby said on "Closing Bell." "It's the transition that we're trying to make smoothly so that no lives our lost inappropriately," he added.
While Goosby indicated Biden will strive for a more coordinated federal response, he said that conversation and coordination with state and local officials will be very important to ensure resources get directed to where they are most needed. "I think that dialogue now is critical and we are more and more concerned each day when we don't begin that dialogue," he said.
— Kevin Stankiewicz
American Airlines and British Airways will become the latest airlines to trial passenger coronavirus testing in hopes of avoid quarantines or outright travel bans that have devastated air travel
Travelers booked to London on certain flights from Los Angeles, Dallas/Fort Worth, and New York will be provided with three tests, one of them conducted upon landing at Heathrow Airport. The trials start Nov. 25 and were announced a day after United Airlines started trialing Covid-19 tests for London-bound passengers from Newark.
Airlines have urged regulators to drop travel bans and lengthy quarantines if travelers can prove they are negative for Covid-19. International travel, which is generally more lucrative than many domestic routes, has taken an outsize hit in the pandemic because of these restrictions. --Leslie Josephs

As if 2020 hasn't thrown enough curveballs, the NFL announced that they are taking the Pro Bowl virtual with players facing off against each other on EA's Madden NFL '21 videogame.
Players like MVP Quarterback Patrick Mahomes will be broadcast playing his own Madden character against fellow players in what is expected to be the most unique Pro Bowl yet. The NFL says they are still working out the broadcast deal with its partners ABC and ESPN but the game will be all over social media for now. Electronic Arts, the maker of Madden, has seen huge surge of users during the pandemic as people are stuck at home.
—Jessica Golden
Covid-19 will fundamentally alter the way people travel for and conduct business, even after the pandemic is over, according to Microsoft co-founder Bill Gates.
"My prediction would be that over 50% of business travel and over 30% of days in the office will go away," Gates told Andrew Ross Sorkin during the New York Times' Dealbook conference.
The philanthropist and tech executive, whose foundation has been working to deliver a coronavirus vaccine to people most in need, said that there will be a "very high threshold" for conducting business trips moving forward. However, some companies may be more extreme with their efforts to reduce in-person meetings than others, he said.
"We will go to the office somewhat, we'll do some business travel, but dramatically less," he said. — Noah Higgins-Dunn
Public health "has really nothing to do with politics," White House coronavirus advisor Dr. Anthony Fauci said while advocating for uniform public health measures to suppress the virus' spread in the U.S. instead of a piecemeal approach taken by different states and counties.
Returning to some semblance of normal life in 2021 will also depend on how many people are inoculated against the virus, he said, adding that at least 75% of the population will likely need to get vaccinated for the country to get there.
Speaking at The New York Times' Dealbook conference, Fauci also said a 
"This is the worst outbreak that we've had of a respiratory-borne illness that we've had in 102 years. You can't run away from the data. It's incomprehensible to me how people are not seeing that," Fauci said.
—Noah Higgins-Dunn
Ohio Gov. Mike DeWine issued a statewide curfew in response to the state's worsening coronavirus outbreak. The 21-day curfew, which goes into effect Thursday, begins at 10 p.m. and lasts until 5 a.m.
"We believe that this is going to help. It's going to reduce some of the contacts that are taking place," the Republican governor said in a press conference. "We know if we reduce the number of people we come into contact everyday with, that we reduce the chances of getting the virus and we reduce the chances of spreading the virus if we unknowingly have it."
Ohio's seven-day average of new infections is at a record high of almost 7,200, up 52% compared with a week ago, according to a CNBC analysis of data compiled by Johns Hopkins University.
Current Covid-19 hospitalizations in Ohio are at 3,043, based on a seven-day average, according to CNBC's analysis of COVID Tracking Project data, which is run by journalists at The Atlantic. That is up 40% compared with a week ago.
"Our situation in Ohio is deteriorating. We see more and more cases, more and more people in the hospital, and we've got to turn this thing around," DeWine said.
—Kevin Stankiewicz
Congressional leaders keep talking about the urgent need to approve more coronavirus relief.
They just can't seem to pass anything.
As record U.S. infections stress the health-care system and new restrictions raise the prospect of economic damage, the top American lawmakers have not held bipartisan talks on sending more aid. Democrats have not budged from their proposal of at least $2.2 trillion in stimulus, while Republicans have fixated on a more narrow plan that costs roughly $500 billion.
Congress would have to move quickly to approve more relief before the end of the year. President-elect Joe Biden, meanwhile, has pushed lawmakers to pass legislation before he takes office on Jan. 20.
Protections related to unemployment insurance, evictions and student loans expire at the end of the year.
—Jacob Pramuk
—Chris Eudaily
Mardis Gras in News Orleans will be held without parades in 2021 due to risks associated with large gatherings, the city announced.
About 70 parades were initially set to run from Jan. 6 to Feb. 16, according to the celebration's official site.
Though the iconic parades won't be part of Mardi Gras festivities for 2021, the city is still allowing some celebrations and events as long as Covid-19 guidelines and safety procedures are followed.
—Chris Eudaily
New York Attorney General Letitia James fined three Amazon sellers for price gouging on hand sanitizer during the coronavirus pandemic. As part of the crackdown, the sellers will pay the state of New York more than $52,000 in penalties and reimburse consumers nearly $23,000.
The third-party merchants sold more than 1,000 units of hand sanitizer on Amazon's marketplace "at prices that grossly exceeded the price at which the same or similar products were readily obtainable" elsewhere, the office of the attorney general said.
In one case, a seller charged Amazon shoppers $19.99 to $29.99 for single, 8-ounce bottles of Germ-X hand sanitizer, which is higher than its standard price of $1 to $3.
Amazon and other retailers have struggled to combat price gouging on coronavirus-related products that spiked in demand during the pandemic, such as hand sanitizer, face masks and hazmat suits. Amazon said it has removed more than 1 million high-priced offers and suspended over 10,000 sellers for attempted price gouging.
—Annie Palmer
Sen. Rob Portman told CNBC he enrolled in Johnson & Johnson's Covid-19 vaccine clinical trial 12 days ago.
That was before Pfizer and BioNTech last week, and Moderna on Monday, revealed their separate late-stage trials showed more than 90% efficacy in both vaccine candidates.
"The reason I participated in this trial was because I think the vaccines are so important," Portman said in a "Squawk Box" interview.
While stressing vaccines in helping end the pandemic, the Ohio Republican said that wearing a mask and social distancing are also necessary to slow the spread of the virus. Portman said he feels "great" so far after enrolling in the trial, although he noted he's not sure whether he received the vaccine or a placebo.
—Kevin Stankiewicz
The Federal Reserve's policy arsenal still has "juice" and will be there to help should the recovery stumble, Atlanta Fed President Raphael Bostic told CNBC.
"We are committed to using all of our tools," the central bank official said in a "Squawk Box" interview.
Bostic added that policymakers at all levels should be prepared to boost an economy that will struggle in the months ahead even with the prospects of coronavirus vaccines on the horizon.
—Jeff Cox
Musician and philanthropist Dolly Parton helped fund Moderna's Covid-19 vaccine trial, which is more than 94% effective in preventing Covid-19 infection, according to preliminary data released Monday. "The Dolly Parton Covid-19 Research Fund" is credited in the New England Journal of Medicine's announcement.
Parton donated $1 million to Vanderbilt University Medical Center's pandemic efforts in April, which included the Moderna vaccine trial. (The total funding for Moderna's vaccine was $2.48 billion.) Parton's longtime friend, Dr. Naji Abumrad, a professor of surgery at VUMC, inspired her donation.
Fans of the 74-year-old country music icon applauded her philanthropic efforts on Twitter.
—Cory Stieg
Walmart shoppers in some parts of the country are stocking up again on toilet paper and cleaning supplies as Covid-19 cases rise.
This time around, though, the retail giant's CEO Doug McMillon said the company is better prepared to keep up. And, he added, the pantry-loading is more localized.
"It really does have everything to do with what's happening with Covid cases in any particular community," he said on an earnings call. "I was in stores last week, and I saw variance from one state to the other, one location to the other — just depends on how people are feeling in that moment."
On Saturday, Walmart resumed counting the number of customers in stores to make sure they had more room to socially distance. Some grocers, including Kroger, Wegmans and Publix, have reinstated purchasing limits on toilet paper, disinfecting spray and hand sanitizer.
—Melissa Repko
Retail sales in the United States were lower than expected in October, as new Covid-19 infections spiraled out of control across the country and household incomes declined as millions of Americans lose unemployment benefits, Reuters reports.
U.S. retail sales edged up 0.3% last month, according to the Commerce Department. September's increase was revised lower to show sales up 1.6%, compared with the 1.9% jump originally reported. Retail sales were expected to rise 0.5% in October, economists polled by Reuters forecast.
With daily new Covid cases hitting records seemingly every day, some state and local governments have begun to impose new restrictions on businesses, Reuters said. These restrictions are squeezing businesses such as bars and restaurants, which could trigger another wave of layoffs and force consumers to further curtail their spending habits.
—Terri Cullen
The second wave of the coronavirus in Europe has started to show signs of slowing.
European countries have been grappling with a second wave of infections since September, but the latest numbers show a stabilization in new cases in Germany and Italy, and a decline in Belgium and France.
However, a health expert has warned that it is too early to claim victory.
—Silvia Amaro
Sweden attracted global attention for its decision to not impose a lockdown during the first wave of the coronavirus pandemic. But now it appears to be changing tack and implementing stricter measures as a second wave of infections takes hold and hospitalizations rise.
The government announced that public gatherings of more than eight people were no longer allowed, marking a shift in tone for the Scandinavian country that has so far largely relied on voluntary measures and guidance during the pandemic.
Prime Minister Stefan Lofven announced the new limit on gatherings, lowered from a previous limit of 50 people, signaling a more aggressive approach to containing the spread of infections.
"This is the new norm for the entire society," Lofven told a news conference, Reuters reported. "Don't go to gyms, don't go to libraries, don't host dinners. Cancel."
—Holly Ellyatt
Drugmakers and researchers around the world are racing to develop and deliver a safe and effective vaccine against the coronavirus.
Two vaccine candidates have already shown to be highly effective, but huge challenges remain before roll out. CNBC's Sam Meredith takes a look at the leading vaccine candidates, how much they cost, how they're stored and who's already bought doses.
—Sara Salinas
Home Depot and Walmart, two early winners of virus shutdowns, posted continued strong sales for their most recent quarters. The retailers were deemed essential businesses early on in pandemic and became favorites among shoppers who were stuck at home.
Home Depot reported third-quarter earnings and revenue that topped Wall Street estimates, boosted by 24% year-over-year sales growth. The company also said it would make pandemic pay raises for its employees permanent, CNBC's Will Feuer reports.
Walmart, for the third quarter of its fiscal year 2021, saw U.S. same-store sales jump 6.4% year over year and U.S. e-commerce sales soar 79%. The company beat on the top and bottom lines for the period, CNBC's Melissa Repko reports.
—Sara Salinas
Coronavirus updates: California pulls an 'emergency brake' on reopening as U.S. cases cross 11 million
Copyright CNBCs - CNBC