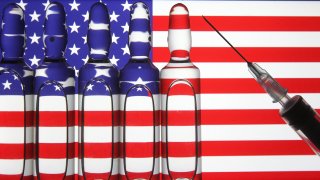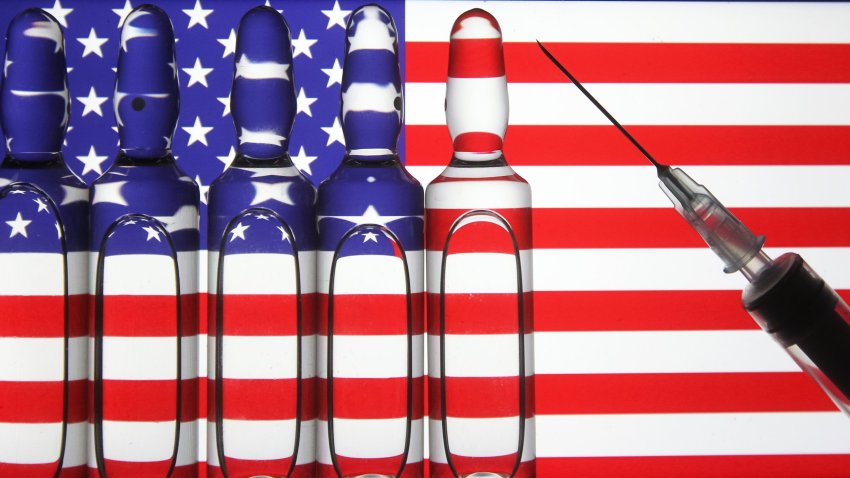 The coverage on this blog is now closed.
The first Americans to get a Covid-19 vaccine could receive their first doses in about a month, if an expected FDA approval timeline holds. Pfizer and BioNTech announced Friday they will file for emergency use authorization from the agency, a process expected to take a few weeks. The White House coronavirus task force has repeatedly said once the drug has approval, it can be mobilized for distribution within 24 hours.
Here are some of the biggest developments Friday:
The following data was compiled by Johns Hopkins University:
Global cases: More than 57.01 million
Global deaths: At least 1.36 million
U.S. cases: More than 11.71 million
U.S. deaths: At least 252,564
Donald Trump Jr., the executive vice president at the Trump Organization, tested positive for the coronavirus at the beginning of the week, a spokesperson said Friday.
Trump Jr., who is asymptomatic and has been quarantining since his diagnosis, is the latest person to contract the virus connected to President Donald Trump and the White House, CNBC's Spencer Kimball reports.
The president tested positive for Covid-19 in early October, along with the first lady and their son, Barron Trump. About 45 people in Trump's circle have tested positive for the virus in recent months.
—Chris Eudaily
Americans are still painting walls, replacing kitchen appliances and investing in an aspect of life that's brought comfort: Their homes.
Home Depot and Lowe's reported strong sales and a shift to online shopping during the third quarter. Home Depot's same-store sales in the U.S., which includes sales online and at stores open at least 12 months, soared 24.6% in the quarter. Lowe's same-store sales, including online sales and those at stores open at least 13 months, jumped by about 30%.
Home Depot Chief Financial Officer Richard McPhail said people have had a "nesting instinct." He compared it to Americans' frame of mind after the 9/11 terrorist attacks and the housing crisis in 2008.
Both companies, however, said the growing market for home improvement will outlast the pandemic. They pointed to the strength of the real estate market. U.S. homebuilding has increased. Interest rates are at historic lows. And some people are moving out of dense urban environments and into more spacious houses in suburban or rural areas.
Lowe's CEO Marvin Ellison said homeowners — including the newest wave — will have to manage wear-and-tear, and that drives purchases. He noted that about two-thirds of the retailer's sales are non-discretionary, such as replacing a broken water heater.
—Melissa Repko
The National Basketball Association's Toronto Raptors franchise will start its 2020-21 season in Tampa Bay, the team announced on Friday.
Raptors president Masai Ujiri said the team attempted to convince Canadian government officials of a safety plan to play games at Scotiabank Arena but failed due to Covid-19 cases increasing.
"These conversations were productive, and we found strong support for the protocols we put forward," Ujiri said in a statement. "Ultimately, the current public health situation facing Canadians, combined with the urgent need to determine where we will play means that we will begin our 2020-21 season in Tampa, Florida."
Amalie Arena, home to the National Hockey League's Tampa Bay Lightning franchise, will serve as the likely site to host Raptors games. The NBA will start its new season on Dec. 22.
Canadian Prime Minister Justin Trudeau announced the country would extend its Canada-U.S. border restrictions due to the pandemic. The national seven-day average of daily new infections in the U.S. is now 161,165.
—Jabari Young
The son of President Donald Trump's top campaign challenge lawyer Rudy Giuliani was diagnosed with Covid-19, a day after attending a crowded press conference led by Giuliani.
Andrew Giuliani, in a tweet announcing his positive test, said that he has mild symptoms of coronavirus, and that he is quarantining and "conducting contact tracing."
Andrew is a special assistant to Trump at the White House, where he acts as a liaison for visits by athletes.
A Trump campaign official told NBC News that Andrew wore a mask at the press conference Thursday, which was held at the Republican National Committee headquarters in Washington, D.C.
At that event, Rudy Giuliani and other campaign lawyers made a series of claims, without strong evidence, that the presidential election was rigged in favor of Joe Biden, the former Democratic vice president. Neither Rudy, who was sweating heavily during the event, nor any of the other members of the campaign's legal team were wearing masks there.
- Dan Mangan
Five federal agencies have begun telling employees they could receive a Covid-19 vaccine in as little as eight weeks, according to a person with first-hand knowledge of the plan.
The CDC lists the agencies that would receive the doses directly from the federal government. Those include: The Bureau of Prisons, Department of Defense, Department of State, Indian Health Service and Veterans Health Administration.
The timing depends heavily on how fast the FDA can clear either Pfizer of Moderna's vaccines for emergency use, the person said. Pfizer, which developed its vaccine with German pharmaceutical company BioNTech, said they are submitting their application some time Friday and Moderna is expected to soon follow suit.
Essential federal workers would be among the first groups of Americans to get inoculated against the coronavirus after the nation's health-care workers, according to the CDC's vaccination program "interim playbook." 

–Berkeley Lovelace Jr.
The Trump administration is ready to help distribute coronavirus vaccines shortly after potential approval from the Food and Drug Administration, according to Operation Warp Speed advisor Dr. Moncef Slaoui.
"We actually already have localized and are localizing all of the ancillaries. Syringes, the cotton, alcohol, the masks, everything that's required to immunize individuals, is being moved," Slaoui told CNBC's "Squawk on the Street."
And then, once the FDA grants emergency use authorization, "within 24 hours, the vaccines will be in the immunization sites and people will be immunized," added Slaoui. Individual states determine where, exactly, the vaccine doses are sent, he noted.
Pfizer will handle the shipment of its vaccine, which requires ultra-cold storage, whereas the U.S. government will ship any other vaccine that receives approval. Pfizer plans to apply with the FDA today.
— Kevin Stankiewicz
JPMorgan economists expect the economy to contract in the first quarter due to the spreading virus and economic restrictions.
Wall Street had been expecting positive growth in the first quarter, but JPMorgan economists departed from that view and now expect the first-quarter gross domestic product to contract by 1%. They expect the economy to rebound in the second and third quarters, due to the expected distribution of vaccines and fiscal stimulus.
—Patti Domm
Republican Sen. Rick Scott of Florida has tested positive for the coronavirus and is working from home until he can safely return to Washington.
Scott, 67, is the second Republican senator in a week to test positive for Covid-19: 87-year-old Sen. Chuck Grassley of Iowa announced his own diagnosis three days earlier.
Just a week earlier, Scott had campaigned in Georgia for GOP Sens. David Perdue and Kelly Loeffler, both of whom face runoff elections in January that could determine which party controls the Senate. During that trip, Scott appeared in a crowded restaurant and spoke without wearing a mask before a crowd in which mask-wearing was reportedly minimal.
Scott's office said that after he returned to Florida on Nov. 13, he came into contact with someone who subsequently tested positive.
Despite his own recent actions, Scott in a pair of tweets urged Americans to "do the right things" to protect each other from contracting the virus, such as wearing a mask and maintaining a safe social distance.
—Kevin Breuninger
Dr. Scott Gottlieb told CNBC that in-person learning needs to be "the last thing" shut down by governors and local officials as part of public health mitigation strategies.
"Some of these jurisdictions, including New York City, have it backwards where they close the schools and leave other things open where the spread is occurring," the former Food and Drug Administration chief said on "Squawk Box."
Gottlieb noted high schools may present a higher risk of coronavirus transmission because the students are older. "But we should do everything possible to preserve schools, and especially elementary schools where the educational opportunity of being in the classroom and the socialization is more important," he said.
—Kevin Stankiewicz
By an overwhelming majority, college students would prefer to attend school in person rather than remotely. But they are not following the social distancing guidelines that would make it possible.
While being back on campus, nearly half, or 48%, of college students have gone to parties despite restrictions, and 1 in 5 of them have tested positive for Covid-19, according to a recent survey by Testing.com.
As of the first week of November, roughly 65% of undergraduates who are currently on-campus for in-person learning have been tested for Covid-19 overall and 12% were positive — nearly double the nationwide positivity rate during that time period, Testing.com found.
Many of the coronavirus cases at colleges across the country have been linked to fraternities, sororities and off-campus parties.
Meanwhile, at most schools, the status of the spring semester remains very much up in the air.
—Jessica Dickler
Tyson Foods suspended employees without pay and hired former U.S. Attorney General Eric Holder to conduct a probe in response to a wrongful death lawsuit, Reuters reports.
The suit alleges that managers at an Iowa pork plant took bets on how many employees would catch Covid-19, according to the wire service.
The son of Isidro Fernandez, a worker at a Tyson facility in Waterloo, Iowa, filed a lawsuit claiming plant managers misled workers about Covid-19 and allowed sick employees to continue working, Reuters said. Fernandez died in April of complications from the virus.
—Terri Cullen
The U.S. reported a record 187,833 new Covid-19 cases on Thursday, according to data from Johns Hopkins University. The single-day spike pushes the national seven-day average of new infections to 165,029 — more than 24% higher than last week's levels, according to a CNBC analysis of the data.
U.S. Covid deaths are also spiking, reaching daily levels not seen since May. The country recorded 2,015 deaths on Thursday, ratcheting the seven-day average past 1,300 for the first time since May 21.
The trends are worrisome, as national holidays approach and health officials struggle to curb public behaviors.
—Sara Salinas
European Commission President Ursula von der Leyen said governments should lift coronavirus lockdowns and other social restrictions gradually to prevent a third wave of infections.
Despite a slowdown in coronavirus cases in some countries in recent days, the numbers are still high and are not yet showing clear signs of cresting. In the meantime, Europeans are pondering whether they'll be able to gather with their families over the holiday period.
Speaking Thursday evening, von der Leyen said that "expectations have to be managed."
"We have all learned from our experience in the summer that the exit from a wave, in this case the exit from the first wave, is very difficult and that the impact of lifting measures too hastily has had a very bad impact on the epidemiological situation in summer and fall," she said.
—Silvia Amaro
Those who have contracted the coronavirus are "highly unlikely" to get the disease again for at least six months, according to the findings of a new study.
Researchers say the findings are an important step in understanding how Covid-19 immunity may work.
"This is really good news, because we can be confident that, at least in the short term, most people who get COVID-19 won't get it again," said Professor David Eyre of the University of Oxford's Nuffield Department of Population Health.
The study, which has not yet been peer-reviewed, was part of a collaboration between the University of Oxford and Oxford University Hospitals NHS Foundation Trust.
—Sam Meredith
Pfizer and BioNTech will apply Friday for an emergency use authorization from the Food and Drug Administration for their Covid-19 vaccine.
The FDA process is expected to take a few weeks, and an advisory committee meeting to review the vaccine has been tentatively scheduled for early December. Some Americans could get their first dose of the vaccine in about a month.
Pfizer is the first in the Covid vaccine race to apply for emergency use with the FDA. If the application is approved, the vaccine will likely be rolled out in phases, with health-care workers, the elderly and people with underlying health conditions getting the first inoculations.

–Berkeley Lovelace Jr.
Coronavirus updates: California orders 10 p.m. curfew across most of the state to slow the Covid pandemic
Copyright CNBC