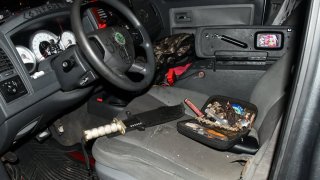 U.S. Capitol Police arrested a man who had banned weapons in a truck near Democratic National Committee headquarters.
The vehicle had swastikas and other white supremacist symbols painted on it, according to the department.
The arrest came less than a week before people were set to gather at the Capitol for a rally in support of the hundreds jailed in connection with the deadly Jan. 6 Capitol invasion.
U.S. Capitol Police arrested a man who was carrying banned weapons — including a bayonet and a machete — in a truck scrawled with white supremacist symbols that was outside the headquarters of the Democratic National Committee, the department said Monday.
The driver, 44-year-old Donald Craighead of Oceanside, California, claimed to the cops that he was "on patrol" and started talking about "white supremacist ideology," the U.S. Capitol Police said.
The arrest was made early Monday morning, less than a week before people were set to gather at the Capitol for a rally in support of the hundreds jailed in connection with the deadly Jan. 6 Capitol invasion.
The Capitol police said later Monday that it is monitoring "concerning online chatter" surrounding that rally. The department said it will put up a temporary fence around the Capitol building, and that it will be prepared to deputize outside law enforcement officers.
USCP said it was not yet clear if Craighead "was planning to attend any upcoming demonstrations or if he has ties to any previous cases in the area."
A Special Operation Division officer noticed Craighead's vehicle, a Dodge Dakota pickup truck, around midnight, according to the department.
The truck had "a swastika and other white supremacist symbols painted on it," according to the Capitol Police. It also displayed a picture of an American flag in place of a license plate.
Craighead was arrested on charges of possessing the prohibited weapons, police said. He is likely to make his first appearance in court in Washington on Tuesday, a spokesman for the U.S. Attorney's office in Washington told CNBC.
The Capitol Police have so far seen no indication that the incident was related to any particular interest in the DNC, a person with knowledge of the situation said.
"We are thankful for Capitol police containing this threat, and can't comment further on the specifics of this ongoing investigation," DNC Executive Director Sam Cornale said in a statement.
"DNC employees are real human beings who fight tirelessly for a better America, and their safety, security, and well-being — physical, mental and emotional — are the top priorities of DNC leadership," Cornale said. "This suspect's apparent views are despicable, and violence and white supremacy have no place in our country."
In a statement, Capitol Police chief Tom Manger called the arrest "good police work plain and simple."
The arrest came less than a month after another man, North Carolina resident Floyd Ray Roseberry, forced the U.S. Supreme Court and other buildings to evacuate after he drove his pickup onto a Capitol Hill sidewalk and threatened to ignite a bomb.
Before he was arrested, Roseberry recorded himself speaking about a coming revolution and demanding to talk to President Joe Biden. He posted those videos to Facebook before the website took down his profile.
Security on Capitol Hill ramped up dramatically after the Jan. 6 invasion, when hundreds of former President Donald Trump's supporters stormed the building where Congress had gathered to confirm Biden's Electoral College victory.
After the attack, a 7-foot-tall fence was erected around the Capitol and thousands of National Guard members were deployed to the area. Those measures were in place through Biden's inauguration, which was already subject to precautions due to the coronavirus pandemic.
That fencing will make a return in preparation for a "Justice for J6" rally set for Saturday, Manger told reporters at the Capitol.
"The fence will go up a day or two before and if everything goes well it will come down very soon after," he said after briefing House Speaker Nancy Pelosi, D-Calif., Senate Majority Leader Chuck Schumer, D-N.Y., Senate Minority Leader Mitch McConnell, R-Ky., and House Minority Leader Kevin McCarthy, R-Calif., on the upcoming demonstration.
In a statement later Monday, Manger said, "We are here to protect everyone's First Amendment right to peacefully protest."
"I urge anyone who is thinking about causing trouble to stay home. We will enforce the law and not tolerate violence," he said.
The event's organizer, former Trump campaign staffer Matt Braynard, told CNBC there would be no violence at the "peaceful protest."
Copyright CNBCs - CNBC