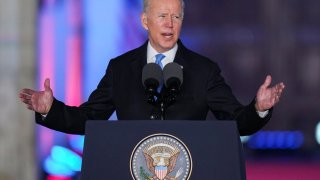 This has been CNBC's live blog tracking developments on the war in Ukraine. Follow the latest updates here.
U.S. President Joe Biden delivered a major address in Poland on Saturday, rallying support for Ukraine and calling for unity in the face of Russian aggression.
Ukraine's President Volodymyr Zelenskyy has urged energy-producing countries to increase their energy output, so "everyone in Russia understands that no one can use energy as blackmail."
It comes as countries across Europe and beyond seek to reduce their energy dependency on Russia — a major oil and gas producer and exporter.
We're making it easier for you to find stories that matter with our new newsletter — The 4Front. Sign up here and get news that is important for you to your inbox.
Russians may be trying to encircle Ukrainian forces in east
Russian forces appear to be trying to encircle Ukrainian troops who are facing separatist fighters in the far east of the country, according to a new intelligence assessment.
The U.K. Ministry of Defence, in its daily update, said on Sunday that Russian units are trying to advance southward from Kharkiv and northward from Mariupol. If successful, those maneuvers could cut off Ukraine's soldiers who are already engaged against separatists in Donetsk and Luhansk.
CNBC was unable to independently confirm the ministry's report.
Kharkiv and Mariupol are both still in Ukrainian hands but have been blasted for weeks by Russian artillery, killing civilians and defenders alike. Ukraine's government this week refused a Russian demand that it surrender Mariupol.
Russia claims that it isn't using artillery against civilian targets, despite overwhelming evidence that it is.
Meanwhile, tenacious Ukrainian defensive efforts continue to block Moscow's invasion in the north of the country, which would include the long-stalled Russian drive toward Kyiv.
"The battlefield across northern Ukraine remains largely static with local Ukrainian counterattacks hampering Russian attempts to reorganise their forces," the British ministry said.
—Ted Kemp
Ukraine says more than 5,000 people were evacuated from cities today
A total of 5,208 people were evacuated from Ukrainian cities through humanitarian corridors today, a senior official said, fewer than the 7,331 who managed to escape the previous day.
Kyrylo Tymoshenko, deputy head of the president's office, said in an online post that 4,331 people had left the besieged city of Mariupol.
—Reuters
U.S. will provide $100 million in civilian security assistance to Ukraine
The United States will provide $100 million to Ukraine in civilian security assistance, according to the State Department.
The aid will "enhance the capacity of the Ukrainian Ministry of Internal Affairs to provide essential border security, sustain civil law enforcement functions, and safeguard critical governmental infrastructure," U.S. Secretary of State Antony Blinken said in a statement.
The announcement comes after Lviv, a city near the Poland border in western Ukraine, suffered rocket strikes earlier today.
—Darla Mercado
Biden speaks in Poland, calls for further unity of NATO allies against Putin over Ukraine invasion
President Joe Biden spoke in Warsaw, saying that Russian President Vladimir Putin "cannot remain in power" as a result of his invasion of Ukraine.
"Ukraine will never be a victory for Russia, for free people refuse to live in a world of hopelessness and darkness," Biden said.
"For God's sake, this man cannot remain in power," he said.
Later Saturday, a White House official sought to clarify Biden's remarks, saying that he was not discussing Putin's power in Russia or a regime change.
Click here for more details from CNBC's Kevin Breuninger.
—Darla Mercado
Another rocket strikes Lviv, mayor says
Lviv Mayor Andriy Sadovyi tweeted from his verified Twitter account that there has been another rocket strike in the city:
In another tweet shortly after, the mayor said, "As a result of the new missile strikes on Lviv, significant damage was caused to infrastructure facilities. Residential buildings were not damaged."
Two rocket strikes hit Ukraine's western city of Lviv earlier on Saturday, wounding five people, according to regional Governor Maksym Kozotskyy.
—Darla Mercado
Londoners march in solidarity with Ukraine
Londoners waved the Ukrainian national flags during a "London stands with Ukraine" march and vigil in central London.
— Getty Images
5 wounded after rocket strikes hit Ukraine's western city of Lviv, says governor
Two rocket strikes hit Ukraine's western city of Lviv on Saturday, wounding five people, regional Governor Maksym Kozytskyy said, after local authorities told residents to seek shelter in the wake of powerful blasts on the city's outskirts.
"There have been two rocket strikes within the (city) limits of Lviv," said regional Governor Maksym Kozytskyy in an online post.
Earlier he had reported three powerful explosions in the eastern edge of Lviv.
Reuters witnesses saw heavy black smoke rising from the northeast side of the city.
— Reuters
President Biden meets with Ukrainian refugees in Poland, calls Putin a "butcher"
President Joe Biden met with Ukrainian refugees at the PGE Narodowy Stadium in Warsaw, Poland.
The United Nations estimates 12 million people inside Ukraine will need relief and protection. According to the UN, more than 4 million Ukrainian refugees "may need protection and assistance in neighboring countries in the coming months."
Biden, visiting NATO ally Poland, called Russian President Vladimir Putin a "butcher." Biden said he was not sure Russia was changing its strategy in Ukraine to focus on efforts to "liberate" the breakaway eastern Donbass region, despite getting bogged down in some areas.
— Getty Images, Reuters, Adam Jeffery and Riya Bhattacharjee
Turkey refuses to rule out purchasing more missile defense systems from Russia
Turkish Foreign Minister Mevlut Cavusoglu suggested it could still buy more defense systems from Russia.
"We prefer to purchase them from United States and allies," Cavusoglu said at the Doha Forum on Saturday.
But, he added, "If we cannot purchase them from allies, I need to find another source."
— Annie Nova
Biden to Poland: "Your freedom is ours"
U.S. President Joe Biden has told Poland's President Andrzej Duda that "your freedom is ours," echoing of one of Poland's unofficial mottos. He assured Duda that the U.S. and other NATO allies would come to their aid if Russia should attack.
The two gathered Saturday on Biden's final day in Europe to speak about their shared effort to end the war in neighboring Ukraine.
Biden called the "collective defense" agreement of the Western military alliance a "sacred commitment," and said that the unity of NATO was of the utmost importance. He also acknowledged that Poland was bearing the brunt of the humanitarian crisis, with more than 2 million of the 3.5 million people fleeing Ukraine entering the country. He said the other NATO allies must do more. The U.S. has pledged to accept up to 100,000 refugees.
Duda said that the relations between the two nations are flourishing, despite the difficult times.
— Associated Press
Biden says Putin was counting on being able to divide NATO, calls on more countries to accept Ukrainian refugees
President Biden in a meeting with Polish President Andrzej Duda stressed the importance of unity among NATO nations during the Russia-Ukraine crisis.
"I'm confident that Vladimir Putin was counting on being able to divide NATO," Biden said, and "to be able to separate the eastern flank from the west, to be able to separate nations based on past histories. But he hasn't been able to do it."
Biden went on to say that NATO countries should follow Poland's lead in accepting Ukrainian refugees, including the U.S. He compared the refugee crisis to the situation at the southern border in the U.S.
"And also we do acknowledge that Poland is taking on a significant responsibility, that I don't think should just be Poland's; it should be all of NATO's responsibility. The fact that so many, so many Ukrainians seeking refuge in the country of Poland. We understand that because we have at our southern border thousands of people a day, literally not figuratively, trying to get into the United States. But we believe, that we, the United States, should do our part relative to Ukraine as well by opening our borders to another 100,000 people," Biden said.
— Annie Nova
TotalEnergies will not do more business with Putin, but will maintain Russian assets
Patrick Pouyanne, chairman and CEO of TotalEnergies, says the company will never do business with President Vladimir Putin again.
Still, Pouyanne said TotalEnergies won't write off its oil and gas assets in Russia. Instead it will no longer provide capital for new projects in the country and not renew its Russian gasoil and crude supply contracts.
Speaking to CNBC's Hadley Gamble, Patrick Pouyanne, chairman and CEO of TotalEnergies, said he was not prepared to write off the company's assets in Russia as it would effectively mean giving them to Putin "for free."
"What do we do with the existing assets? ... I am not ready to give them for zero to Russian people, to Russian oligarchs … because by the way, it would be contrary of the sanctions," he said on a CNBC-moderated panel at the Doha Forum in Qatar.
"These assets are there, I will not give them for free to Mr. Putin. Because this is what it means, leaving today."
— Annie Nova
Russian forces have taken control of Chernobyl workers' town, local officials say
Russian forces have taken control of the town of Slavutych in Ukraine, where workers at the Chornobyl nuclear plant live, Reuters reported, citing the governor of Kyiv region.
Governor Oleksandr Pavlyuk said some residents had unfurled a large Ukrainian flag in protest, shouting "Glory to Ukraine!" Russian troops fired into the air and threw stun grenades into the crowd to try and disperse the protest.
"The inhabitants are carrying out heroic civil resistance to the invader," presidential adviser Oleksiy Arestovych said in a televised address, Reuters reported.
Officials from Russia did not immediately reply to Reuters for comment about Slavutych.
— Terri Cullen
Ukraine war is pushing countries toward a 'parallel system' of pricing oil, Qatar says
Qatar's Foreign Minister Mohammed bin Abdulrahman Al-Thani tells CNBC that the economic effects of the Ukraine-Russia crisis are being felt around the world — and could lead some countries to move away from pricing oil in dollars.
"Honestly speaking, look at what happens and the dynamics around us right now. I'm sure there are a lot of other countries who are unhappy with what's happened and the consequences of the Ukrainian-Russian crisis, especially the economic consequences," he told CNBC's Hadley Gamble at the Doha Forum.
"And they are going to look and explore a parallel system [of pricing oil] … going to hedge, at least, for them economically," he added. "So as we are living through a transition, this transition will not be only a political transition but it is an economic transition as well."
He added that Qatar was "stepping up" and holding talks with European countries about boosting gas supplies.
It comes as European countries seek to diversify their energy supply away from Russia – particularly gas. The EU imported 45% of its gas from Russia last year, according to the International Energy Agency.
"We are stepping up and helping some European partners who are starting to suffer from some gas shortages … with the limited amount that we have," he said, stressing that the majority of its gas contracts are long-term.
— Katrina Bishop
Blinken and Austin meet with Ukrainian counterparts in Poland
Ukraine's minister of defense and minister of foreign affairs have met with their U.S. counterparts in Warsaw, Poland.
U.S. Secretary of Defense Lloyd Austin and Secretary of State Antony Blinken met with Ukraine's Minister of Defense Oleksii Reznikov and Minister of Foreign Affairs Dmytro Kuleba.
Kuleba said on Twitter that the "special 2+2 format allows us to seek practical decisions in both political and defense spheres in order to fortify Ukraine's ability to fight back Russian aggression."
— Katrina Bishop
Over 100,000 people still need to be evacuated from Mariupol, Ukraine says
Ukraine's Deputy Prime Minister Iryna Vereshchuk said on national television that 100,000 people still need to be evacuated from the besieged city of Mariupol.
It comes after Mayor Vadym Boichenko said street fighting continued in the city center.
In a television interview earlier in the day, Boichenko said that he'd spoken to the French ambassador about options for evacuating civilians from the city.
French President Emmanuel Macron said Friday that he hoped to get Russia on board with a humanitarian operation, alongside Greece and Turkey, to help evacuate civilians from Mariupol. 
— Katrina Bishop
Biden set to make major address in Poland
As the conflict enters its second month, U.S. President Joe Biden is set to make a major address from Poland, which borders Ukraine.
"He will speak to the stakes of this moment, the urgency of the challenge that lies ahead, what the conflict in Ukraine means for the world, and why it is so important that the free world sustain unity and resolve in the face of Russian aggression," said Jake Sullivan, Biden's national security adviser, told NBC.
Biden is expected to meet with refugees in Poland ahead of the speech; he country has welcomed over 2 million people fleeing the conflict in Ukraine.
— Katrina Bishop
Ukraine's Zelenskyy to energy producers: I ask you to increase output
Ukraine's President Volodymyr Zelenskyy has spoken at the Doha Forum conference's opening ceremony, urging energy producing countries such as Qatar to hike their output.
Speaking via video link, he said: "I ask you to increase output of energy so everyone in Russia understands that no one can use energy as blackmail," according to a translation.
It comes as countries around the world seek to reduce their energy dependence on Russia — a leading producer and global exporter of oil and gas.
Posting on his verified Telegram channel after the address, Zelenskyy said it was only a matter of time before European countries stopped purchasing Russian oil and gas.
"The responsible states, in particular the State of Qatar, are reliable and reputable suppliers of energy resources. And they can contribute to stabilizing the situation in Europe. There is much that can be done to restore justice," he said, according to a translation.
On Friday, the U.S. said it will look to provide at least 15 billion cubic meters more of liquified natural gas to Europe this year, with the volumes expected to increase going forward.
U.S. President Joe Biden described the agreement as a "groundbreaking" new initiative designed to "increase energy security, economic security and national security."
U.K. Ministry of Defence says Russians likely to concentrate firepower on urban areas
The U.K. Ministry of Defence said Russia seems likely to focus its artillery on urban areas.
"Russian forces are proving reluctant to engage in large scale urban infantry operations, rather preferring to rely on the indiscriminate use of air and artillery bombardments in an attempt to demoralise defending forces," the ministry said in its daily intelligence update.
It said, however, this strategy will likely come "at the cost of further civilian casualties" as Moscow looks to "limit its own already considerable losses."
The ministry said Russia's onslaught continues in a number of Ukrainian cities, including Kharkiv, Chernihiv and Mariupol.
— Christine Wang
Pentagon official says Russian forces focusing more on Donbas, less on Kyiv
Russian forces appear to be prioritizing efforts in Donbas in eastern Ukraine, a U.S. Department of Defense official said Friday.
"That's where still there remains a lot of heavy fighting and we think they are trying to not only secure some sort of more substantial gains there as a potential negotiating tactic at the table, but also to cut off Ukrainian forces in the eastern part of the country," the official said.
While airstrikes on Kyiv continue, the Pentagon official said Russian forces currently do not appear to be pursuing a ground offensive in Ukraine's capital city.
The official also said the Pentagon has seen Russian troop movements in Georgia, which they said could indicate reinforcements may be sent into Ukraine.
Reports of military movements in Ukraine continue to be difficult to confirm as the situation across the country remains fluid and changes rapidly.
The official also confirmed Ukrainian forces destroyed a Russian ship in Berdyansk earlier in the week, but declined to say what weapons were used, in order to protect operational security. The official also said the department does not know how many Russians were onboard when the ship was hit or how many casualties there were.
— Christine Wang
We're in a fight between democracy and oligarchs, Biden tells U.S. troops in Poland
U.S. President Joe Biden stopped near Rzeszow, Poland to thank the U.S. Army 82nd Airborne Division ahead of his meeting with the country's President Andrzej Duda in Warsaw.
"We're in the midst of a fight between democracy and oligarchs," Biden said.
"What's at stake here is not just what we're doing in Ukraine to try to help the Ukrainian people and try to keep the massacre from continuing," Biden said. "Beyond that is what are your kids and grandkids going to look like in terms of their freedom."
"What you're engaging in is much bigger than whether or not you can alleviate the pain and suffering of the people of Ukraine. We're in a new phase, we're at an inflection point," he said. Biden added that the world will not be the same in 10 or 15 years and the question is: "Who's going to prevail," democracy or autocracy.
"You are the finest fighting force in the history of the world," Biden said.
In addressing the troops, Biden invoked his son Beau Biden, a lawyer and officer in the Army Judge Advocate General's Corps who served in Iraq and Kosovo.
"There are hundreds of thousands of people like my son, like all of you. So thank you, thank you, thank you, thank you," Biden said.
— Dawn Kopecki, Getty Images/Reuters
Read CNBC's previous live coverage
Read Friday's live blog here:
Biden tells U.S. troops in Poland they are fighting for democracy; 300 people feared dead in Mariupol theater bombing
Copyright CNBC