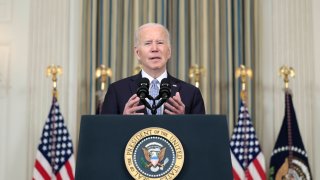 Wednesday, the U.S. Department of Education announced another extension of the pause on student loan repayment, interest and collections, through Aug. 31, 2022.
This is the sixth extension of the pause, which was first established by the Trump administration in March 2020 at the start of the Covid-19 pandemic. The student loan moratorium was previously set to expire on May 1.
"We are still recovering from the pandemic and the unprecedented economic disruption it caused," President Biden said in a statement, adding that the continued pause will help borrowers achieve "greater financial security and support the Department of Education's efforts to continue improving student loan programs."
Ending the moratorium could "threaten Americans' financial stability," he added, citing recent research from the Federal Reserve that predicts millions of borrowers would face significant delinquencies and defaults if payments resumed next month. 
The Federal Reserve estimates that the pause on federal student loan payments has allowed 41 million borrowers to save about $200 billion. 
Here's what borrowers need to know: 
Check the status of your loans
If your loans are eligible, the Department of Education should have paused your payments and lowered your interest rate to 0% starting on March 13, 2020. 
Here is the full list of loans eligible for extension:
Direct Loans (defaulted and non defaulted)
Federal Family Education Loan (FFEL) Program loans held by ED (defaulted and non defaulted)
Federal Perkins Loans held by ED (defaulted and non defaulted)
Defaulted FFEL Program loans not held by ED
Defaulted Health Education Assistance Loan (HEAL) loans
To confirm that your loans are held by the Department of Education, check your profile on the department's website and see if your servicer's name starts with "DEPT OF ED," or contact your servicer. 
It's important to note that three companies that serviced federal student loans – Navient, the Pennsylvania Higher Education Assistance Agency (also known as FedLoan) and Granite State — ended their relationship with the government last year.
About 16 million people will have to deal with different companies once payments resume because of the change, CNBC reported, but impacted borrowers should receive multiple notices. 
No update on student loan cancellation
During his campaign, Biden promised to cancel at least $10,000 of federal student loans – but the president has been silent on when, and if, a broader cancellation will happen. 
A little more than a year in office, Biden has approved more than $17 billion in loan debt forgiveness for more than 700,000 borrowers including students with disabilities, public service workers and students who were defrauded by their schools.
White House Chief of Staff Ron Klain said last month, however, that the administration is exploring options for further relief and wants to make a decision on loan forgiveness in the coming months. 
"Joe Biden right now is the only president in history where no one's paid on their student loans for the entirety of his presidency," Klain said on the podcast "Pod Save America." "And so the question whether or not there's some executive action on student debt forgiveness when payments resume is a decision we're going to take before payments resume." 
Check out:
This 26-year-old med student has over $350,000 in student loans—here's why she won't use a credit card
6 companies offering free tuition to employees, from Dollywood to Starbucks
The best- and worst-paying college majors, five years after graduation
Sign up now: Get smarter about your money and career with our weekly newsletter
Copyright CNBC