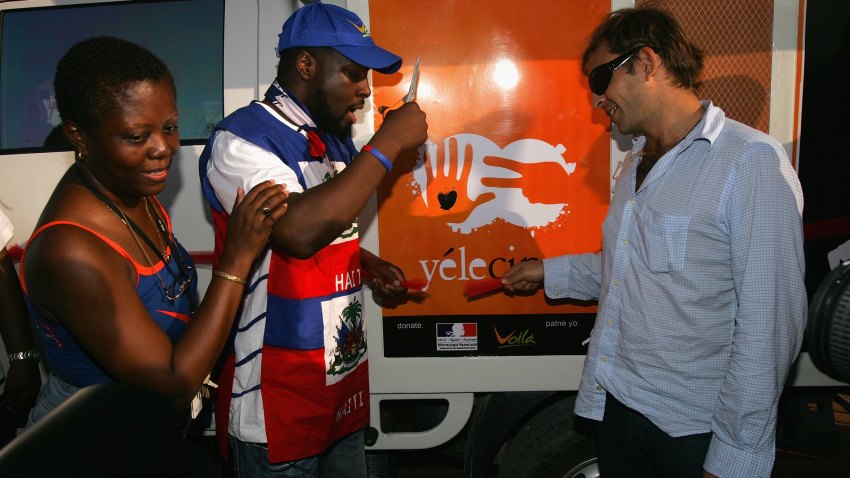 Yéle Haiti Has Long History of Dysfunction, Gawker Report Shows was originally published on Black Plastic Bag on Jan. 20, 2010, at 5:10 p.m.

When the former Fugees musician Wyclef Jean called a press conference Monday, he seemed to lay to rest allegations that his nonprofit organization, Yéle Haiti, had mismanaged its funds. After reviewing Yéle's tax filings for the years 2005-2007 last week, the Smoking Gun reported that the group -- which will receive half of the $36,000 raised by a benefit concert at the 9:30 Club Monday night -- had made a series of large, unusual payments to for-profit companies he owns with his cousin and fellow Yéle board member, Jerry Duplessis.
But a report today on the media and gossip blog Gawker shows other reasons to be skeptical of the group, which operates charitable food, education, and athletics programs in Haiti and has been participating in recovery efforts since a 7.0 magnitude earthquake hit the island nation last week. The group, which has raised millions of dollars since last week, will also benefit from the "Hope for Haiti" telethon that will air this Friday.
At Monday's press conference, Jean and Yéle president Hugh Locke reporters that Jean founded the charity with his own money, a fact contradicted by internal Yéle documents acquired by Gawker that also suggest that a tumultuous history of the charity:
The documents, which include internal emails and detailed financial statements for 2005 -- the year Yele was founded -- show the internal chaos that has afflicted the organization since its founding. Its first executive director, Sanjay Rawal, resigned in October 2005 because, his resignation letter stated, "the sense of entitlement" and "lack of financial commitment from the board" -- which consisted at the time of Jean, his cousin Jerry Duplessis, and SAC Capital Advisers trader Seth Kanegis -- were "suffocating" Yéle Haiti.
Another e-mail obtained by Gawker, written by Yéle's current executive director Hugh Locke in 2007, announced that both Locke and his deputy were resigning due to a ethical and business concerns that had caused a "crisis" at Yéle Haiti.
We asked Locke last night in an interview if he could provide details on precisely when, and in what increments, Jean made his $1 million in donations. He replied, "I honestly don't know how to break that out, and I'm not interested in doing so." But Locke insisted that Yéle was founded with Jean's money, and that Jean has indeed put more than $1 million in Yele's operations broadly speaking, even if the donations aren't channeled officially through the charity -- "sometimes he'll buy a kid in the slums a scooter, and that's a Yéle contribution," Lock said.
According to Jawal's resignation letter, Jean and other board members contributed little money to Yéle in its first year while having the charity pay their own expenses. "I was the executive director, and I was talking about the leadership of Yéle," Jawal told Gawker in a phone interview. "It's implied that I was talking about the board, and Jean is on the board. Wyclef has a big heart, and he regularly gave money to Haitians that he met, to pay for things like funeral expenses or what have you. But at that early stage, Yéle hadn't become the conduit for his personal giving. It wasn't the case when I was there."
According to Yéle's 2005 tax return, the group spent more than $320,000 that year on 'Program Service Expenses' in Haiti. But Rawal told Gawker that those programs were paid for by Yéle's Haitian branch and not its American one, which keeps separate books and filed the tax return.
Asked directly if Yele Haiti's American operation sent $320,000 to Haiti in 2005 for trash clean-up, scholarships, and food distribution as the return claims, Rawal said, "No."
The Gawker report also details an incident in 2007 when Locke and his deputy resigned from Yéle on the same day. In the letter, Locke writes that he had "reached the limits of the personal, financial and business sacrifices that both I and my wife April are able to make on behalf of Yéle Haiti." According to anonymous sources interviewed by Gawker, Locke repeatedly fronted his money for Yéle events. Obviously, Locke has since returned to the nonprofit. You can read Locke's full letter here.
A series of other Gawker posts on Yéle's disfunction that rely more heavily on anonymous source are also worth perusing. Read them here and here.
Copyright CITYP - Washington City Paper