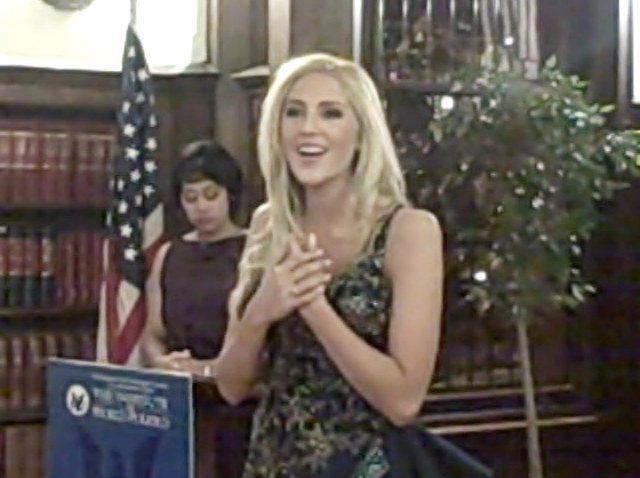 At a sendoff party for her last night, Miss DC 2009 Jen Corey dished on her late-night favorites and dating do's and don'ts. Smiley and sparkley, she's about to leave for Las Vegas where she will compete for the Miss America title. But first:
Eye of the Tigress: "I've just been so busy preparing for Miss America that I haven't been out much," she confessed.
Picking Up Miss DC, 101: "One guy actually said to me, 'Excuse me, ma'am, I think you dropped something,' and when I turned around he said, 'I believe it was your smile," she said, noting she can recount dozens of pick-up lines lobbed at her since donning the crown last July. And if you use the right one-liner, she just may let down her guard. In fact, she already has her outfit picked out.
Picking Up Miss DC, 102: When/if Jen returns from the competition, she offered potential suitors some hints on how they could help her celebrate. "Georgetown is my favorite place to go out, and my favorite date spot, too," she said. Jen is more of a hotel bar kind of gal than a club or lounge lady, she said, but also likes to spend a lazy Sunday afternoon at the Waterfront. Loyal to her title and duties, Jen refused to mention any part of the city she wouldn't take a date. Instead, she offered that she likes to try new restaurants and nightspots and to meet new people.
Parting Words: "I've got these fab sequin leggings, and I've just been waiting for the right occasion to wear them!" she said.