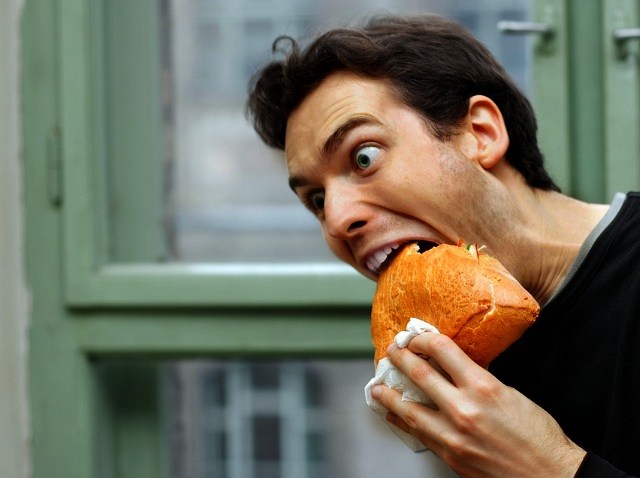 Washingtonians, heed the following equation:
Jon Stewart + Stephen Colbert + Marine Corps Marathon + Halloween = Complete and total insanity.
Those with a fear of large crowds best stay indoors. But if you're willing to venture outside, here are two possible ways to spend your weekend: Restoring sanity, or keeping fear alive.
Breakfast:
Restore sanity by unwinding with a hot brew at Mid City Caffe (1626 14th St. N.W., 2nd floor). Its location is far enough from a Metro station to ensure that the tourists won't bother you, and offers tasty coffees including the La Golondrina, a certified organic blend from Popayan, Colombia, with notes of black cherry, caramel, chocolate and wine.
Keep fear alive by going anywhere near Georgetown. Georgetown Cupcake, though famous for its coffee and baked goods, will surely be overrun by tourists in town for the weekend's events. Add into the mix some notoriety from its recent TLC reality show and the latest cupcake craze... well, it's not going to be pretty. Head there if you're willing to lose a limb in a cupcake stampede.
Lunch:
Restore sanity by enjoying dim sum out in the 'burbs at New Fortune (16515 S. Frederick Ave., Gaithersburg, Md.). True, the popular eatery tends to get a bit busy on Saturdays and Sundays, but let's be honest -- it'll be nothing compared to the craziness on the National Mall. Keep a lookout for carts carrying pan-fried turnip cakes and steamed shrimp and shark's fin dumplings.
Keep fear alive by trying to visit Jaleo, Oyamel, Zaytinya, Café Atlantico, or Minibar. In fact, keep fear alive by even whispering the name Jose Andres this weekend: The celebrated chef is one of the few names people outside the District might recognize, and out-of-towners will likely flock to his restaurants. Of course, if you want to wait an hour or two for your meal, by all means, drop on by.
Dinner:
Restore sanity by heading to a dinner with Scandinavian and Slavic accents at Domku (821 Upshur St. N.W.) in Petworth. Tourists will likely be too scared to venture into this still-transitioning neighborhood, but you'll pat yourself on the back for discovering such a hidden gem. Warm up with some hearty beef goulash with mashed potatoes or pierogis with caraway cabbage and minced pork.
Keep fear alive with a meal at Georgia Brown's or the Palm, which were both offenders in a report released by health inspectors back in March. The high-profile restaurants were nailed with 11 violations each, for keeping expired food, having dishwashers with too-low water temperatures, and more. The restaurants assured the Washington Times that the issues have since been resolved, but it doesn't take any hard evidence to keep fear alive.
---
Let's Go Around Town: Keep up with what's happening in the D.C. area anytime, anywhere. Follow us on Twitter and Facebook. Sign up for our e-mail newsletters and find out What You're Doing Tonight with texts delivered right to your mobile phone -- just text DCTONIGHT to 622339 to sign up. (Message and data rates may apply.) Don't forget our iPhone app!