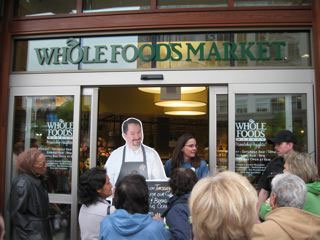 Dozens stood in the rain this morning outside the Whole Foods in Chevy Chase watching the clock. At 10 a.m., the staff opened the door and hosted a gathering in front of a five foot long loaf of braided bread.
Whole Foods doesn't cut ribbons, it breaks bread. As the managers tore into the bread, guests tore into the store, wandering around like little kids in Disneyland. Chevy Chase now has its own Whole Foods.
Neighbors of this Whole Foods and have been pressing their noses to the covered windows for weeks trying to gauge the progress. It's more than 49,000 square feet of high-end product, and unlike its sister stores nearby, this WF has some extras: the grilled burger station, a coffee bar cafe in the front , a smokehouse station of grilled meats for carnivores who can't stomach another quinoa salad. There will also be an eatery called Sushi! and a mediterranean place serving falafel and shawarma dishes. Want Indian or vegan/vegetarian Asian stuff, there's a food bar for you.
Whole Foods is not bargain basement. In fact, some call it "whole paycheck" because of the money they drop when they shop there.
Hard to believe in this often faltering economy that a top-of-the-line organic market can not only sustain three stores in a three mile radius, it can add a fourth one. Drive up Wisconsin Avenue starting at the Whole Foods in Georgetown and within a mile you'll encounter the store at Tenleytown. Go another mile and you'll hit the new one in Chevy Chase. Hang a left and go about a mile and you'll encounter the one on River Road. And they're always packed.
One manager said the Washington area is an economic bubble. The rest of the world can be hurting, but we're still spending.
The new Whole Foods is just a block from the Friendship Heights Metro Station and has garage parking in the nearby Wisconsin Place Shops, you know, under Bloomingdale's.
The coffee bar will open each monring at 6 and will feature gelato and popsicles during the long hot summer.
Look for special events this week, like Spa Night and a sustainable seafood celebration. Find the list on www.facebook.com/WFMFriendshipHeights.